Team Red has revealed the latest GPU offerings for industrial people and here they are – the AMD Radeon PRO W7000 series.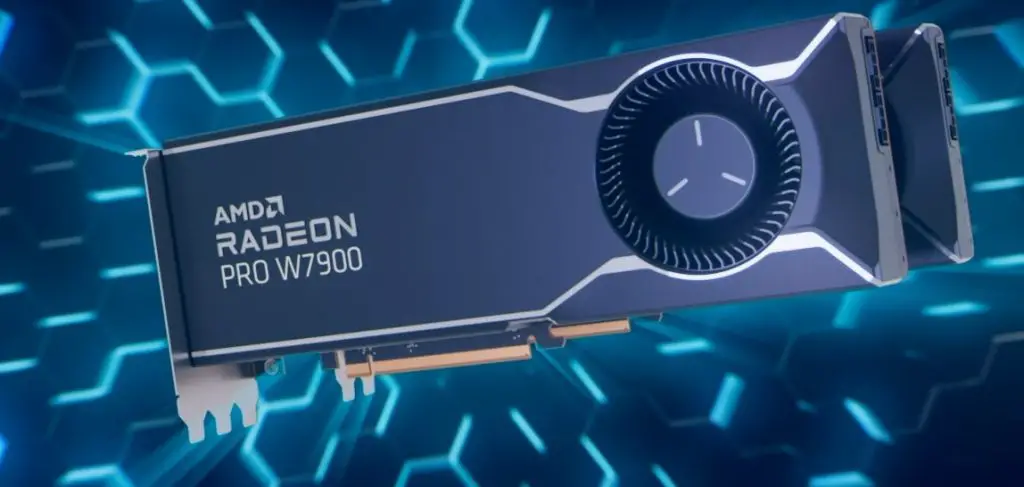 Debuting 2 different models of the Radeon PRO W7900 and Radeon PRO W7800 built with RDNA 3 architecture and with a chiplet design, these new cards are going to take over the world for everything that requires raw processing power such as high-polygon count models and extremely large data pool thanks to its 48GB GDDR6 VRAM for the W7900 – a straight up double from the last generation. On the other hand, the W7800 packs all the new tech at 32GB GDDR6 for an easier entry barrier.
Quoting official benchmarks in terms of peak single precision performance, the W7900 can deliver a whopping 61 TFLOPS (FP32) by itself while the runner-up W7800 reaches about 45 TFLOPS. Compute Units wise, the top dog is at 96CUs while the little bro is at 70CUs.
Improved AI instructions and throughput increase put these new cards at 2X higher performance than RDNA-2-based cards while the 2nd generation RT tech has more performance headroom.
Aside from the Radiance Display Engine with DisplayPort 2.1 plus AV1 encode/decode support, these are out of the box directly compatible with the Ryzen Threadripper PRO CPUs and fully engaged by AMD Software: PRO Edition for the full hardware/software coverage.
Price and Availability
For a "low low" price of USD2,499, you can own the AMD Radeon PRO W7800 or if you are baller enough to drop a casual USD3,999, you can have the Radeon PRO W7900 instead.