Nokia 5 and Nokia 3 were unveiled at Nokia's MWC 2017 event, alongside with the legendary 3310 feature phone as well as the global release of the Nokia 6. Wondering what's exactly the difference between them? Read on to find out.
Comparison
Nokia 5
Nokia 5 is literally a downsized Nokia 6 with some compromises:
Downsizing display from 5.5-inch 1080p to 5.2-inch 720p IPS LCD.
Reducing RAM from 3 GB to 2 GB
Reducing internal storage from 32 GB to 16 GB
Rear camera comes with 13 MP sensor instead of 16 MP
Other than the above changes, the Nokia 5 build is pretty much similar with the Nokia 6, for example, the metal body build and the curves at the device corners. Nokia 5 goes on sale in Q2 2017 for EURO 189 ~ MYR 889. Available in Blue, Silver, Matte Black and Copper.
Nokia 3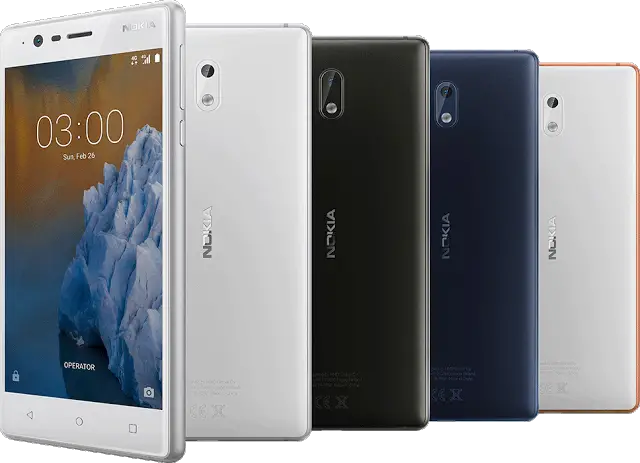 Nokia 3 is the lowest end model among Nokia's current Android smartphone lineup. The phone gets a polycarbonate back panel with an aluminium frame. The display is further downsized while retaining the resolution, from 5.2-inch to 5.0-inch.
For the specs, Nokia 3 comes with MediaTek 6737, 2 GB RAM, 16 GB internal storage with Micro SD card support. The front and rear camera both get the same detailed 8 MP sensor. Nokia 3 goes on sale in Q2 2017 for EURO 139 ~ MYR 654. Available in Blue, Silver, Black and Copper.