Over the years, portable hard drive has become an indispensable companion for those who often deals with large amount of data or large sized files in their daily lives. Things get less convenient if these data are stored in large 3.5-inch desktop hard drives and you need to bring it around because of your work-related needs.
While most portable hard drive comes in the 2.5-inch drive form factor, some users can be very picky when it comes to choosing the ideal portable hard drive that is aligned with their needs, especially when it comes to the appearance, weight and thinness.
The Transcend StoreJet 25C3N we have here for today's review is a rather unique product from Transcend, as it's not very often for us to come across portable hard drive in this design. Withits slim and lightweight design already gotten our attention this early, let's find out what kind of performance we can expect from this crafty little portable hard drive.
(The StoreJet 25C3N 1TB retails RM395.00)
Specification
Dimensions
114.5mm x 78.5mm x 9.95mm (4.51″ x 3.09″ x 0.39″)
Weight
136g (4.80 oz)
Storage Media
2.5″ SATA HDD
Connection
Interface
USB 3.0 (backwards compatible with USB 2.0)
Operating Voltage
USB DC 5V
Operating
Temperature
5°C (41°F)~55°C (131°F)
Certificates
CE, FCC, BSMI
Warranty
Three-year Limited Warranty
Please click here for more information about Transcend's Warranty Policy.
System
Requirements
Desktop or notebook computer with a USB port and one of the following operating systems:

Microsoft Windows 7
Microsoft Windows 8
Microsoft Windows 10
Mac OS 10.7 or later
Unboxing
The StoreJet 25C3N ships in Transcend's usual white-red themed packaging which the front of the box comes with a cutout for product display and highlighted features of the product, and product specifications at the back of the box.
Inside the box, you'll find the StoreJet 25C3N of course, USB 3.0 data cable, quick start guide, warranty card and catalogs for Transcend's products.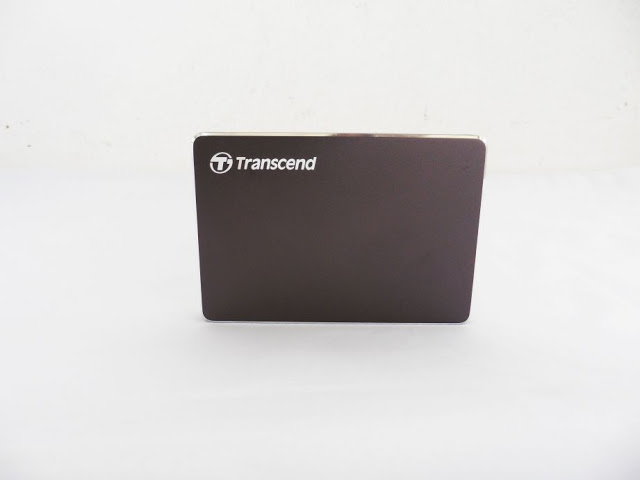 The StoreJet 25C3N is one of the very few portable hard drive in the market that comes in such sleek aluminum casing, one that Transcend claims to be polished, sandblasted, and anodized specially for the Scandinavian design lovers.
With thinness that clocks in at just9.95mm and weighs at just 136g, the StoreJet 25C3N can easily fit in any of your backpack or briefcase, making it the perfect companion for business and travel.
Software: REcoveRx
The bundled software, RecoveRx is a very handy utility to have. As its name suggests, the main feature of the RecoveRx is to allow users to retrieve important photos that has been deleted by accident, without any additional cost.
Other features of the utility includes a formatting tool for SD , MMC and CF memory cards and a password locking tool to add an extra layer of security to a SD and CF card. These features of course, aren't meant for the StoreJet 25MC, but Transcend'ssmart readerswhich will take more advantage of these 2 functions.
Software: Elite Data Mangement
The Elite data management software is highly recommended for the end users who really wanted to make use of all the available features to the fullest. Backing up and restoring assigned files and folders can be done easily with just a few simple steps on the initial configuration, encrypting and decrypting data on the drive for privacy and extra security measures, syncing data between the selected folders or cloud services i.e dropbox for extra copy of backup.
Software: StoreJet Toolbox
The StoreJet Toolbox is a dedicated utility for Transcend's StoreJet drives where users can perform quick format or low level format for a selected StoreJet drive. It's a simple and easy to use utility that comes together inside the drive, but personally we find it rather odd as Transcend could have included this as a feature in the RecoveRx utility instead of making it a standalone utility.
Performance Test: Synthetic Benchmark
For synthetic benchmark, we put the StoreJet 25C3N to test using CrystalDiskMark. Using both 1Fill and 0Fill test data for a separated set of tests, we observed a pretty consistent result of 129 MB/s read and 128 MB/s write. It's not really an amazing set of numbers if we were to compare it to portable hard drives that uses the USB type-C interface like the StoreJet 25MC, but the speed is still pretty decent as what we would say if compared to an average portable hard drive.
Performance Test: File Transfer
Moving on to tests that involve a more realistic scenario in real life, we ran the most common and basic file transfer test with test data that includes movie files and photos that comes with different type and sizes of files. While the speed does appears to be lower than the result from our synthetic benchmark, the file transfer speed is actually pretty consistent when dealing with larger files like photos in RAW format, movie files, etc.
Verdict
Performance wise, the StoreJet 25C3N did perform better than most average USB 3.0 portable hard drive you can find in the market, but do bear in mind that it's definitely not the fastest around. If your workstation (desktop PC/ laptop) is equipped with a USB type-C port, the StoreJet 25C3N can definitely do better, given that you purchase a USB type-C to micro B data cable separately as it is not included with the StoreJet 25C3N.
At the price of RM395, the StoreJet 25C3N is one expensive 1TB portable hard drive, and in fact, one of the most expensive around. But here's some points that is worth looking into before jumping straight to the conclusion:
The drive is made specially for users who is into the style of minimalism and simplicity, the Scandinavian design lovers.
The aluminum enclosure that houses the drive of the StoreJet 25C3N is a piece of craft itself that has been polished, sandblasted, anodized and CNC milled
The size and weight of the drive is almost half the size of most portable hard drive you can find in the market, which makes it a great choice for business and travel
If the points mentioned above fits the criteria of the ideal portable hard drive you're looking for, then the StoreJet 25C3N is something that is worth the consideration. Else, you would probably want to skip the StoreJet 25C3N and go for a more budget friendly choice like the StoreJet 25H3.
Pros
Decent performance
Excellent craftsmanship
Fits in most backpack and brief case, great travel companion
Well featured bundled software
Backed by a 3-year limited warranty from Transcend
Cons
Cost almost 50% higher than most 1TB portable hard drive
Could have used type-C interface for better performance