MSI has just unveiled a collaboration with CAPCOM to bring gamers a special game bundle promotion featuring CAPCOM's highly anticipated sci-fi game 'EXOPRIMAL'.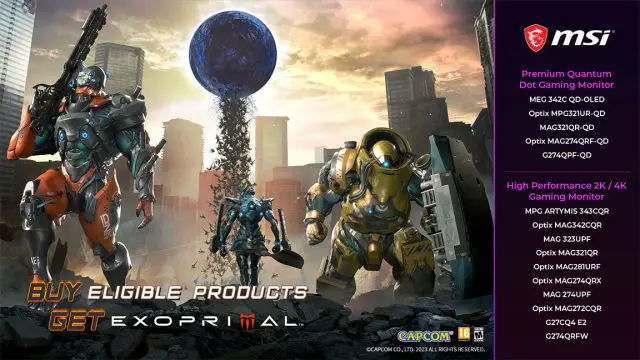 Just a short introduction to EXOPRIMAL: it is a team-based action game that matches "humanity's cutting-edge exosuit technology against history's most ferocious beasts". The game takes place in the year 2040 and features a graphically gorgeous future world environment filled with breathtaking scenery and dinosaur encounters.
And now, when gamers purchase any of the following select MSI gaming monitors, they will be entitled to a free EXOPRIMAL PC game code:
Optix MAG274QRF-QD
Optix MAG274QRFW
Optix MAG274QRX
Optix MAG281URF
Optix MPG321QRF-QD
Optix MPG321UR-QD
Optix MAG321QR
MAG 274UPF
MAG 323UPF
MAG321QR-QD
Optix MAG272CQR
MPG ARTYMIS 323CQR
Optix MAG342CQR
MEG 342C QD-OLED
MPG ARTYMIS 343CQR
G274QPF-QD
G27CQ4
With that being said, head over to this link for more information on the MSI x CAPCOM EXOPRIMAL game bundle promotion.