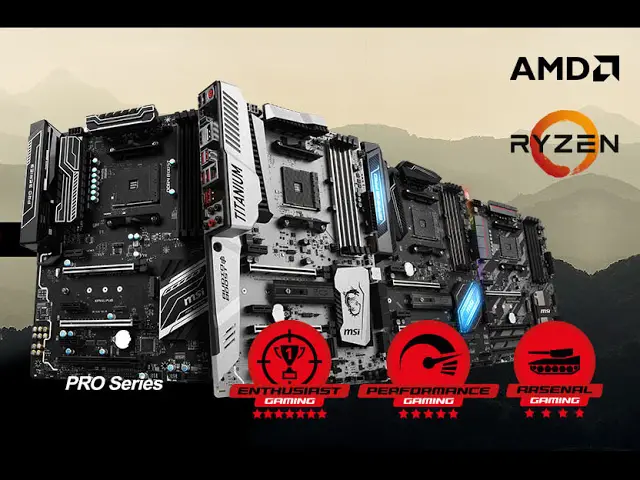 MSI, world leading in gaming motherboards design, is pleased to announce that all its X370, B350 and A320 based GAMING & PRO Series motherboards support the all-new Ryzen 3 line of processors, out of the box.
Furthermore, by choosing MSI B350/A320 motherboards, one can get better performance and higher efficiency from AMDs newest Dual Core and Quad-core RYZEN offerings. MSI enabled world's first 1-second DDR4 performance and stability feature for AM4 based motherboards, A-XMP. By using A-XMP MSI AM4 motherboard owners can simply set their memory timings and speed to its optimal settings in a single click for the best performance and stability. A-XMP also enables support for higher rated DDR4 memory kits to work without any hassle. A-XMP is available in the BIOS, on all MSI AM4 motherboards. 
MSI continues to push for outstanding performance with B350/A320 motherboards. When looking for a well performing, affordable AM4 motherboard with plenty of connectivity options and unique features for gaming and professionals, choosing MSI B350 / A320 Series motherboards will surely satisfy.
List of MSI B350 / A320 Motherboards Available:
MARKETING
NAME-B350 SERIES

MARKETING
NAME-A320 SERIES