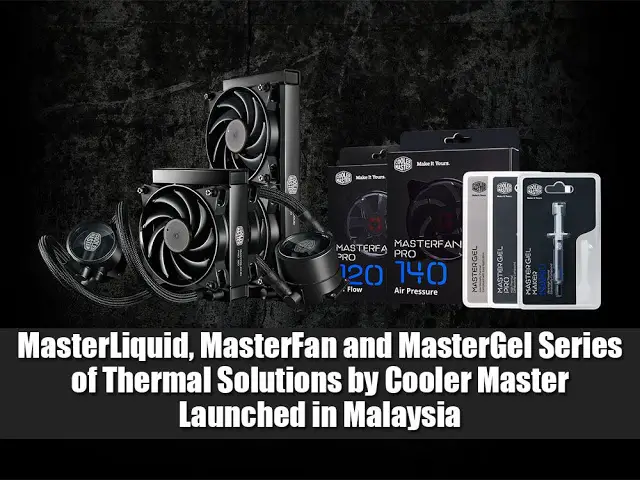 Cooler Master, a leader in design and manufacturing computer components and peripherals, today announced the immediate availability of the MasterLiquid Pro 120 & 240, MasterFan Pro 120 & 140 series and the full range of MasterGel series.
MasterLiquid Pro 120 & 240
The MasterLiquid Pro 120 and 240 is for gamers and casual users who seek to take their CPU cooling to the next step. With its advantage in thermal expertise, Cooler Master has applied simple yet effective insights into revamping the most vital part of an all-in-one (AIO) liquid cooler; the flow. By optimizing the way liquid dissipates heat at every stage, Cooler Master has created FlowOp technology that quietly outlasts and outperforms. 
"We're excited to share our latest thermal product – one that redefines the liquid cooler." said Joost Gommans, Marketing Manager. "We understand that different people have different needs to configure their system to match their specific taste, including the way it looks and feels. That's why Cooler Master is committed to giving you more choice and control with our products."
FlowOp Technology
Based on our expertise in thermal technology, FlowOp looks at the flow of heat as it is carried and dissipated by an all-in-one (AIO) liquid cooler. Starting with the hot CPU, we reengineered the way liquid absorbs and expels the heat. Our holistic approach to the flow of heat puts a comprehensive cooling machine in your hands that lasts longer, performs better and requires virtually no maintenance. 
Dual Chamber Design
Equipped with exclusive Dual Chamber Design, MasterLiquid Pro series is able to provide better cooling performance than previous products. The built-in optimized micro channels create the best water flow and draws the maximum amount of heat away from the cold plate before transferring it to the enhanced radiator. The MasterLiquid Pro's new and unique radiator features a square fin design, which creates greater surface area for absorption of heat and allows enough space for air to flow through. Combined with the included new MasterFan Pro, heat is hurled out of the case with enough ease to keep your AIO cooler quiet. The innovative fine-tuned folded fins reduce the wind resistance to make cooling as efficient as possible. 
MasterGel Pro and MasterFan Pro Air Pressure Series Included in MasterLiquid Pro Series Coolers
In order to provide a better dissipating experience, the MasterGel Pro will be included with all MasterLiquid Pro series coolers. It will also be equipped with the all new MasterFan Pro Air Pressure series which is designed for radiators and has an excellent balance of temperature and noise performance.
MasterFan Pro 120 & 140 Series
In tackling your case's cooling needs, no 'one fan fits all' fan exist. That is why Cooler Master has created three different case fans; Air Flow, Air Balance, Air Pressure. 
Air Balance fans are ideal for blowing air through denser areas of the case. We recommend them for use on CPU air coolers or the front panel. Air Flow fans are ideal for exhausting large volumes of air quickly out of the case. We recommend them for use on the rear or top panels. Air Pressure fans are ideal for funneling concentrated air short distances at hot components or tight spaces. Recommended for use on the front panel to penetrate mesh wiring and tightly packed HDDs.
Each of the three 120mm and 140mm fans in the MasterFan Pro series provide a specific air cooling solution while all being fitted with multiple layers of our exclusive noise reduction technology and adjustable speed profiles. Put together, they work in harmony to cool your entire case and its components.
MasterGel Series
Outpace stock thermal grease with the balanced, all-new MasterGel. The thermal compound is made for easy application and removal without having to scrape into the night. On the other hand, the MasterGel Pro takes thermal dissipation for advanced users to the next level. Polymer oxides in the compound create high conductivity between the CPU and cooler base to transfer heat quickly. The powerful formula is still easily applied and removed without damaging the base. The MasterGel Maker is developed for users needing the best thermal conductivity for high performance CPUs, GPUs or even chipsets. The non-curing time and resistance to electrical current help prevent short circuits and provide protection and performance for long-term use. The hi-tech nanodiamond particles can withstand extreme temperatures, are extremely lightweight and easy to spread or remove while containing properties that slow auto-oxidation or erosion over time. 
Each of the three thermal greases in the MasterGel series comes with a scraper and cleaner to make light work of cleaning the CPU and cooler base without damaging parts.
Pricing & Availability:
The following MasterLiquid Pro series, MasterFan Pro series and MasterGel series is now available for purchase locally.
MasterLiquid Pro Series
MasterLiquid Pro 120 : RM 499
MasterLiquid Pro 240 : RM 599
MasterFan Pro Series
MasterFan Pro 120 Air Flow : RM 79
MasterFan Pro 120 Air Balance : RM 79
MasterFan Pro 120 Air Pressure : RM 79 
MasterFan Pro 140 Air Flow : RM 89
MasterFan Pro 140 Air Pressure : RM 89
MasterGel Series
MasterGel : RM 19
MasterGel Pro : RM 29
MasterGel Maker : RM 65