In the midst of the GPU shortage, some sellers and distributors decided to take matters into their own hands by bringing in other brands of graphics cards that are not currently available in Malaysia and the Manli GeForce RTX 3060 we have here is one of them. Manli might not be a familiar name to some end-users here in the Malaysian PC users community but it's probably going to be a brand that we'll be seeing more often in the near future. Until then, let's take a look at the Manli GeForce RTX 3060 for now and see what kind of performance can we expect from it.
Specifications
| | |
| --- | --- |
| GPU | Manli GeForce RTX 3060 |
| CUDA Cores | 3584 |
| Tensor Cores | 112 |
| RT Cores | 28 |
| Texture Units | 112 |
| ROPs | 48 |
| GPU Boost Clock | 1777 MHz |
| Memory Data Rate | 15 Gbps |
| Total Video Memory Size | 12G GDDR6 |
| Memory Interface | 192-bit |
| Memory Bandwidth | 360 GB/sec |
| TDP | 170W |
| Recommended PSU | 550W |
| Power Connectors | 1 x 8-pin |
| Dimensions | 245mm x 112mm x 42mm |
Unboxing
Packaging-wise, the Manli GeForce RTX 3060 doesn't come in fancy packaging like the rest and you won't find many details of the product itself on the box. As for the content of the box, you'll only find the Manli GeForce RTX 3060 and nothing else, which is pretty common for cards of its category.
Despite the generic look, the Manli GeForce RTX 3060 actually comes with a pretty decent-looking cooler under its hood. Instead of the Aluminum chunk heatsink that is commonly found on most cards with a generic design, Manli equipped its GeForce RTX 3060 with a heatsink with heat pipes and Aluminum fins array for better cooling performance. The only thing that might not be favorable to some users is the design of the cooling fans, which will continue to spin even if the GPU is idle.
Since the RTX 3060 is already a pretty powerful card for most use cases, having a dual-slot form factor makes it a favorable choice for those who want to build a reasonably powerful small form factor build.  The power requirement is the same as the rest of the basic model RTX 3060, a single 8-pin PCIe power connector, and a power supply with a minimum of 550W.
The Manli GeForce RTX 3060 does come with a backplate like the rest but it's basically a functional backplate without the aesthetics most users are looking for – at least that's what I think about its design. Unlike the big cutout at the near end of the card like many we've seen in the past, Manli decided to go with a grill-like design for the cooling design.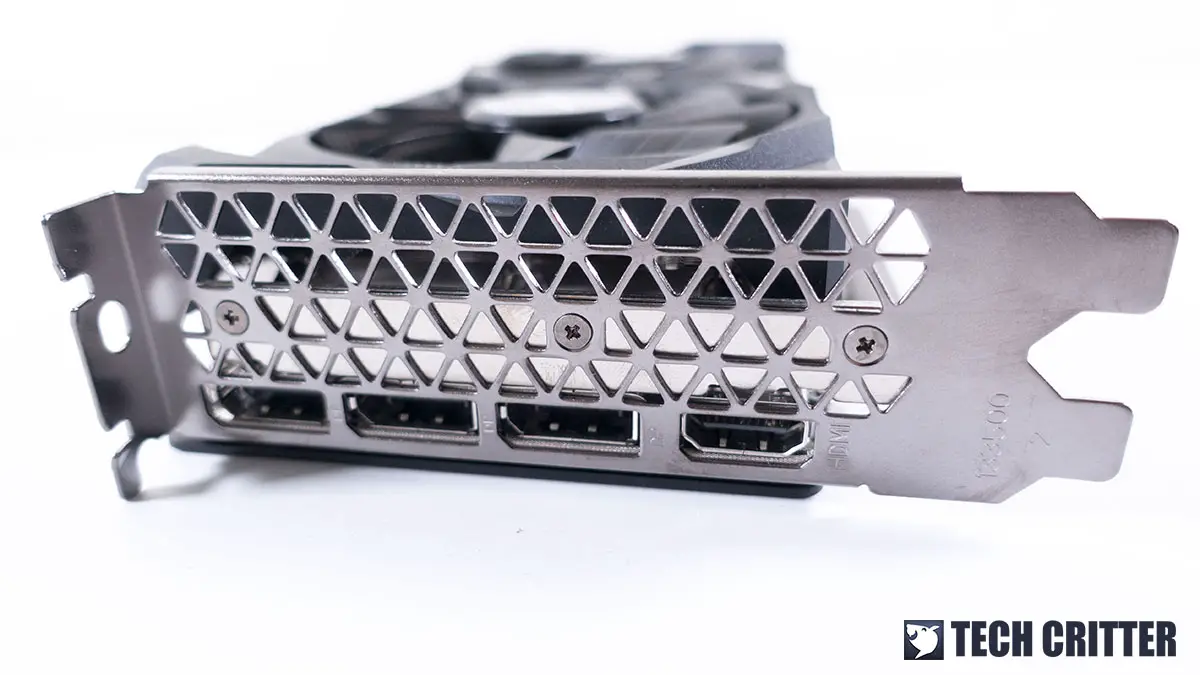 The display output is the usual 3 x DisplayPort and 1 x HDMI port, a pretty common combination that can be seen on graphics cards nowadays.
Test System Setup
For our games benchmark test, we've selected several AAA titles to run at their highest possible settings using the following setup under an ambient temperature of 31°C:
| | |
| --- | --- |
| CPU | Intel Core i9-10900K |
| Motherboard | ASUS ROG Maximus XII Apex |
| Memory | XPG Spectrix D60G DDR4-3600 CL14 |
| Graphics Card | Manli GeForce RTX 3060 / Gigabyte GeForce RTX 3060 Eagle 12G |
| Power Supply | Enermax MaxTytan 1250W |
| Primary Storage | Force Series Gen.4 PCIe MP600 2TB NVMe M.2 SSD |
| Secondary Storage | WD Black 6TB |
| CPU Cooler | Cooler MasterLiquid Master ML360R RGB |
| Chassis | Streacom Open Benchtable BC1 |
| Operating System | Windows 10 64bit |
As for the performance comparison, we're using the Gigabyte GeForce RTX 3060 Eagle 12G which shares the same specifications as the Manli GeForce RTX 3060 for comparison, just so we can see if there's any difference in performance.
Games Benchmark (DirectX12) – Manli GeForce RTX 3060 vs. RTX 3060 Eagle 12G
Starting off with the non-Ray Tracing performance, the numbers show that the RTX 3060 performs really well on 1080P across the titles we've used for the test. There's nothing much to complain about its 1080P performance and in fact, it can do pretty well on 1440P too but only on some titles. As for 4K gaming, that's something you should be avoiding if you want to enjoy your games without sacrificing the graphics quality just for the sake of having higher frame rates.
Games Benchmark (Ray Tracing) – Manli GeForce RTX 3060 vs. RTX 3060 Eagle 12G
Moving on to the ray tracing performance, we can clearly see that 1080P is probably the highest you can go if you want to enjoy your games with acceptable frame rates while having ray tracing enabled. There are games that you might still be able to play on 1440P with ray tracing and DLSS enabled but it's best to not push your luck on that.
Thermals & Power Draw
The load temperature for both the Manli GeForce RTX 3060 and Gigabyte GeForce RTX 3060 Eagle 12G is identical, which peaked at 68ºC. Despite not having the zero RPM fan design like most of the graphics cards we've seen to date, the idle temperature of the Manli GeForce RTX 3060 is noticeably lower than the rest. Some users might be bothered by this but it won't be an issue for most users as we can barely hear the fan noise during its idle state.
Depending on the kind of load the application or games demand from your GPU, both the RTX 3060 as according to our observation, only peaked at 170W for just a few seconds during load. For most gaming sessions, the RTX 3060 will only be drawing around 160W at most, so we can see how you can actually run the card with a good quality 500W power supply.
Final Thoughts
Other than the generic-looking design and questionable 12GB worth of VRAM, the Manli GeForce RTX 3060 performs just as well as a base model RTX 3060, especially for 1080P gaming. While it's still possible to game on 1440P but we don't recommend pushing that even though it does come with a 12GB worth of VRAM, which is a waste as we can't really see any noticeable benefit in gaming for the time being.
The cooler isn't as fancy as what we've seen on popular brands like ASUS, MSI, Gigabyte, etc but it's actually doing a pretty good job to keep the GPU temperature at bay. The dual-slot compact form factor is also something that's worth highlighting, as it can easily fit into a small-sized PC case without any issue, making it a good choice for small form factor builds.
Price-wise, the Manli GeForce RTX 3060 is retailed at RM 3599 as of now, which is just as expensive as the rest of the RTX 3060 due to the global shortage. Looking at the price now, I find it really hard to recommend any RTX 3060 at this price unless you're in a rush for an upgrade – the card is decent but the price isn't.
Pros
Good performance on 1080P
Decent cooling performance
Runs silently even during full load
Come with HDMI 2.1 and support AV1 decode
Cons
Not much significant performance gain with the 12GB worth of VRAM
The overall performance gain from the previous generation is not very big
No zero RPM fan design
Subjective