LIAN LI has recently announced its new ARGB extension cable, the STRIMER PLUS V2; let's have a look at what it has to offer.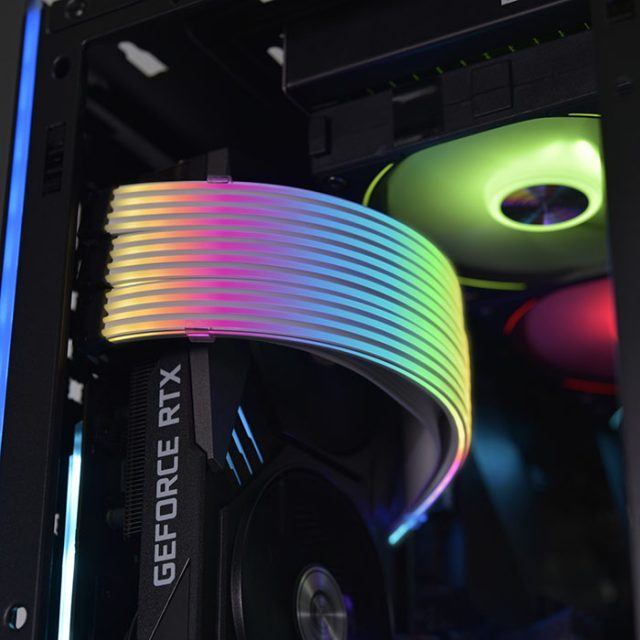 The STRIMER PLUS V2 features a new side light diffuser which allows the light effects to shine in more directions and fill the PC with vivid RGB. Each of the gauge power cables is wrapped in durable silicone and arranged in a single, flat row, making it thinner than ever at 8mm. The extension cables are more flexible for tighter bends and simpler to fit through tight cable grommets thanks to the new material and single row of power cable.
While the original STRIMER PLUS GPU 8-pin and Triple 8-pin are compatible with most GPUs, some users have experienced difficulties with graphics cards that have power connectors further apart. The STRIMER PLUS V2 addresses this issue by having each 8-pin end separated, which caters to connectors that are wider apart.
Its controller is now natively recognized by the L-Connect 3 software, enabling users to easily control each individual light channel to create their own blend of light effects without having to reach inside their case. For existing STRIMER PLUS owners, a new version of the controller will be sold separately to make their ARGB extension cables compatible with L-Connect 3.
Pricing and Availability
The STRIMER PLUS V2 is now available for pre-order through their stores on NEWEGG, Caseking, Overclockers UK, and Aliexpress. Kindly refer to the following list for the products price:
STRIMER PLUS V2 Motherboard 24-pin – USD$69.99
STRIMER PLUS V2 GPU 8-pin – USD$49.99
STRIMER PLUS V2 GPU Triple 8-pin – USD$59.99
STRIMER PLUS Controller Upgrade Kit –USD$19.99
Click here to learn more about the STRIMER PLUS V2 ARGB extension cables.