LIAN LI's latest collaboration effort continues with Der8auer by announcing the brand new O11 Dynamic EVO PC chassis.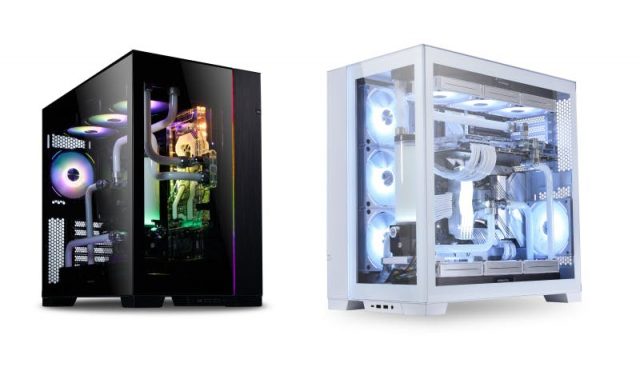 Designed with tons of community feedback to become the final form of the O11 Dynamic EVO, it is now capable of being set up in either a standard or reverse orientation without any additional tools thanks to the expanded modularity and symmetrical design allowing stuff like bottom parts installed at the top and flipped internals to make the showcasing experience becoming a 360° factor.
Being an expert in the hardware modding scene, Der8auer also made sure that the new generation computing parts get all the cooling they need therefore the O11D Dynamic EVO can support CPU coolers of up to 167mm in height and GPU of up to 42mm in length and on each side of the top, bottom and sideways there's enough space to hold either 3x 120mm or 2x 140mm fans. To make the installation progress much faster, the top and bottom brackets can be slid out of their mounting location and is interchangeable too, while the side ones can be flipped via a toolless latch. For whatever reason, if you need a 2nd PSU for your setup, the drive cage can be taken out just for that.
Additionally, all I/O ports are moved to an independent module that can be relocated to either the bottom front, left, or right side of the case to keep the minimalist design in check and the built-in ARGB strip along the edge of the front glass panel provides a subtle touch to an already cool case, controllable via the side LED buttons/UNI HUB for L-Connect software.
To keep the customization game going, LIAN LI also offers 5 new accessories to go with the O11 Dynamic EVO, namely the Upright GPU Kit, Vertical GPU Kit, Front Mesh Kit, Top I/O Kit, and Additional I/O Kit, all sold separately.
Pricing and Availability
The LIAN LI O11 Dynamic EVO is currently taking preorders and for a limited time, the Black and White edition carries a 20$ discount over at Overclockers UK, Caseking, and Newegg with the latter getting a compliment Free Shipping option as well. The prices for the PC chassis and accessories are as follow.
PRICING

US MSRP

Global MSRP

O11D EVO Black

$169.99

$159.99

O11D EVO White

$179.99

$169.99

O11D EVO Harbor Grey

$179.99

$169.99

ACCESSORIES

Vertical GPU Kit (PCIe 4.0)

$69.99

$69.99

Upright GPU Kit (PCIe 4.0)

$89.99

$89.99

Additional I/O Kit

$18.99

$18.99

Front Mesh Kit

$19.99

$19.99

Top I/O Kit

$12.99

$12.99