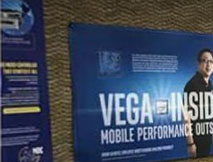 I'm pretty sure that a lot of you are aware of the rumor from last year, regarding to Intel's GPU Licensing Agreement With AMD. Although Intel has denied the rumor and we're not seeing any of AMD's Vega GPU architecture on its Kaby Lake GPUs, the blurry image that's been floating around the internet by an undisclosed source suggests that the deal might have already happened.
From the blurry image above, we can see the usual Intel blue and the 'Vega Inside' slogan which is very similar its iconic 'Intel Inside' slogan. The 'mobile performance' as seen in the image suggests that the chip will be made for mobile devices, but it's not 100% confirmed yet because the rest of the texts is unreadable.
Of course, always take this with a pinch of a salt. We'll keep you guys updated as soon as we get more information on this – and let's see what is Intel's response after seeing this.