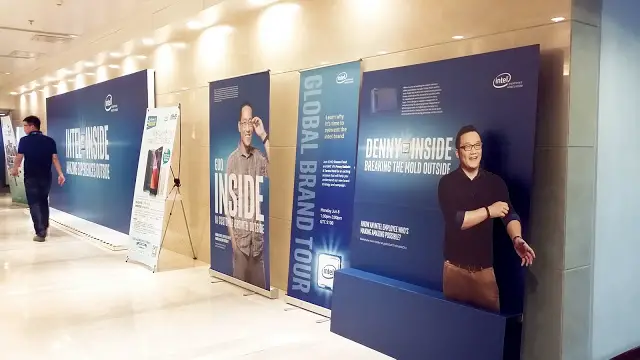 The alleged image of
'Vega Inside'
reported by
NLT
 yesterday spreads like wildfire and is now one of the most debated topic in the tech community in the past 24 hours. With limited clues from the blurry image of the 'Vega Inside' and external news source from our side, we managed to find our way to the actual source of this.
Turns out that the Vega Inside image is actually one of the poster from Intel's Employee Appreciation Campaign, where well performing Intel employees get nominated for some kind of award from Intel.
Photos from Manifesto Agency, explains what is going in this employee appreciation campaign. Intel's employees can nominate their colleagues or themselves for this and get featured in an awesome looking poster that is placed around Intel's premises so everyone can see the faces of these amazing people who make amazing possible. 
The photo above shows an Intel employee name Ken, getting himself featured in on of the poster for the campaign. 
From all the campaign posters we've seen in the photos above, it looks like Intel is pushing its company campaign in a fashion of "[employee's name] Inside, [division name] outside." The Vega Inside image we saw yesterday is actually a poster featuring one of Intel's employee who just happens to have Vega as his name and he works in the mobile performance division – such coincidence right? 
Like we mentioned in the previous post, do take rumors with a pinch of a salt and one thing for sure is that you'll probably won't be seeing any Intel chip with AMD GPU inside any time soon.
(Source: Manifesto Agency)