The internet connection bandwidth offered by ISPs across the world is just going higher and higher to the point where one may need to utilize things like Wi-Fi 6E or 2.5GbE to maximize transfer speed but looking from another perspective, this means that network traffic generated across the digital world is just getting more and more as time passes by.
With COVID-19 bringing unprecedented progress in terms of digital transformation, network bandwidth bottleneck has been one of the most prevalent issues when the entire world is under lockdown orders that result in servers crashing or slow connections, not to mention the increase in cyberattack occurrence across both private organizations and government facilities.
The statements above are more or less accurate, at least according to HwaCom's survey on causes of network failure with misconfiguration and overloaded bandwidth leading the charge with cyberattacks coming right after them. There are also things like VLAN issues, broken hardware, or wireless connections not doing their jobs.
Therefore, it is essential to have a well-equipped solution to take care of one's network infrastructure within an organization and by using the Telecom Class 5M (FCAPS) assessment, evaluation of a network management system can be done by these 5 categories:
Fault Management – Ability to detect faults within the system and report to the IT administrator
Configuration Management – Capable of backing up or restoring older configurations in case of misbehaving settings
Accounting Management – Generating reports of flow in particular channels, devices, groups, or areas and providing monitoring options
Performance Management – Analyze and adjust the network bandwidth of each user accordingly
Security Management – Monitor all inbound and outbound traffic from unverified connections and block potential attacks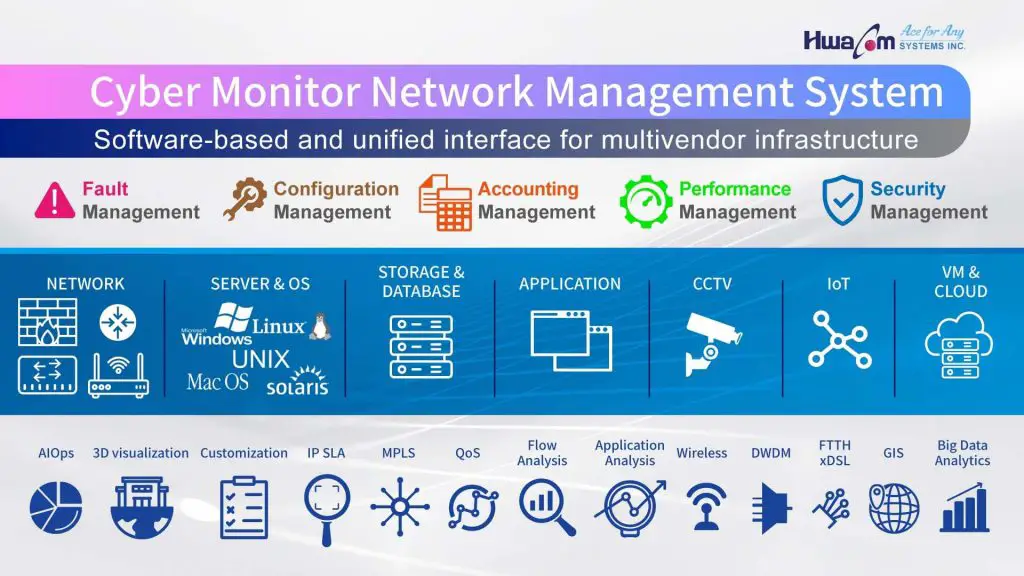 As such, HwaCom's Cyber Monitor network management system meets all the 5M (FCAPS) requirements by offering the listed functions and features to a wide range of clients that may have different hardware and software integration which is not a problem thanks to its wide compatibility guarantee. Already deployed by organizations across different sectors of the industry including telecommunications, transportation, manufacturing, and more, it can help any IT infrastructure by giving it a boost in terms of accessibility and security in addition to smart monitoring and back-end analytics.