G.SKILL has introduced its latest Trident Z5 RGB series DDR5 white edition memory, with high overclocked speeds of up to DDR5-8200 at a kit size of 24GBx2.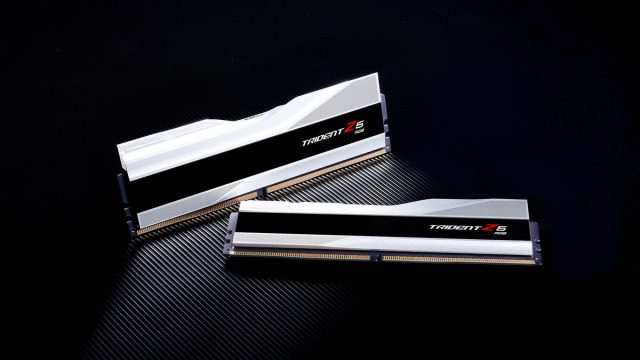 Building upon the flagship Trident Z5 RGB series DDR5 memory, this new white-colored variant combines high-performance overclocked capabilities with a stylish white appearance.
Ranging from quick DDR5-8200 CL40 24GBx2 to low-latency DDR5-6000 CL30 or CL32, the memory kit is an excellent choice for PC enthusiasts and overclockers seeking the power they need for their setup. Of course, it is also compatible with Intel XMP 3.0 to enable users to easily overclock it with just a few clicks.
Specifications
Frequency
CL Timing
Kit Capacity
DDR5-8200
40-52-52
24GB x 2
DDR5-8000
40-48-48
24GB x 2
DDR5-7600
38-48-48
24GB x 2
DDR5-7200
36-46-46
24GB x 2
DDR5-6400
32-39-39
16GB x2 / 32GB x 2 / 48GB x 2
30-40-40
32GB x 2
DDR5-6000
32-38-38
16GB x2
36-36-36
16GB x2 / 32GB x 2
Availability
While no pricing info has been given by G.SKILL yet, it is confirmed that these new white edition Trident Z5 RGB DDR5 memory kits will be arriving soon sometime in Q3 2023.