G.SKILL has happily announced that its extreme overclocking competition, the 7th Annual OC World Cup, is returning this year after a three-year absence.
Regarded as one of the most difficult overclocking competitions by pro overclockers, the G.SKILL OC World Cup welcomes the participation of top extreme overclockers from all over the world and challenges them with specially designed rules to test the abilities of each overclocker.
Starting from 1st March to 5th April, the Online Qualifier stage will be open to every overclocker worldwide and hosted on hwbot.org. Do take note that participants must use G.SKILL memory kits and designated Intel platforms to submit their results across 4 overclock categories: Highest Memory Frequency, Cinebench R15, Y-Cruncher – Pi-2.5b, and SuperPi 32M.
And after that, the top 9 overclockers of the Online Qualifier will compete in the Live Qualifier stage during the week of Computex 2023 at the G.SKILL booth, from 30th May to 1st June.
Finally, the best 3 overclockers from the Live Qualifier stage will have a decisive battle in the Grand Final stage for the title of OC Champion and a big cash prize on 2nd June.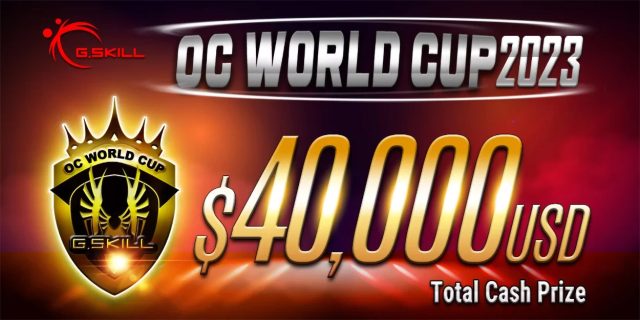 To reward the extreme overclocking community, G.SKILL has leveled up the total cash prize pool from USD$25,000 back in 2019 to USD$40,000 for OC World Cup 2023, making this competition one of the largest total cash prize pools among OC competition events.
And here's the list of the cash prizes to be won:
OC Champion: USD$10,000

2nd Place: USD$6,500

3rd Place: USD$5,000

4th Place: USD$4,200

5th Place: USD$3,400

6th Place: USD$3,000

7th Place: USD$2,800

8th Place: USD$2,600

9th Place: USD$2,500
Not only that, but the top 9 overclockers in the Online Qualifier will each receive a DDR5-7800 32GB (16GBx2) memory kit as well. Also, 3 lucky participants who have completed all stages of the Online Qualifier will be randomly picked to win a DDR5-7200 32GB (16GBx2) memory kit.
Kindly refer to this link for further details on the G.SKILL OC World Cup 2023.