There is no dispute that NVIDIA's latest mobile graphics card is one of the best to date that opens up a laptop's capabilities and becoming the centerpiece for work, play, creativity, and even studying. With the introduction of the GeForce RTX 3050 series covering the RTX 3050 and RTX 3050 Ti, NVIDIA is offering powerful performance and life-changing features without tipping off the budget balance. Want to know how they did it? Let us run you through some of the latest RTX technologies.
In order to get laptops to be as thin as possible, NVIDIA has integrated the 3rd Gen Max-Q technologies to optimize multiple aspects of the laptop's hardware for the best use case as the better the power management of the device, the smaller the capacity of the battery can be made into and thus cutting down the entire dimension of the laptop. Associated with the 3rd Gen Max-Q technologies are Dynamic Boost 2.0 which switches power priority between the CPU and GPU depending on the load, WhisperMode 2.0 that keeps fan speed and noise to a minimum while still balancing the thermals, Resizable BAR that allows the CPU to access the entire GPU VRAM at once for a slight performance boost and of course, the famous DLSS.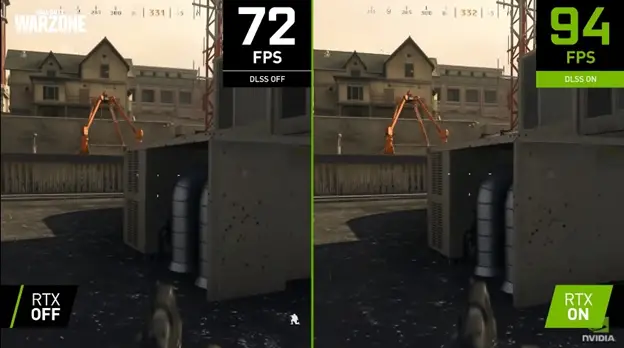 While it is already common knowledge that ray tracing is a computing heavy tech, the introduction of NVIDIA DLSS has turned the table to allow even mid-range cards to apply the feature and delivering huge performance boosts by smartly rendering a fraction of pixels compared to native resolutions thanks to the RT and Tensor Cores. Through the AI-powered rendering algorithm, gamers can finally have the best of both worlds without noticeable compromises, and from a technology breakthrough standpoint, NVIDIA fully understands that the tech cannot be brute-forced through raw computing power and instead the future of software which is AI is the key to producing some of the revolutionary pieces.

Up to this day, more than 20 games including AAA titles are supporting DLSS from the famous Cyberpunk 2077 down to the classic Minecraft RTX with more of them coming soon. Talking about DLSS, the 2nd generation of the technology DLSS 2.0 brings over a huge performance boost due to the AI model being generalized and usable by any game developers without any specific trainings and supporting current and major game engines alongside future ones, therefore the decision to whether incorporate NVIDIA DLSS is now in the hands of the game studio. Some additional preset profile has been added to make up a range of Quality to the new Ultra Performance to allow gamers to fine-tune their ray-traced gaming experience according to their needs. To top it off, the technology is trained through NVIDIA's internal supercomputer and it is only going to get better over time and as usual, it is delivered through Game Ready Drivers which means any RTX GPUs including the RTX 3050 series will get the latest updates down the road.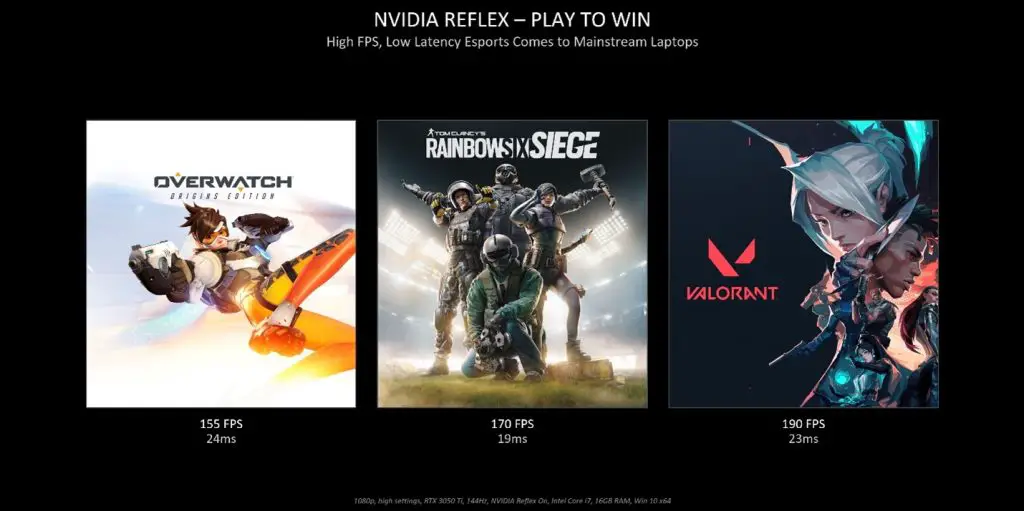 For the competitive gamers that prioritize performance and responsiveness over graphical prowess, the GeForce RTX 3050 series equipped laptops are capable of delivering more than 144FPS and sub-25ms system latency games that support NVIDIA Reflex, another important piece of tech that analyzes and eliminating bottlenecks between the entire system that covers up from your input devices and down to the display. More than a dozen of games have already supported NVIDIA Reflex and almost all, if not all of them are highly competitive titles that are recognized globally so you too could be the next rising star in your favorite game with one less hampering factor to worry about.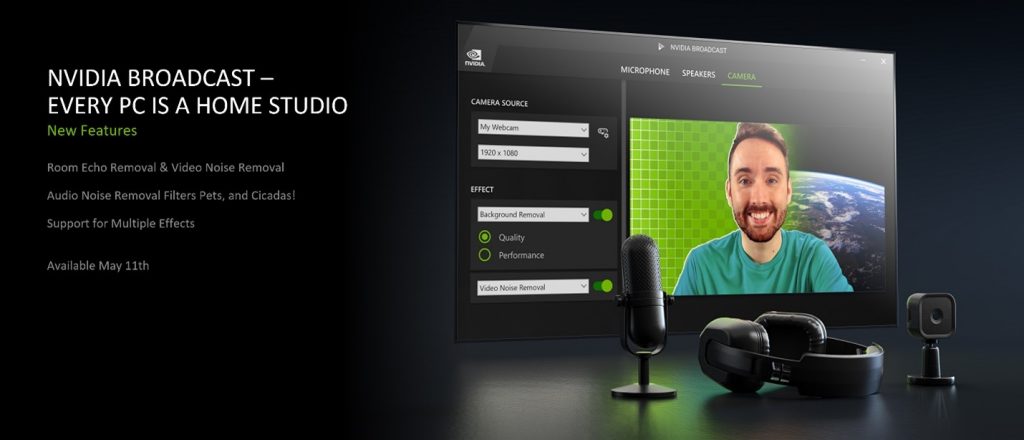 Shifting from the topic of virtual to something a bit more realistic which is video conferencing and calling, the newly refined NVIDIA Broadcast will ensure your experience together with other participants are high quality that even rivals professional production thanks to the power of RTX. Noise filtering is capable of eliminating keyboard clicks, ambient cues, animal sounds, and even room echos while for the visuals, visual noise caused by multiple factors are reduced across the spectrum and there is no need to install a green screen to get a clean shot of you as NVIDIA Broadcast does that on the fly for you. As for the live streamers, NVENC has long been a great video encoding algorithm and it is getting optimizations and improvements each time a new generation of architecture is applied, including Ampere.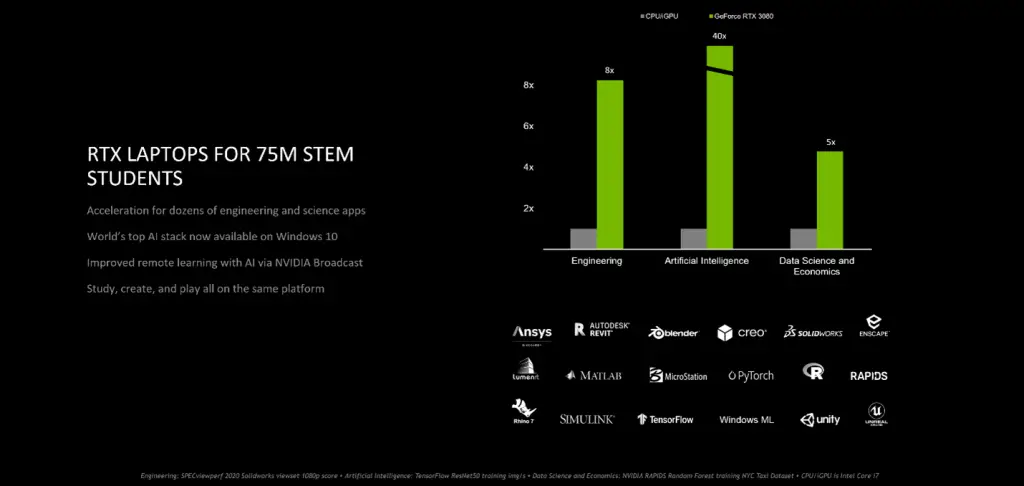 Lastly, let's take a small turn and talk about why we need a powerful GPU-equipped machine from an educational standpoint. Students especially those enrolled in tertiary studies or academic researches rely almost exclusively on laptops as their number 1 choice due to portability. However, in the current day and age, science and engineering applications require a hefty amount of computing power in order to simulate results or train AI models, just to name a few. With 75 million STEM students expected to start or return to a university or college system, the GeForce RTX 30 series equipped laptops, particularly the RTX 3050 series GPU makes a great balance between price, performance, and most importantly, native optimizations towards all forms of STEM-related programs such as SolidWorks, Matlab, SciKit-Learn and more.
Summing up everything, the GeForce RTX 30 series laptops have become much more powerful and feature-rich compared to previous generations that they are capable of accelerating many digital aspects of your life and the RTX 3050 series are currently the best candidate to date that offers all sorts of RTX technologies without breaking the bank.
Click here to check out the list of laptop models running the GeForce RTX 3050 series graphics card.