Epson has revealed a total of 6 new EcoTank series printers to better serve printing shops and offices around the world with its excellent print quality.
These new models are equipped with PrecisionCore print head technology that further increases printing speed without sacrificing image quality. They also ditched the traditional heating method of the ink drying process for long-term power savings while not producing any waste heat. Also with lesser heating components, the fewer components wear and tear over time so replacement doesn't happen as often. 5 out of the 6 models also use the new DURABrite ET ink with water and smudge resistance which is perfect for document-critical businesses such as contracts.
Let's take a look at what are these new printers.
Starting from the smaller scale, the new EcoTank L6550 and L6580 are the more compact members of the family that offers small-scale businesses and office an ideal printing solution with relatively low cost of ownership. Running the A4 specification, the L6550 runs at base speed for users that only utilize printers occasionally while the L6580 is more useful in frequent and high-speed printing situations with additional support for PCL and PostScript formats. Both models are able to deliver up to 7,500 B&W and 6,000 for color prints per ink bottle that will save cost over an extensive period.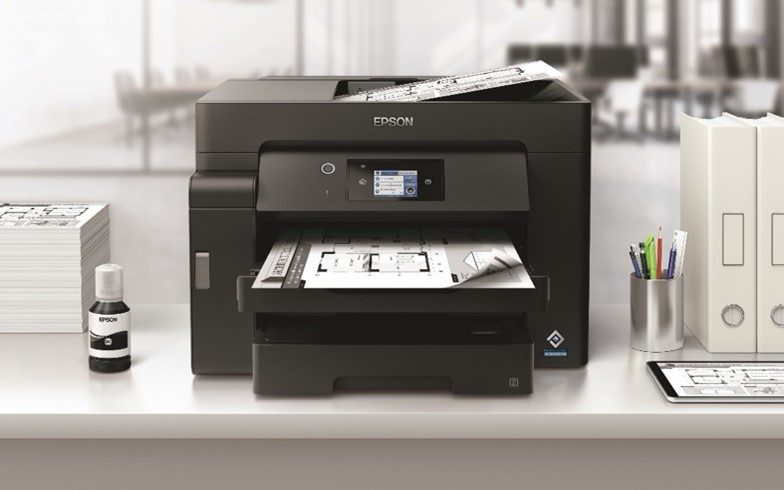 Meanwhile, to combat the increase in demand for A3 printers, the EcoTank M15140 is Epson's first A3 monochrome printer that can achieve 4800dpi while printing at a speed of 25ipm. You might think it must be generating a large amount of heat so that it could print and dry ink that fast. But hold your shoes, this model uses the DURABrite ET ink plus the Heat-Free tech as well so that you can just print away worry-free thanks to the use of piezo-electric print head compared to traditional laser printers.
Lastly, the EcoTank L15150, L15160 is designed for A3 while the L15140 is dedicated to A3+ and A4+ but all of them perform fairly well with all the essential functions you need -Print, Scan, Copy. Similar to the M15140, these models also use DURABrite ET inks and PrecisionCore for accurate and high-quality prints. The scanning and editing process has also been streamlined through the Epson ScanSmart portable scanner add-on.
Pricing
While we couldn't find official pricing for these new models, certain models have started to pop up on sites such as Shopee but they were sold by private sellers. If you rather wait for them to be made available officially, we'll be back with another announcement for them.