This is the Kailh Deep Sea switch. Actually, no. I don't know what's the official English name for this switch since I can only find more details regarding this switch from Kailh's Weibo page. Its official Chinese name is "深海" which literally means "deep sea" in Mandarin.
This is an entirely new switch from Kailh, and it focuses on silence. Call it a weird fetish or whatever you want, I am someone who is very sensitive to sound and I am already using a silent keyboard for my main PC – yet I am very tempted to make the switch to this new Kailh Deep Sea switch.
So, here's a little bit of backstory.
When I first used the Cherry MX Silent Red in a review of a Leopold keyboard a few years ago, I immediately fell in love with that silent switch and got myself a Leopold keyboard. And remember – Leopold keyboards come with this extra piece of foam for long keys to further absorb more sound.
Since then, the Leopold FC750R PD with the Cherry MX Silent Red has been my "end game keyboard".
But this Kailh Deep Sea switch made me feel something. It made me want to cheat on my current keyboard.
The overall specs of the Kailh Deep Sea switch are slightly different compared to the Cherry MX Silent Red as they're both require 45gf to bottom out, but the actuation point and total travel distance of the Kailh Deep Sea are 0.1mm shorter.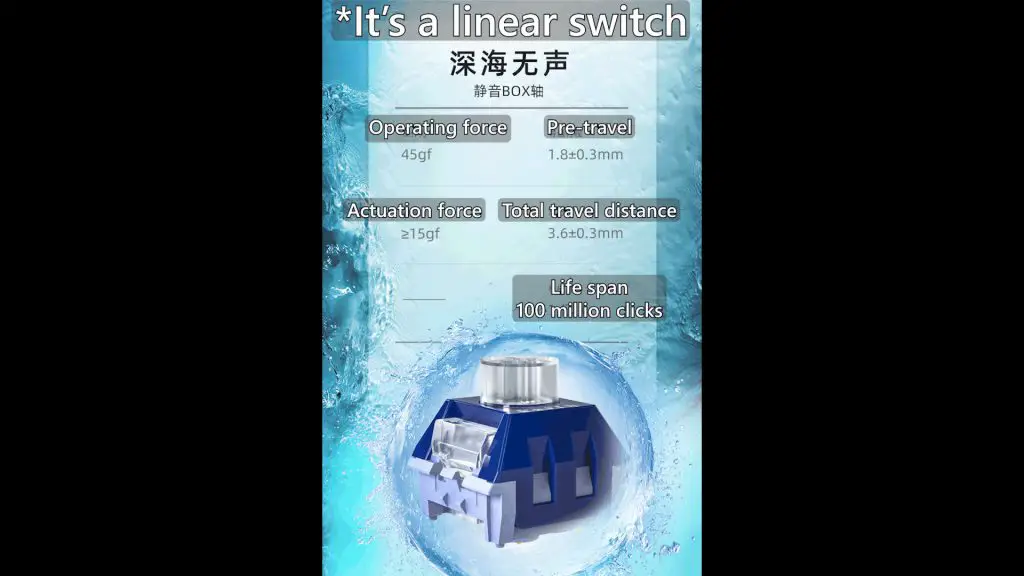 Sometimes when I am in the heat of the moment and start typing fast, I can get about 110wpm easily, but such speed means that I can't actually control how much force I am exerting on the keyboard and mostly just hit the actuation point and then just lift my finger away from that key entirely and proceed with the other key.
That will create a ping, and I am quite annoyed by it since it is distracting, because the Cherry MX Silent Red switches only has a few contact points with dampeners on the stem to absorb the sound.
Now, how did the new Kailh Deep Sea switch revolutionize this idea? It's essentially a new design innovated from the existing Kailh BOX switch designs. Its silence comes from a new way of lining up the dampers inside
Instead of having dampeners on the stem like the existing Kailh BOX Silent switches, the inner housing of the switch case is now doused with dampening material.
This dampening material is not thick, but it is equally spread out on the bottom housing. The top housing of the switch has two lines of dampeners too.
Okay, enough talk – let's do a typing test. However, it's in video version of this review – watch it at the top of this review.
This typing test comparison is not an apples to apples comparison since Leopold keyboards have their own foam lining to further absorb the sound, but damn, Kailh really did a fantastic job with the Deep Sea switch.
And just when we want to publish the review of this switch, we finally have the details for this new switch! It's available now on Kailh's Taobao page for the price of ¥3.70 (about RM2.41) and the prices go slightly lower with the increasing amount of switches in that one particular order. Either way, the switch is pricy.
Either way, I'm really looking forward to getting these Kailh Deep Sea switches and putting them in a keyboard kit. Maybe even mod it to make it even quieter, too. Again – I have a fetish for silence.