We here at Tech Critter have reviewed many keyboards in the past – and we own a large collection of them as well. At Computex 2018, we saw something new at Kailh's booth – and they introduced a new switch that they are calling the Choc switches. They are low profile switches with a completely new design – and the GAMDIAS Hermes M3 is the latest keyboards to use the Kailh Choc switch.
We have with us here today is the clicky, tactile switch, aptly named the blue Kailh Choc switch. Thanks a bunch to GAMDIAS for providing us this review unit as well.
Unboxing
The GAMDIAS Hermes M3 once again comes in a very similar packaging style compared to their catalog of products. The product itself is shown with a black background and another starkly contrasting white background with feature highlights is beside it.
At the back of the packaging is where we can see more feature highlights on the box itself. Nothing particularly outstanding here.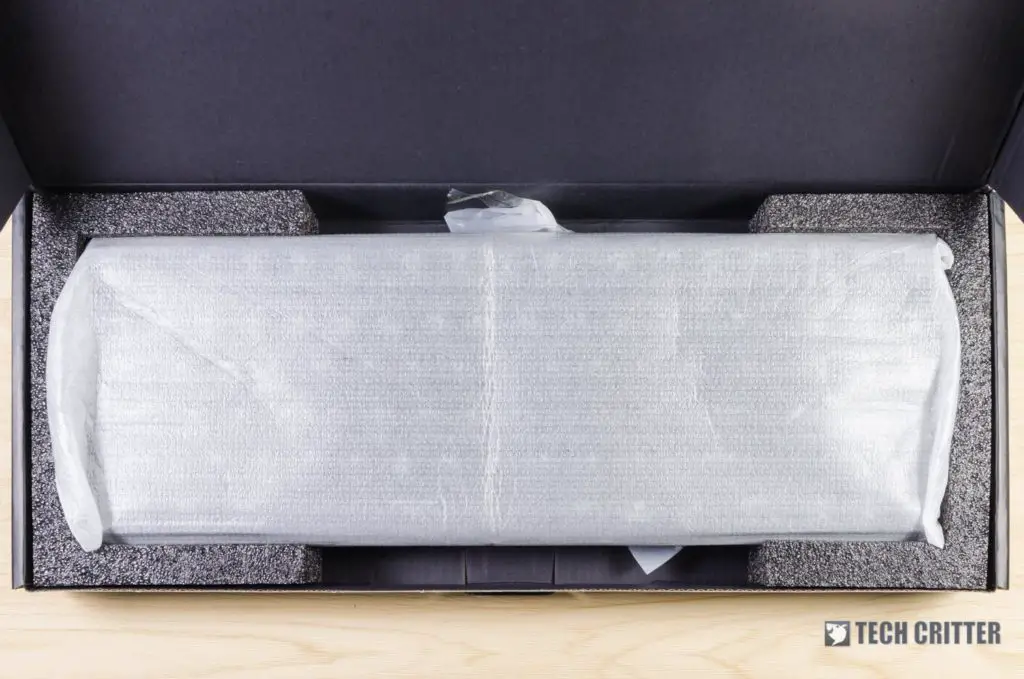 Opening up the box we found that the Hermes M3 is propped up with an adequate amount of foam on both sides and also wrapped in some basic packaging material. Decent amount of protection, I'd say.
Accessories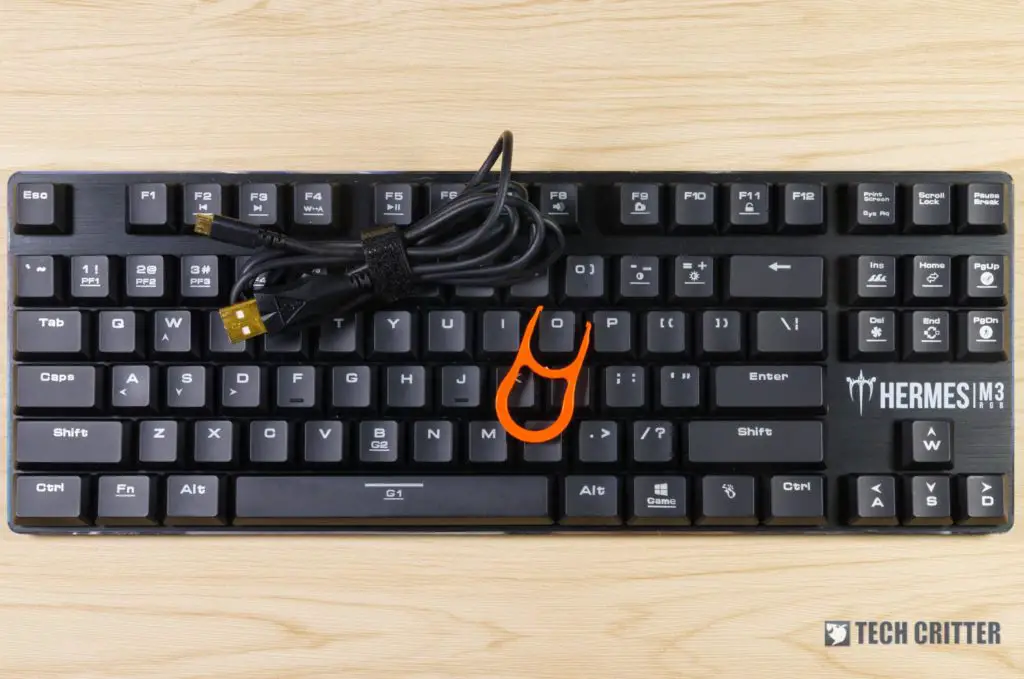 Digging out everything we can find the Hermes M3 low profile mechanical keyboard itself, a ring keycap puller (not our favorite but it works) and also a micro USB cable. Surprise, surprise, that means the Hermes M3 has removable USB cable.
The GAMDIAS Hermes M3 itself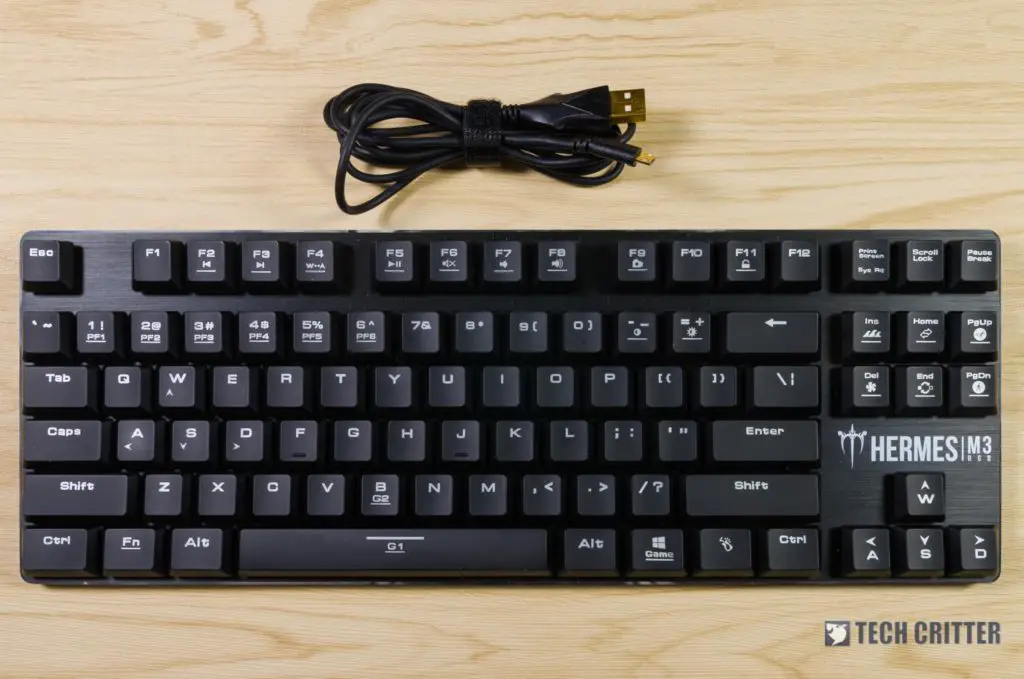 The GAMDIAS Hermes M3 is dons a very simple design. There is no fancy dials and knobs on the board – just a simple caseless TKL design. In a way, I do find this keyboard to be rather sleek because of its low profile design.
Looking at the back of the keyboard, there are two tiny angle feet that can prop up the keyboard. The angle is quite extreme but your mileage will vary. It does have a rubber lining that is adequate enough to minimize the keyboard from sliding around.
At other end of the keyboard is where the micro USB port is located. Thanks GAMDIAS for not making it use "proprietary" micro USB headers like the Razer Mamba Wireless or their own Hades M1 wireless mouse.
That said, I honestly have no idea why GAMDIAS replaced the left Windows key with the function key by default. Thankfully though, the HERA software is still as power as ever and you can swap the function key with the right Windows key instead. Of course, that means you need to swap the keycaps yourself too.
Hitting Fn + right Windows key activates "game mode", which disables accidental Windows key presses. Only useful when you do swap the the Windows key to the left side, though.
Then comes the relatively new Kailh Choc switch. Its stem has a rectangular shape with two cutouts for the keycaps to be slotted in.
Speaking of the keycaps, the included ones are made out of thin ABS plastic. It does create a rather loud echo when bottoming out. Since it is using an entirely new switch design, we are going to have some tough time finding keycaps for this keyboard. O-rings and whatnot are not compatible with the GAMDIAS Hermes M3.
The stabilizers that they have are especially stable – especially for the spacebar key. There are two dummy Choc switches at the side – pretty much like how the Cherry MX stabilizers are made.
As for keys like backspace, it does wobble quite a lot since there is no dummy switches on both ends. The metal wire is the only thing that distributes the force throughout the key.
HERA software for the Hermes M3
Honestly speaking, the HERA software that we came to love over the years is back once again. It still offers the same slew of powerful features that HERA has.
When I first installed HERA and plugged the keyboard in, I was prompted with one message – firmware update. The firmware updater utility is a little confusing since it is not a one-click process. I had to manually first click connect for the updater utility to be able to "talk" to the keyboard first, then another button to initiate the firmware update.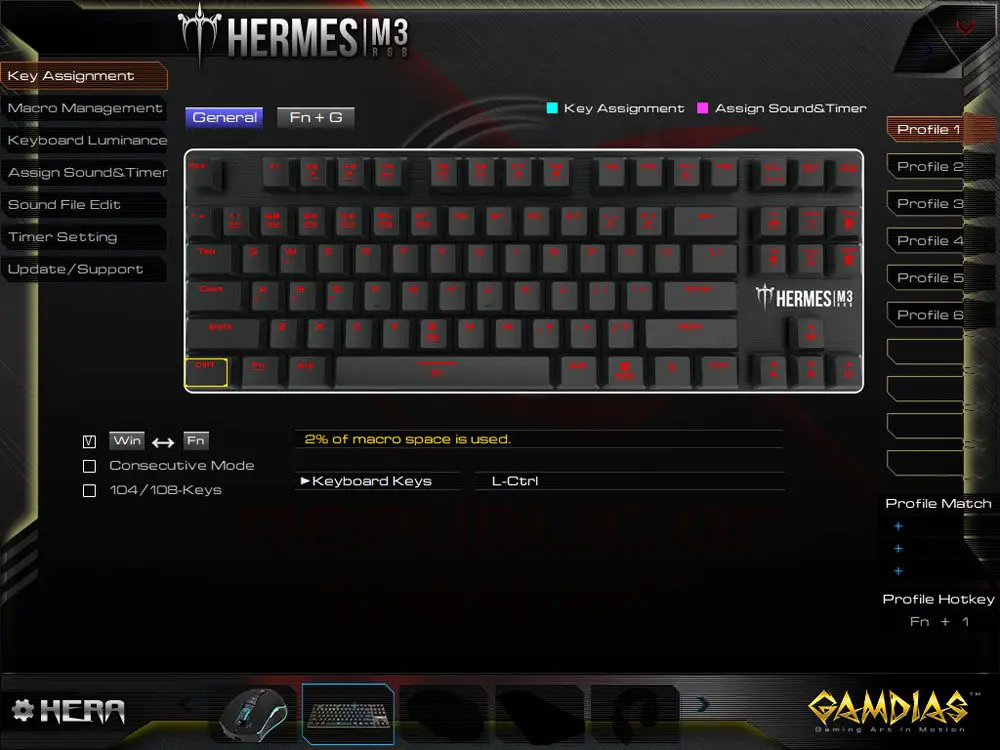 After that, the HERA software is still the same as before. Here's where the magical button to swap Windows key and Function key is located. Then there's this button called "consecutive mode" which makes QTE in games easier.
Then there is macro management where you can record all of the macros and then assign these macros to certain keys in the first menu.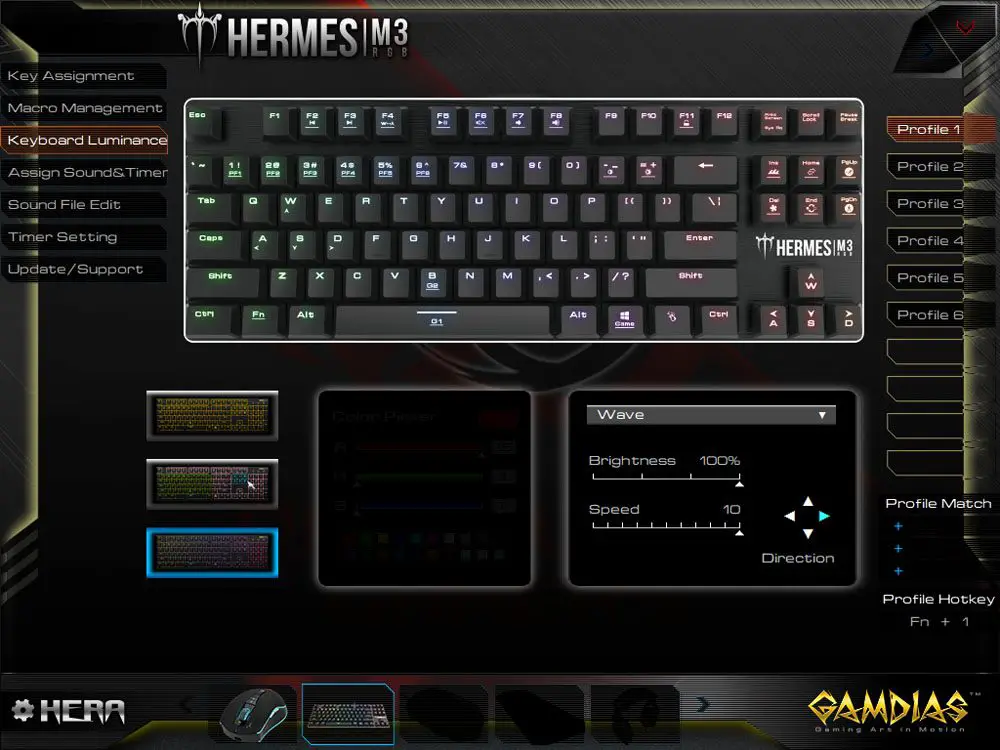 Of course, now the Hermes M3 comes with RGB lighting as well – and the lighting modes here are pretty simple, I would say. You have 3 main modes – static mode, a custom lighting mode, and also another one is "lighting effects". Under "lighting effects", we can find many more other fancy effects. Not sure why GAMDIAS separated static mode from the fancy effects menu though.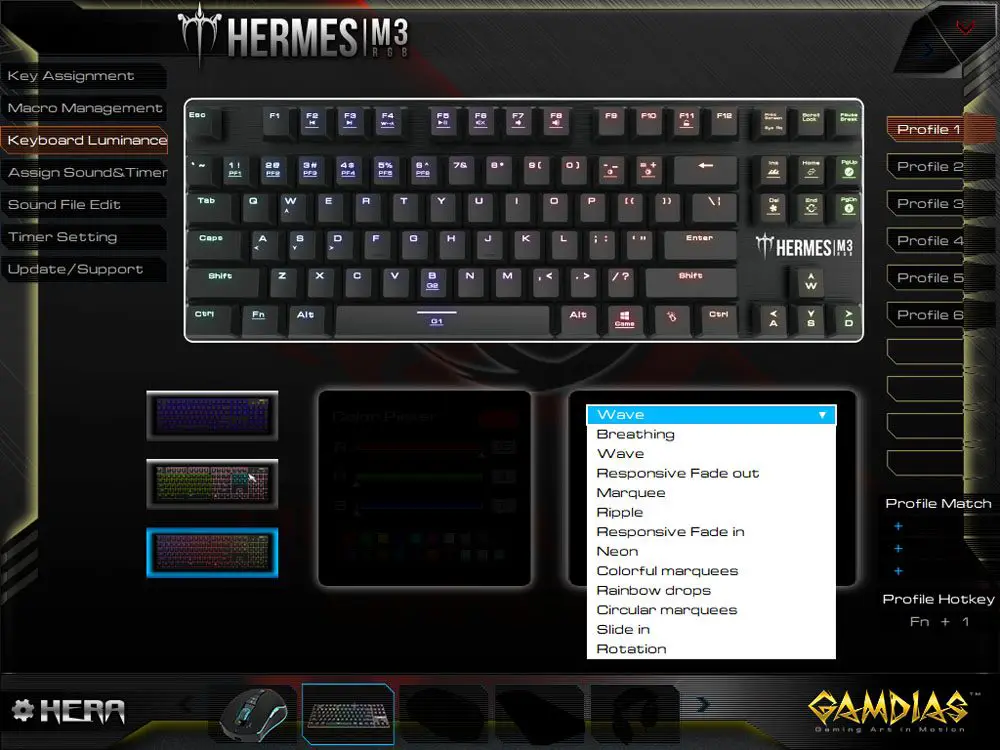 Also, the HERA software still allows you to add in sounds and timers for each key.
In the next menu is where you can customize your sounds.
The last menu we are showing here is where you can customize the timer.
HERA is powerful, but I don't think many people will utilize it to its full potential.
User Experience – Typing
Being an entirely new experience, it took me a while to get used to it. The low profile design means that I have to readjust my posture, how my hands rest on the keyboard, and that affected my typing angle.
Once I did get use to it, I actually like the overall thinness and the low profile experience that the GAMDIAS Hermes M3 offers. I even disregarded my wrist rest and laid my wrist directly on my soft mousepad and typed right away.
Then comes the personal preference part of the typing experience. The low profile switch means the travel distance of the stem is rather small. That makes the typing experience on clicky tactile blue switches extremely tiring since every keystroke is bottomed out entirely.
If I am to find something to upgrade on the Hermes M3, it will definitely be the keycaps first. However, I can't find any keycaps for Kailh Choc switches for sale in the market – and that means I am stuck with this thin, cheapo ABS keycaps.
User Experience – Gaming
The GAMDIAS Hermes M3 comes with a total of 4 different switches – blue, brown, red, and black. While we do not know what switches are available in which region, it is safe to assume that the 3 most common switches – brown, red, and blue, will be available in most regions. Here are the specs for those common switches.
| | | | | |
| --- | --- | --- | --- | --- |
| Switch | Feeling | Actuation force | Actuation travel | Total travel |
| Kailh Choc Brown | Tactile | 60±10gf | 1.5±0.5mm | 3.0±0.5mm |
| Kailh Choc Red | Linear | 50±10gf | 1.5±0.5mm | 3.0±0.5mm |
| Kailh Choc Blue | Clicky | 60±10gf | 1.5±0.5mm | 3.0±0.5mm |
Because of the short travel compared to the conventional Cherry MX switches, pressing each key means I need to bottom it out. Not that good for fast-paced games like Overwatch.
The one we have here is the blue switch – which I personally do not prefer – especially not for gaming. It works as a keyboard but bottoming out every key is quite exhausting, especially with games that requires constant, consistent key presses. Though the HERA software does have the "consecutive mode" to compensate for that – but it requires manual intervention on the software side of things.
Final Thoughts
My overall experience with the GAMDIAS Hermes M3 is actually pretty good. I enjoyed the new low profile build of the keyboard and – once again – I can use the keyboard without a wrist rest.
Though the clicky and tactile Kailh Choc blue switches are no our cup of tea, we think we might enjoy the linear Kailh Choc red switches even more.
As a keyboard on its own, the GAMDIAS Hermes M3 is already pretty good by default – however, getting accessories or aftermarket enhancements would be difficult. For example, getting keycaps for this keyboard will be difficult. That's because of the Kailh Choc switch is still in its infancy stage.
I would not be surprised if laptops with Kailh Choc mechanical switches started appearing the market. That would be interesting, to be honest.
Pros
Low profile design
Caseless for easy cleaning
HERA software is still as powerful as ever
Cons
Angle feet is too extreme