Dell Technologies has announced that they are providing more options while applying more optimizations into its Dell EMC PowerStore and EMC VxRail lineup of professional equipment.

First off, the EMC PowerStore lineup welcomes another model, the PowerStore 500 that is made accessible at a relatively low price point. Designed to be suitable for any business or in remote locations and edge environments, the compact 2U form factor allows a total of storage of up to 1.2PB and capable of handling 2.4 million SQL transactions and 1500 VDI desktops per unit and to facilitate easy scaling and deployment, clients can buy multiple of these to form a cluster all managed through the built-in software. Additionally, the Anytime Upgrade benefit which is part of the Dell EMC Future-Proof Program allows changes to capacity or deployment units to be as quickly as after 180 days of initiation. On a side note, the new PowerStore software update which is the PowerStoreOS 2.0 is compatible with all models that add highly practical features without disrupting business operations that include the following.
Performance Gain: Up to 25% more IOPS
Modernized Infrastructure: Added support for NVMe over Fibre Channel (NVMe-FC)
Apps-ON for scaling out: Direct application runtime in PowerStore through VMWare ESXi hypervisor
Intelligent Data Reduction at a guaranteed 4:1 ratio
98% less management effort thanks to Dynamic Resiliency Engine
Smart Tiering system speeding up metadata access of up to 15%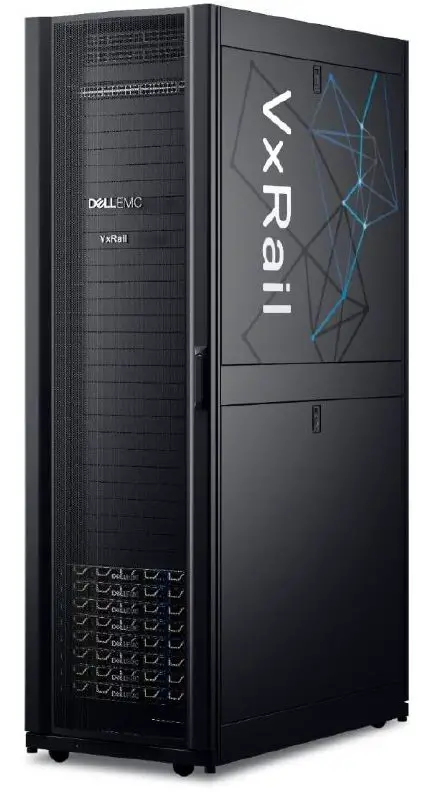 Moving onto the EMC VxRail ecosystem, the latest models are based on EMC PowerEdge servers that have brought forward enhanced performance and features that many HCI clients can enjoy. First off, the internals has been upgraded to Intel and AMD's latest 3rd generation server-grade CPUs of Xeon and EPYC where clients can certainly choose depending on their workload requirements. Diving deep into the different series of EMC VxRail offerings and we found out that the V-series can now be equipped with NVIDIA's A40 or A100 GPU, P-series getting a 20% increase in capacity and E-series now packs 50% more PCIe slots for various add-ons and proprietary components.
Switching the topic to software, Dell Technologies has also announced that dynamic nodes will be implemented into EMC VxRail as well – an architecture designed to help customers simplify operations, better manage storage resources and reduce costs by supporting more workloads and extending VxRail environments to include external storage options by sharing VMware vSAN storage capacity across clusters via VMware vSAN HCI Mesh. Additionally, the brand wants customers to take back some of the control they deserved with new self-service tools that makes validation, orchestration, and automatic cluster deployment all doable at the client's desired timeframe. Oh, and of course, these machines are ready to go with the latest VMWare release as well.
Availability
Dell Technologies has listed the majority of the following hardware and software to be released within 2021 with only one that starts early 2022.
Dell EMC PowerStore 500 / PowerStore software update: June 10, 2021
Dell EMC VxRail with Intel 3rd Generation Xeon processors: July 2021
Dell EMC VxRail with AMD 3rd Generation EPYC processors: June 2021
Dell EMC VxRail HCI system software update: July 2021
Dell EMC VxRail dynamic nodes: August 2021
Dell EMC VxRail self-deployment options: Q1 2022 in APAC and Japan