Machenike is a lesser-known brand that is surprisingly making waves in e-commerce sites like Lazada here in Malaysia. The price is good, and the quality is also somewhat decent.
So in today's video, let's talk about this new Machenike K7 gaming keyboard.
Opening up the box, you get a minimal amount of things. A USB-C cable to charge the keyboard, a bag with a keycap puller which you shouldn't use, and also a user manual that we'll need.
Now the keyboard itself has a rather… interesting choice in terms of aesthetics. To me, this Machenike K7 keyboard reminds me of sports car. Particularly, BMW cars for some reason.
You see, when the RGB is all lit up – even the "front lights" are lit up. And while on that subject. Let's talk about the RGB of this keyboard because it's rather insane. The aforementioned "front lights" lights up, and so does the right side of the keyboard which highlights the Machenike logo, and then the "back" side of the keyboard. I find it excessive, but this is what we get.
There are also 19 lighting modes to choose from, but to choose between them is rather funky. It has a wheel at the corner here which i thought it was for volume control, but no – it's for cycling through lighting modes. And the wheel is also… not tactile at all. There's no feedback or clicks. It's just a free flow wheel.
And that is the weirdest thing that I've encountered on a keyboard, honestly.
But nonetheless, this keyboard also comes with two more push switches. One for your to change between Windows or Mac keyboard layout. Even the keycaps has double printings. The main default one is the Windows layout, then it has a tiny little sub-printing for Mac layout.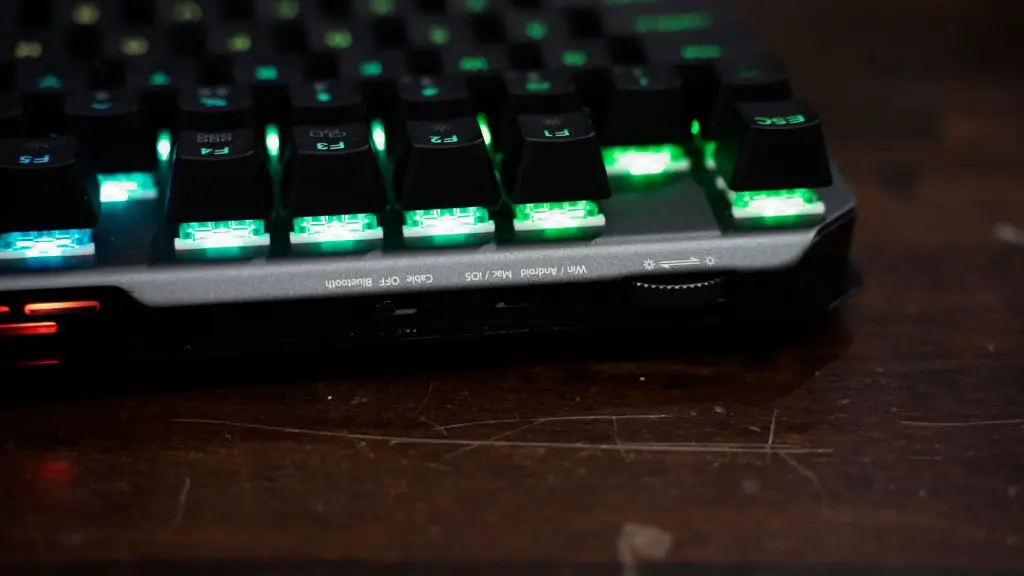 However, the keycap quality itself is not the best. It's an ABS keycap and the texture on this keycap sticks to my fingertips way too frequently. But the Machenike K7 uses the standard layout, so we can swap it to whatever keycaps we want.
And I should also mention that the Machenike K7 is using a switch that I have no idea who the manufacturer is? And I'm usnig the black switch here since there's only the option of blue or black switches. I personally would've preferred linear and lighted Red switches, but that option is not available.
Back to the push switch – the other one is to change between the connectivity modes – either through "cable" mode, "off" mode", or Bluetooth mode.
And this is where we need the user manual again – because it shows us how to connect it to our devices via Bluetooth – and this Machenike K7 can connect up to a total of 3 different devices too.
I am thoroughly impressed by this, honestly. For us "work from home" folks, we can get this Machenike keyboard for both our work and play setups and there's no need for wires since it has multi-device Bluetooth connectivity!
We also don't have to worry about the battery life since this keyboard lasts for an absolutely bonkers amount of time. I mean yeah, wireless keyboards usually last very long. I've been using this keyboard for 2 weeks and I needed to charge it only once.
So finally – the price. Originally, it's priced at RM249 but Machenike always have promotions going on for this keyboard. I have no idea what's the price right now, so you'll have to find out at the link here.
Also, the price varies by quite a lot depending you want blue or black switch.
But with all of that said, if you can get it at a low price of about RM179 or RM169, there are a lot of things to like about the Machenike K7. It's not perfect – especially the weird wheel for cycling through RGB instead of volume. But with all of its features and supremely good battery life at this price – it's a pretty good keyboard.

Where to buy? (Affiliate links)