Cooler Master Malaysia has officially launched the new MasterLiquid PL-Flux series AIO coolers to tame down some of the most beastly consumer CPUs out there.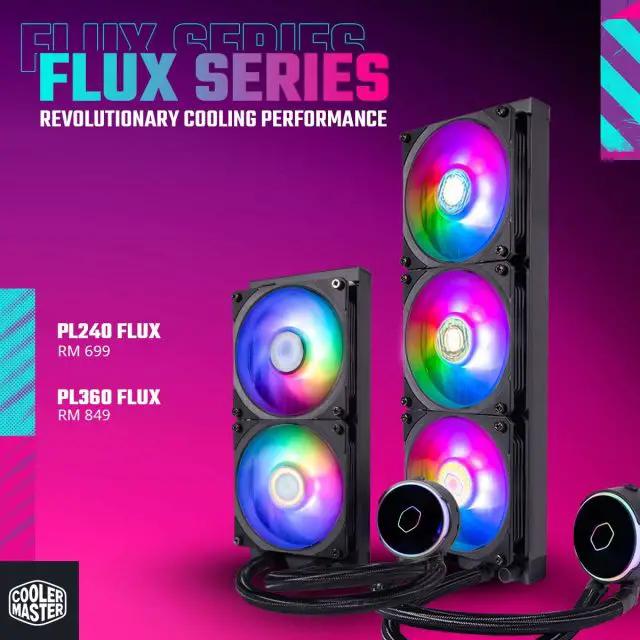 Different from previous offerings, the MasterLiquid PL-Flux series offerings now deploy a high-speed dual-chamber pump with dedicated water flow to allow more moving liquid parts to tackle more heat spots for more effective and efficient heat exchange. Other than tinkering with the pump, a very simple surface area increase of the copper base plate also made things easier with the contact side getting a minor level and even adjustments to maximize contact uniformity.
The signature Air Balance fan blades are also getting some optimizations across the board where they are now interconnected and you can quickly realize the benefits like reinforced fan stability during high load moments, increased air pressure thanks to the gap created between the inner wall of the frame, chamfered rims that boosts air inflow – all of which contributes to a high-performance AIO cooler.
For the early adopters of the 12th Gen Intel Core CPUs aka Alder Lake, full support for LGA 1700 is given to the MasterLiquid PL-Flux products with all the necessary tools and accessories included inside the box so feel free to use it on your current ones and mod it when next-gen rigs become the mainstream.
Immediate Availability with Price
Yes, you can buy the MasterLiquid PL-Flux AIO coolers from Cooler Master's Shopee store right now at the price of RM699 for the 240mm model and RM849 for the 360mm variant.