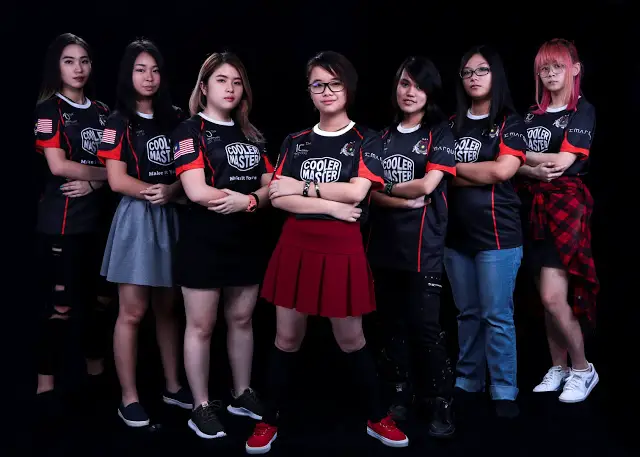 Professional gaming is continuing to take off in Asia & Cooler Master in collaboration with Malaysian Battlefield Team (MBT) is celebrating the formation of its first all-female Overwatch team, MBT.Valkyrie.
From Left to Right (Back row): Amanda "Hamlet" Yow, Tan "GrilledKoi" Yen Li, Angeline "iCaramel" Chan, Sylvia "Yue" Yap, Elaine "Bloodyrukia" Chern, Alice "EvieNya" Chong, Yuukii "Kusochii" Yong
Since Cooler Master's collaboration with MBT last year, they have continued to reach for their goals by inspiring their younger members to strive in eSports while shaping a positive gaming community in Malaysia. The team's effort in organizing Cyberfusion 2016 community events and show-matches proves the capability and sustainability of MBT. MBT's eSports Division also did well and is the Winner of MSI Overwatch Open Tournament 2017 & 2nd Runner Up in the Overwatch MSI MGA Dragon Cup 2017.
With this formation of the all-female team, Cooler Master & MBT have reached a greater milestone in building a more diverse and inclusive gaming community. We hope to see more from this new team which can bring new heights to Malaysia's eSports.
As the official partner of MBT, Cooler Master will support this new team with its Case, Power Supply, Thermal Solutions and Peripherals to allow them to pursue their dreams further. 
Malaysia Battlefield Team (MBT), Valkyrie Division
Sylvia "Yue" Yap 
Elaine "Bloodyrukia" Chern 
Alice "EvieNya" Chong 
Angeline "iCaramel" Chan 
Tan "GrilledKoi" Yen Li 
Amanda "Hamlet" Yow 
Yuukii "Kusochii" Yong