When it comes to high-end gaming monitors, it's always the same type of things shown in reviews – running benchmarks, colorful games, testing out HDR with some games like Cyberpunk 2077 and perhaps running some benchmarks like the UFO Test to show the latency and whatnot. Those methodologies work – but they're just too generic at this point.
So, when BenQ sent over the MOBIUZ EX2710U, I was perplexed. It's just the smaller version of the MOBIUZ EX3210U that we reviewed a while back. Then, I wanted to do something different. Why not try rhythm gaming since we have an ex-competitive rhythm gamer?
But, before we do that, here's a quick recap of what this monitor has to offer. It's made out of a very stylish and thoughtful design. The monitor arm – although it is a Gundam-looking base – is actually functional and balances the monitor nicely. The entire monitor arm's neck does not move and all the moving parts are located at the pivot point.
Of course, this monitor is able to tilt, pivot, and have its height adjusted.
The EX2710U also has some RGB lighting at the 4 corners for some extra style points.
One thing I think BenQ did very well with the MOBIUZ series is the number of ports available. It's seriously better than most of the other monitors that I've tried so far – particularly because of that 4x USB 3.0 Type-A ports. It also has HDMI 2.1 ports too – so you can use this monitor to play PlayStation 5 games at 4K 120Hz.
And of course – this monitor is using a 4K 144Hz panel. BenQ also advertised a lot of big claims like 1ms MPRT and with AMD FreeSync Premium Pro. We asked our ex-competitive rhythm gamer (also known as our writer) about his user experience. I'm going to paraphrase a little – but you can watch the video at the top of this article for the full reply.
Q: What do you actually need from a monitor when it comes to rhythm games?
A: It's a 4K 144Hz monitor with AMD FreeSync Premium Pro and 1ms response time. This is crucial since rhythm games are like esports games. Every frame matters, and every millisecond matters, and there must be no screen tearing. Any sort of screen tearing will result in the notes running off its path, causing a distraction.
Q: How does the speaker sound? It has a built-in 2.1 speaker powered by treVolo.
A: Actually sounds good and it is able to create the feel of "open air audio". The speaker also has a few different EQ presets to choose from, and we're using it in the "Pop/Live" audio most of the time.
There are a total of 5 different audio modes to choose from:
By the way, our ex-competitive rhythm gamer here also likes the colors coming out of the BenQ MOBIUZ EX2710U, saying that he mostly play this game for the flishy-flashy eye-candy. I guess he got that right since this monitor scores a very color accuracy in our tests.
But of course, when we're not using this monitor to play rhythm games, we still used it to play some other games like the latest Spider-Man Remastered. This monitor also elevates the experience on that particular game as it has HDR too. Better yet, the MOBIUZ EX2710U has a total of 3 different HDR presets to choose from – Game HDRi, Cinema HDRi, and also Display HDR.
All of those settings can be controlled via the OSD menu and we don't even have to touch the monitor to change these settings as it comes with a remote control. There's also a built-in microphone into the monitor that we can use for voice or video calls as well.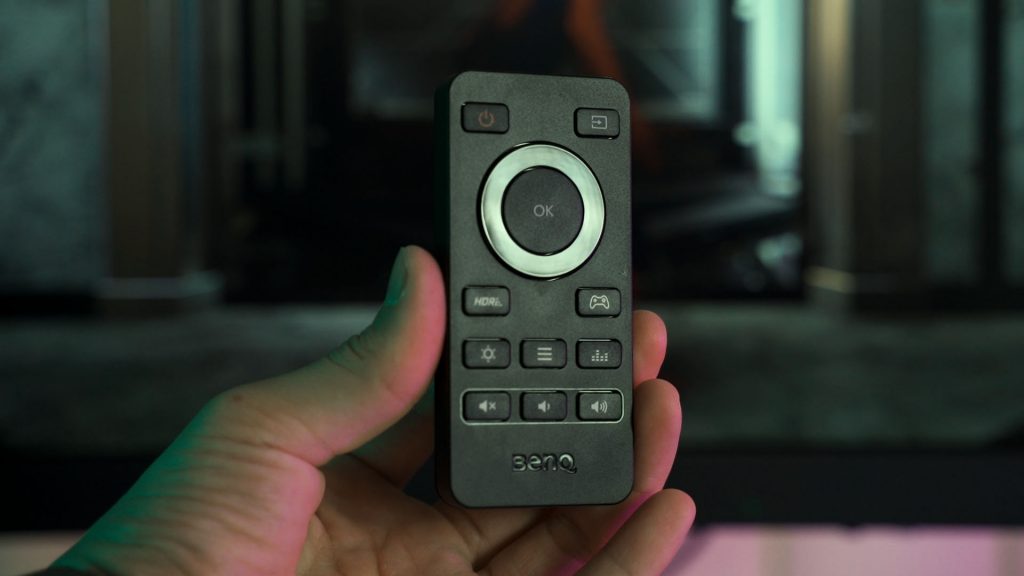 Plus, this monitor does have Brightness Intelligence+ so that when we want to use this monitor to do work, we wouldn't tire our eyes.
And finally – if you want to know more about the BenQ MOBIUZ and the EX2710U or the EX3210U, we'll leave all the links in the description below. The price of the EX2710U that we're using today is RM3,999.
Where to buy?