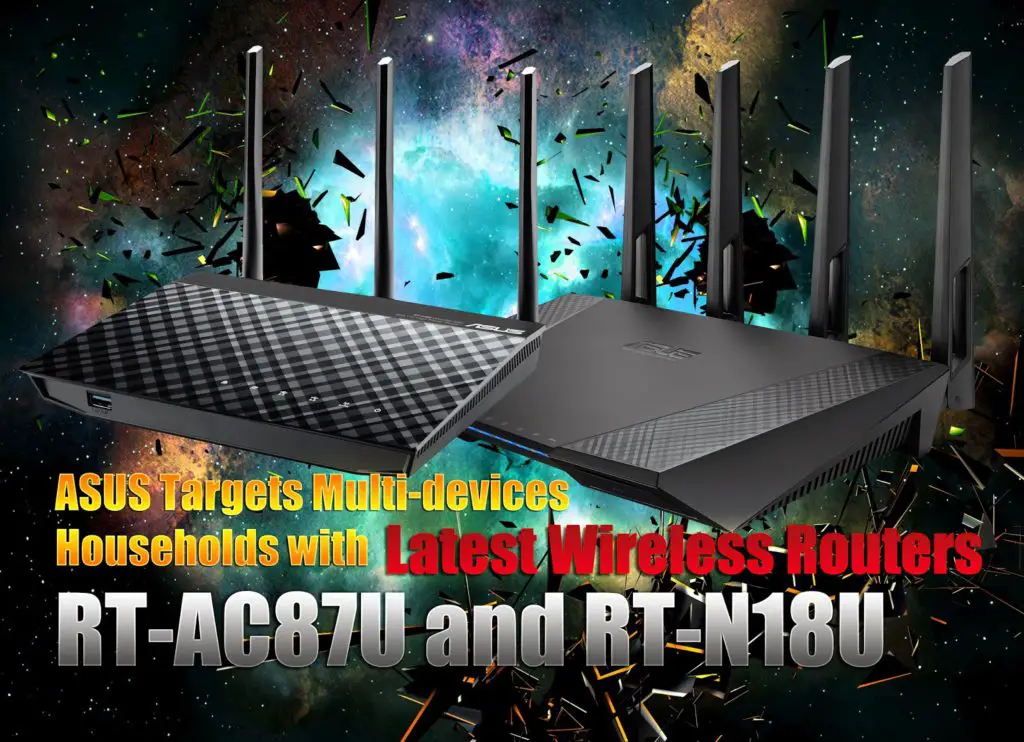 Kuala Lumpur, 3
November 2014
– ASUS, the world's No.1 preferred brand for wireless
router¹, today announces the availability of its latest range of wireless
routers for the Malaysian market – the ASUS RT-AC87U and RT-N18U.
According
to Jacky Lim, Country Manager of Open Platform Business Group (OPBG) at ASUS
Malaysia, these two ASUS wireless routers — RT-AC87U and RT-N18U, is timed for
launch to capitalise on the market opportunities arising from the growing consumer
trend of adopting personal, mobile devices in Malaysia. 
He says, "Almost
all users these days are universally connected multi-device users living under the
proliferation of smartphones, tablets, laptops, smart TVs and other
Wi-Fi-enabled gadgets. As such, ASUS launches its latest router offerings to support
the multi-devices users in their households under a single Wi-Fi environment."
Currently,
the router sales division contributes up to 20 per cent of ASUS OPBG's overall
revenue in Malaysia.  "We are eyeing to
sell more than thousands units of high performance wireless routers inclined
with the forecasted users' demands to support their growing network access
requirements," says Lim.
RT-N18U
He further
shares, "As more device share the sharing the available wireless bandwidth
under the same wireless network, data congestion happens and impacts on the
user experience. Standard routers easily become overloaded and thus leading to device
instability, lags and slowdowns."
"Therefore
the RT-AC87U and RT-N18U are most ideal
for home and small business users who are looking for more effective alternatives
to increase their speed to access network and data," he says.
ASUS's
RT-AC87U is the world's first four-transmit, four-receive (4×4) antenna
configured AC2400 class dual-band gigabit wireless router employed with
multi-user MIMO (MU-MIMO) technology. This allows users to improve floor coverage
and enjoy lag-free network experience at the same time².
Whereas, RT-N18U
is a high-powered 2.4GHz 802.11n Wi-Fi router with USB 3.0 and 2.0 ports plus
Gigabit Ethernet connectivity for discerning home users. Incorporated with
TurboQAM™ technology, RT-N18 can boost network speeds of up to 600Mbit/s
enhancing users' multitasking performance for multimedia applications, such as
HD video streaming, online gaming and file sharing.
(Note:
For more details of ASUS RT-AC87U
and RT-N18U,
please refer to the enclosed product specifications and fact sheets)
RT-AC87U
A Secure Multi-device Network Experience (RT-AC87U)
The RT-AC87U
is also the first ASUS wireless router embedded with security capability which offers
consumers protection over their connected devices via a safe access to the networks.
"Built-in
with exclusive Trend Micro™ technology—AiProtection, RT-AC87U wireless router becomes
an additional security layer to safeguard all connected devices from malware,
malicious websites and other cyber-threats, while ensuring user privacy by keeping
a constant check on network security status," says Lim.
He adds
that using a security-enabled Wi-Fi route is especially important as today
there are more devices in household, such as Smart TV, game console and more,
are connected on Internet-based network.
 "Consumers cannot install security software to
protect every single home device or to update the firmware security patches one
by one. Plus, security update is not available for existing Windows XP users.
These connected devices at home are exposed to internet-based threats."   
"RT-AC87U
recognizes the increasing complexity and diversity of wireless networks. With a
security gateway, RT-AC87U assures the users with a network-wide protection for
multi-devices environment," adds Lim.
Complimentary ASUS AiCloud
Both
RT-AC87U and RT-N18U wireless routers are now available nationwide starting from
November 2014 at RM1,199 and RM409 respectively.
Lim adds, "To
encourage more uptake of private Cloud storage for better personal data
management, ASUS Malaysia is giving away new ASUS routers' buyers with 100GB
complimentary storage on ASUS AiCloud. The complimentary storage promotion
applies to all AC-class and N-series routers' purchases."
"ASUS
AiCloud lets users to sync, share and stream their photos, videos, files and other
data from router to any connected desktop, notebook and storage devices on the
go. Its Router-to-Router Sync is a unique function that facilitates
synchronisation between the storage devices with other compatible ASUS
routers."
Other
advanced features of all ASUS wireless routers include Enhanced Media Server
and Download Master for download and streaming, Parental Control for network
usage monitoring, PRO Quality-of-Service (QoS) for bandwidth prioritisation,
3G/4G sharing and more.