Moving together with GIGABYTE and MSI's footsteps of releasing Z690 motherboards for the 12th Gen Intel Core processors, ASUS's release is by far the largest product push in a while. So let's take a look at these powerful and mouthwatering mobos.
Do you want the best of the best? Look no further than the ROG Maximus Z690 Extreme that sports a stupidly premium 24+1 teamed power stages handling up to 105A with the VRM cooled by a big hunk of aluminum heatsinks. Featuring a big AniMe Matrix LED display that was previously found on the ROG line of laptops and smartphones, this one is a bit special because it is fully colored against past product's monochrome versions. To provide enthusiasts-class users the ability to fully harness their DDR5 RAM, the OptiMem III provides superior memory stability while the ASUS Extended Memory Profiles basically says "Let me handle this" and uses custom tuned profiles configured by the pros. To wrap the premium package, a USB oscilloscope ROG True Voltician is capable of displaying voltages, clock speeds, and more in detail or capturing these to be analyzed on another PC. Your choice!
If you prefer a full custom loop because all these expensive components deserve that much, then the ROG Maximus Z690 Extreme Glacial fulfills that purpose by getting rid of the standard heatsinks in exchange for an EK-collaborated monoblock featuring another beautiful luxurious heatsink that is electroplated. To install or remove M.2 drives, the inverted slot mechanism allows you to do so without tinkering around the heatsink. Definitely appreciated.
Let's forget about the cool and flashy boys and instead focus on the ROG Maximus Z690 Apex that racks up its charm points by being the very best in the field of performance. A quick "Do You Know?" for the non-tech-savvy ones, overclockers default to boards that only carry 2 DIMM slots to reduce signal latency and strengthen integrity which in turn means higher stability when overclocking RAM modules and ASUS said that this board can handle as fast as DDR5-6600. It also includes key features such as Slow Mode, LN Mode Jumper, 8x Probelt measurement points, and a plethora of thermal sensor headers in addition to the inclusion of the ROG True Voltician to let you monitor every single thing down to the tiniest detail. For the M.2 slots, there's technically 5 of them but 2 of them being a DIMM.2 and a ROG Hyper M.2 card so take this into consideration as well when purchasing.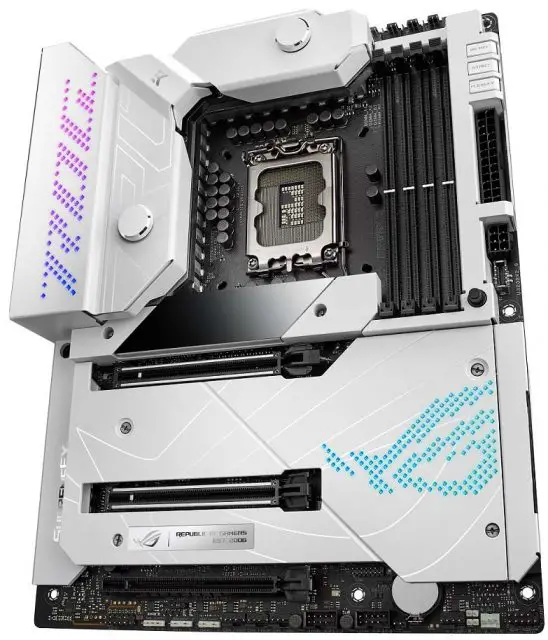 Fancy a blinky white build that is clean, futuristic, and high-tier? Then the Moonlight White-colored ROG Maximus Z690 Formula carries that spirit from the renowned ROG Phone to the desktop market. While not as powerful as the Extreme and Apex boards, it is still equipped with a respectable 20+1 power delivery system to keep the power consumption rate in check. Other things inspired by the ROG Phone 5 include the RGB and LiveDash OLED display while not mentioning the combination of the latest connectivity and I/O offerings from WiFi 6E and 10Gb Ethernet to Thunderbolt 4 and USB 3.2 Gen2x2. M.2 wise, it is more or less the same as the ROG Maximus Z690 Apex.
For the fans that like glossy blacks, shiny and reflective items, the ROG Maximus Z690 Hero with the new Polymo lighting checks all of those boxes as the LEDs shine through the shroud to provide you with fancy monochrome and RGB patterns without going too overboard. For the hardware specs, it has a 20+1 VRM setup with 90A power stages while having connectivity options of WiFi 6E and 2.5Gb Ethernet which is a slight downgrade but as with every downgrade goes, the price will go down as well. 5 M.2 slots can be used where 2 of them are provided by the bundled ROG Hyper M.2 card. But to balance affordability, aesthetics, and a feature set that includes Thunderbolt 4 and native DAC ESS 9018Q2C, I'm intrigued to know how exactly will this be priced as it probably is one of the best-selling mobos out of everyone.
Not only the ROG Maximus family gets 5 Z690 members, but the ROG Strix also gets 5 of them as well. Let's start off with the ROG Strix Z690-A Gaming WiFi D4 that sports the same Moonlight White aesthetic as the ROG Maximus Z690 Formula but the tricky thing is that "D4" denotation at the back, signaling that this board is made to support the mainstream DDR4 memory and not the other way around as a way to reduce the costing for presumably, majority of gamers who just want that sweet 12th Gen Intel Core CPU for a more obvious performance boost. With power stages of 16+1 DrMOS rated for up to 90A, the standard and modern Intel feature set of Wifi 6, 2.5 Gb Ethernet can be found alongside HDMI 2.1, USB 3.2 Gen2x2, and a quadruple M.2 slots.
Finishing the A is the E as in ROG Strix Z690-E Gaming WiFi with the spotlight shined towards its implementation of a Savitech SV3H712 DAC which is perfect for those looking to get the best audio out of their boards without committing to a dedicated DAC. While the power stages get tuned down a bit to 18+1, it is still good enough for most gamers but in order to not be that cheapskate, at least there's an ASUS Combo-Sink design featuring 2 aluminum heatsinks linked by a heat pipe to cool off pretty much the hottest parts of the rig. Asking for connectivity and I/O? There's WiFi 6E, 2.5 Gb Ethernet, HDMI 2.1, USB 3.2 Gen 2×2. You get the deal.
Moving forward and lower, we have the ROG Strix Z690-F carrying a lower 16+1 power stages config but it still has all the goodies like PCIe 4.0, native DAC, connectivity, I/O, and down to the software like ASUS AI. Heck, there's even a ROG Reusable Cable Organizer, letting you tuck all those troublesome cables away. Why the special treatment to this specific board only though.
Turning towards the mATX corner and you'll see the ROG Strix Z690-G Gaming WiFi standing proud and high as being a premium option for mATX lovers. Running a 14+2 DrMOS design, connectivity, I/O and audio solutions offered by this board is similar to its big brothers – WiFi 6E, 2.5 Gb Ethernet, HDMI 2.1, USB 3.2 Gen 2×2, Savitech SV3H712 DAC with DTS Sound Unbound. Looking to spend only the most worth bucks for mid-sized builds? Don't take your eyes off this one.
Ending everything is the smallest boy in the lineup, the ROG Strix Z690-I Gaming WiFi that on its own with a measly 10+1 VRM design, might seem like it sucks but it is not, frankly. Despite being an ITX board, it has high-end alloy chokes and rugged capacitors while packing 3-slot heatsinks capable of holding 2 M.2 slots for decent storage accessibility. Luckily the ports are not skimmed to the minimum as it still has 2 Thunderbolt 4 and 4 SATA to get the most basic job done.
Availability
Global and Malaysia available for all the ASUS ROG MAXIMUS and Strix Z690 motherboards are to be confirmed.