While Intel just officially announced its 14th-gen desktop processors aka the Raptor Lake Refresh, the board partners has already started teasing their Z790 chipset motherboards back in Computex 2023 and we can all see that the one thing that all these Z790 refresh motherboard has in common is WiFi 7 connectivity. The board partners are also taking this chance to improve existing models, adding new features, and even having new revisions like the ASUS ROG Maximus Z790 Apex Encore we have for this test.
The Maximus Z790 Apex Encore is one of the Z790 refresh motherboards in the ROG lineup, alongside the Maximus Z790 Formula, and Maximus Z790 Dark Hero but unlike the white colored theme Z790 Apex, ASUS went back to the black colored theme that many of us are familiar with. As we have used the Z790 Apex for a lot of our DDR5 memory tests, we're really looking forward to seeing what kind of improvement we can see with this board, especially with the new 14th-gen Intel Core processors which we assume to have better memory controller this time.
Specifications
CPU support
Intel LGA 1700
Chipset
Intel Z790
Memory
2 x DDR4 DIMM, max. 96GB un-buffered memory
Memory frequency up to 8400MHz+ (O.C)
Supports Intel Extreme Memory Profile (XMP)
Graphics
1 x HDMI port
1 x DisplayPort
Expansion slots
Intel 14th/13th/12th Gen Processors: 2 x PCIe 5.0 x16 slots (supports x16 or x8/x8 modes)
Intel Z790 Chipset: 2 x PCIe 4.0 x4 slots
Storage
Intel 14th/13th/12th Gen Processors

M.2_1 slot: Supports PCIe 5.0 x4 mode
M.2_2 slot: Supports PCIe 4.0 x4 mode

Intel Z790 chipset

M.2_3 slot: Supports PCIe 4.0 x4 mode
DIMM.2_1 slot: Supports PCIe 4.0 x4 mode
DIMM.2_2 slot: Support PCIe 4.0 x4 mode

4 x SATA 6Gb/s ports

Network

1 x Intel 2.5Gb Ethernet with ASUS LANGuard
Intel Wi-Fi 7 (supports 2.4/5/6GHz frequency band)
Bluetooth 5.4

Back I/O Ports

1 x USB 20Gbps port (1 x USB Type-C)
5 x USB 10Gbps ports (5 x Type-A)
4 x USB 5Gbps ports (4 x Type-A)
1 x Wi-Fi Module
1 x Intel 2.5Gb Ethernet port
5 x Gold-plated audio jacks
1 x Optical S/PDIF out port
1 x BIOS FlashBack  button
1 x Clear CMOS button
1 x PS/2 Keyboard (purple) port
1 x PS/2 Mouse (green) port

Audio
ROG SupremeFX 7.1 Surround Sound High Definition Audio CODEC ALC4080
Internal I/O Ports
Fan and Cooling related

1 x 4-pin CPU Fan header
1 x 4-pin CPU OPT Fan header
1 x 4-pin AIO Pump header
2 x 4-pin Chassis Fan headers
2 x 4-pin Full Speed Fan headers
1 x W_PUMP+ header
1 x 2-pin Water In header
1 x 2-pin Water Out header
1 x 3-pin Water Flow header
1 x Extra Flow Fan header

Power related

1 x 24-pin Main Power connector
2 x 8-pin +12V Power connector
1 x 8-pin PCIe Power connector

Storage related

3 x M.2 slots (Key M)
1 x DIMM.2 slot supports 2 x M.2 slots (Key M)
4 x SATA 6Gb/s ports

USB

1 x USB 20Gbps connector (supports USB Type-C)
2 x USB 5Gbps headers support additional 4 USB 5Gbps ports
2 x USB 2.0 headers support additional 4 USB 2.0 ports

Miscellaneous

1 x 80 Light Bar jumper
3 x Addressable Gen 2 headers
1 x Alternative PCIe Mode Switch
1 x Aura RGB header
2 x BCLK button
1 x BIOS Switch button
1 x FlexKey button
1 x Front Panel Audio header (F_AUDIO)
1 x LN2 Mode jumper
1 x Osc sence header
1 x Pause switch
12 x ProbeIt Measurement Points
1 x ReTry button
2 x RSVD switches
1 x RSVD header
1 x Safe Boot button
1 x Slow Mode switch
1 x Start button
1 x 10-1 pin System Panel header
1 x Thermal Sensor header
1 x Thunderbolt (USB4) header
1 x V_Latch switch

Special Features
Extreme Engine Digi+

5K Black Metallic Capacitors

ASUS Q-Design

M.2 Q-Latch
PCIe Slot Q-Release
Q-DIMM
Q-LED (CPU [red], DRAM [yellow], VGA [white], Boot Device [yellow green])
Q-Slot

ASUS Thermal Solution

M.2 heatsink backplate
M.2 heatsink
VRM heatsink design

ASUS EZ DIY

BIOS FlashBack button
BIOS FlashBack LED
Clear CMOS button
CPU Socket lever protector
ProCool II
Pre-mounted I/O shield
SafeSlot
SafeDIMM

AURA Sync

AURA RGB header
Addressable Gen 2 RGB headers

Front Panel USB 3.2 Gen 2×2 with PD Fast-charge Support

Support: up to 30W charging
Output: 5/9V max. 3A, 12V max 2.5A
Compatible with PD3.0

Included accessories
Cables

Additional Cooling Kit

1 x DDR5 Fan holder
1 x VRM Fan holder
1 x Thermal pad for M.2

Miscellaneous

1 x ASUS Wi-Fi moving antennas
1 x Cable ties package
1 x M.2 backplate Q-Latch package
1 x M.2 Q-Latch package
1 x ROG key chain
1 x ROG Strix stickers
1 x ROG Strix thank you card
2 x M.2 Rubber Packages
1 x M.2 backplate Rubber

PackageDocumentation

Form factor
ATX Form Factor (305mm x 244mm)
Unboxing
Unlike the Z790 Apex which has a rather unusual all-black box, the Z790 Apex Encore ships in a packaging that has more of the ROG vibe this time. Around the box, you'll find the highlighted features, notably Wi-Fi 7 and the basic specs of the motherboard. From one of the highlighted features, we can see that ASUS has added another new QOL feature this time, the Q-Antenna which comes with a snap-on-like connector instead of the traditional SMA connector we've seen in the past.
Inside the box, you'll find the Z790 Apex Encore and accessories such as a user's guide, extra thermal pads for M.2 SSDs, the magnetic base Wi-Fi 7 antenna, a memory kit cooling fan, and the handy DIMM.2 module. We noticed that ASUS did not include the expansion card for PCIe 5.0 SSD this time but upon further checking on the M.2 slot specifications, we can see that the M.2_1 slot now supports PCIe 5.0 and with this, the expansion card is no longer needed. ASUS also improved the design of the memory kit cooling fan bracket, which is now a properly made bracket and not the simple thin metal bracket we get from the Z790 Apex.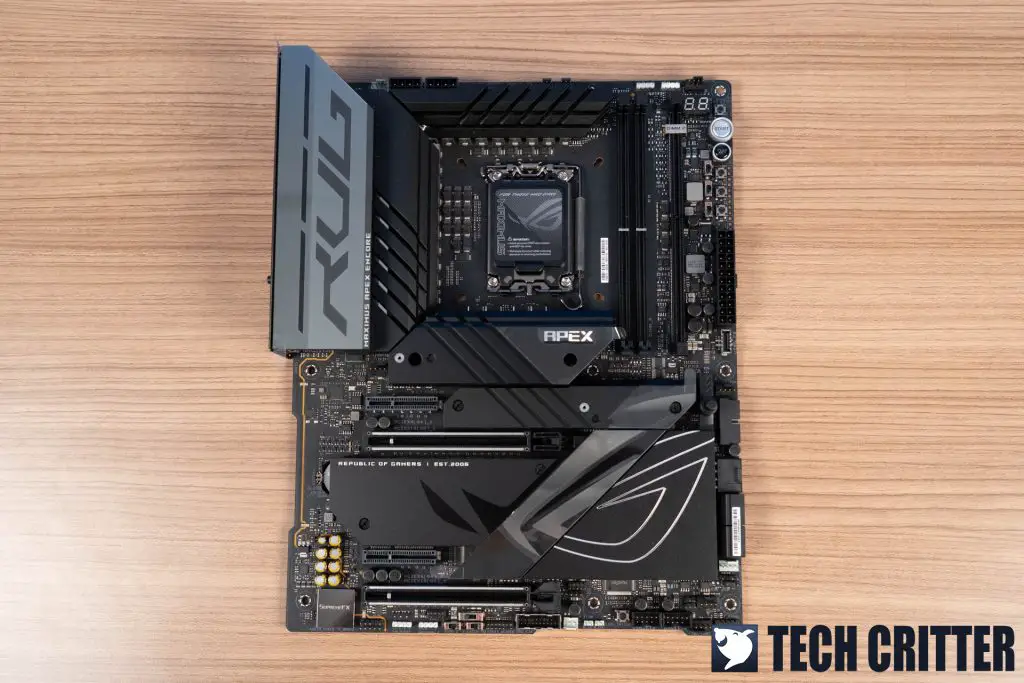 Taking a closer look at the Z790 Apex Encore, we can see that ASUS has decided to get back to the usual theme and the white PCB plus silver colored heatsink on the Z790 Apex is more like a limited time only release. The overall design does resembles the Z690 Apex but at first glance, we can already see some tiny movements such as the change of orientation for the onboard buttons and dip switches, ARGB headers, as well as the relocation of the second PCIe x16 slot and 2 x PCIe X4 slot.
The more noticeable changes on the other hand, is the new design for the ROG font on the VRM heatsink cover, a less obvious 'X' design that is replaced by a larger ROG logo on the chipset heatsink part, and finally, more M.2 SSD slots. As a long time ROG Apex motherboard user, I'd say this is actually a very significant upgrade for the Apex board and I hope they can retain this design on the next-gen board.
The power design on the Z790 Apex Encore is a 24+0+2 stage design, which is quite similar to the Z790 Apex, except for the extra 2 stages for UnCore. The PWM controller is the same Renesas RAA229131 which has been seen used on both the Z690 Apex and Z790 Apex, with the Vcore rails using the Renesas RAA2201054 power stages that is rated at 105A each, which is also used on both the mentioned predecessors.
On the right side of the motherboard, you'll find the 2-DIMM slots and a single DIMM.2 slot, which is a well-known characteristics of the Apex motherboard – well, except for the Rampage VI Apex. This time, ASUS boasts an even higher DDR5 memory support that goes up to DDR5-8400+ and 96GB in total if you're using the newer 48GB sticks. The DIMM.2 slots can support up to 2 x M.2 SSDs and although it's still on PCIe 4.0 at the moment, I still don't see the issue with it because PCIe 4.0 is still plentiful for most users out there.
As mentioned earlier, ASUS has made quite a number of changes to the PCIe slots and the addition of two more M.2 slots this time, which I'm really glad to see. The extra M.2 SSD slots, relocation of the second PCIe x16 slot, and the use of 2 x PCIe X4 slots actually make the Z790 Apex Encore a much more usable board outside of overclocking, giving it a second chance in case you decide to retire it and repurpose for other usage when the next-gen Maximus Apex board comes out.
However I would like to see ASUS actually do something about the heatsink on the M.2_1 slot, as installation and removal of the heatsink is still proven to be a real pain to deal with. Due to the size of the holes that is impossible to reach if you're using a screwdriver kit with removable bits and it's still not easy to align it to the screw holes when you want to install it back. From the recent Z790 refresh motherboard review that I've done, We can see some of the competitors actually came up with a really interesting tooless design for their M.2 heatsink that makes installation and removal a breeze and I hope ASUS can consider making something similar in the near future if it's possible.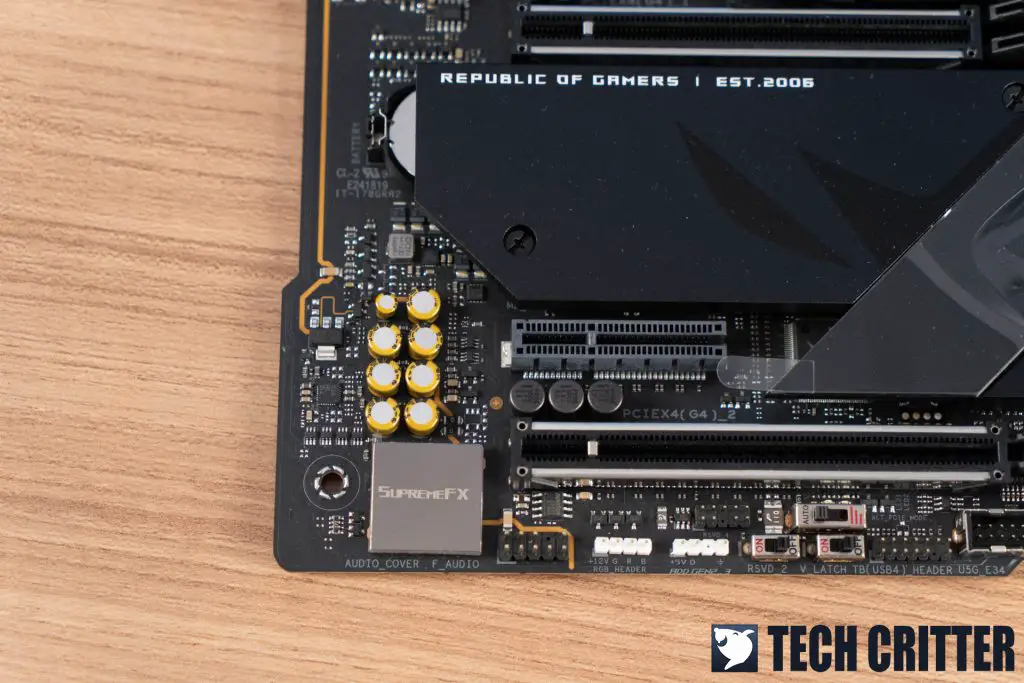 For the onboard audio, the Z790 Apex Encore comes with the SupremeFX features the ALC4080 codec, enabling playback at an impressive 32-bit/384 kHz resolution as ASUS claims. The front-panel sound, on the other hand, is enhanced through an advanced Savitech amplifier, ensuring your gaming headsets and high-quality headphones provide an immersive and rich audio experience.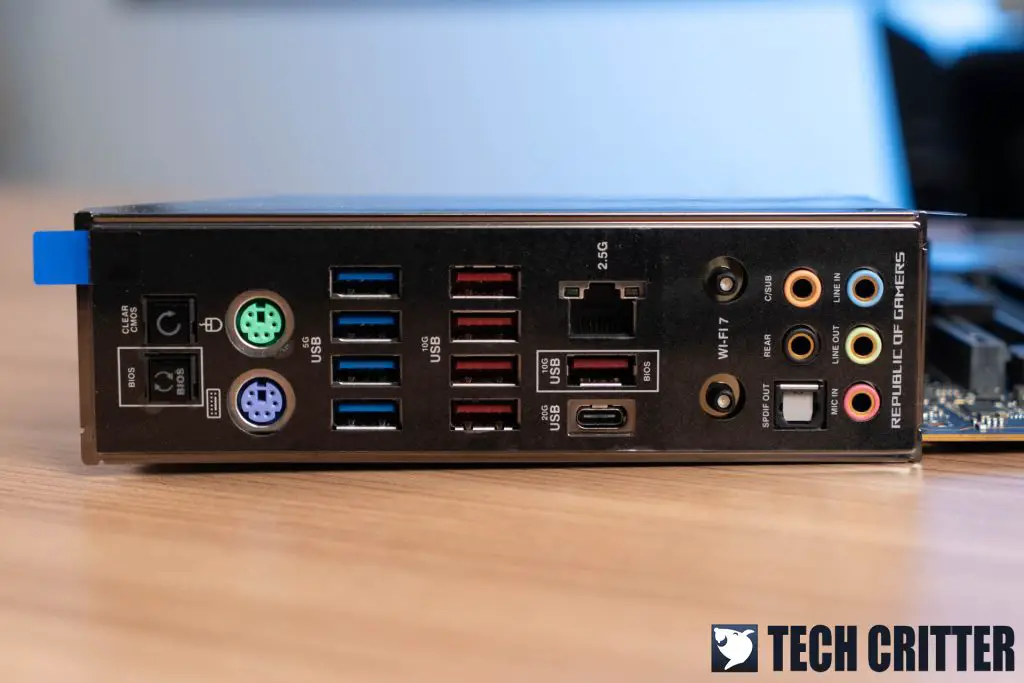 Looking at the rear I/O panel, we can see the usual BIOS flashback button and clear CMOS button that comes in really handy during overclocking sessions, a pair of PS/2 ports for PS/2 keyboard and mouse, 4 x USB 3.2 Gen1 ports, 5 x USB 3.2 Gen2 type-A ports, a USB 3.2 Gen2x2 USB type-C port, 2.5GbE LAN port, Wi-Fi 7 module with Q-Antenna design, and the audio jacks.
BIOS
Test system list
| | |
| --- | --- |
| CPU | Intel Core i9-14900K |
| Motherboard | ASUS ROG Maximus Z790 Apex Encore |
| Memory | Kingston Fury Renegade DDR5-6000 CL30 (16GB x2) |
| Graphics Card | GeForce RTX 3080 10G |
| Power Supply | Cooler Master M2000 Platinum 2000W |
| Primary Storage | Kingston KC3000 2TB |
| Secondary Storage | PNY XLR8 CS3040 2TB |
| CPU Cooler | Cooler Master MasterLiquid PL360 Flux |
| Chassis | Streacom Open BenchTable |
| Operating System | Windows 11 Pro 21H2 (Build 22000.1696) |
CPU load test and thermals
The Core i9-14900K is the current flagship model Intel has for its 14th-gen Core desktop processors lineup. Although the specifications indicate a maximum power draw of 253W, our real-world testing reveals a higher power consumption, peaking at 320W during the CPU load test. Even with a 360mm AIO cooler in use, the CPU consistently reaches 104°C under heavy loads.
Unless you invest in an advanced cooling system like a custom water cooling setup or an exceptionally powerful AIO liquid cooler, it's highly advisable to adjust the PL1, PL2, and ICCMax settings according to your requirements if you're planning to use a Core i9-14900K processor.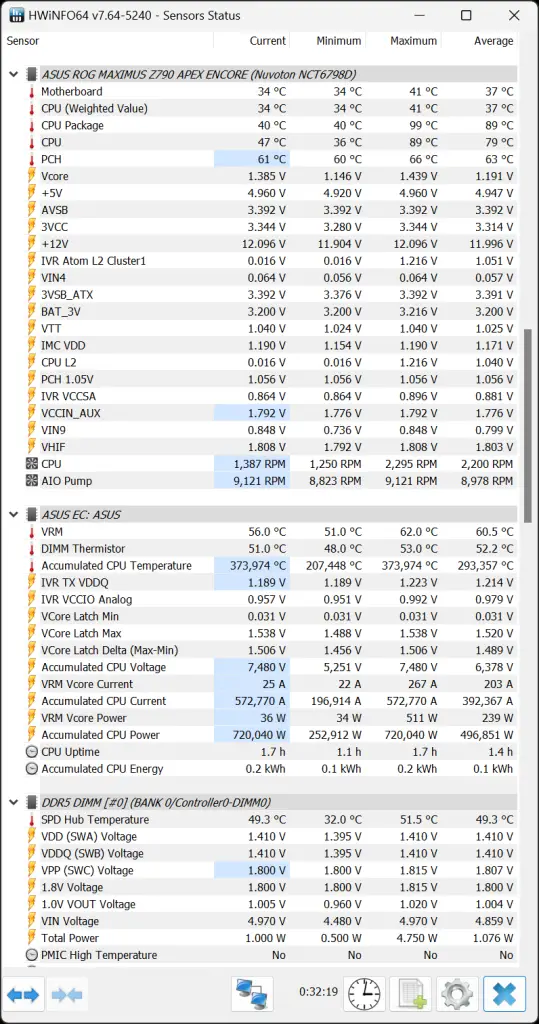 The load test is done with the CPU running on stock settings and the temperature on the VRM and chipset area throughout the test is taken down for comparison. By the end of the test, our data shows that the highest temperature recorded for both the VRM and chipset area is at 62°C and 66°C respectively.
This slideshow requires JavaScript.
We then checked the VRM and chipset heatsink region using a thermal imaging camera and it turned out that the temperature readings of the mentioned region are much lower than the data we saw in HWinfo64. While the load temperature for the chipset is much on the higher side, the overall load temperature is still fairly reasonable and we didn't see any major hiccups throughout the entire benchmark sessions.
Memory overclocking
While CPU overclocking is pretty limited on our end due to the limitations of the cooler we're using and had to settle with a lower PL1 and PL2 to get a fairly reasonable load temperature, memory overclocking is still looking very good and we're able to achieve a slightly higher result with the Kingston Fury Renegade DDR5-6400 memory kit that is able to achieve DDR5-7800 in our previous test using the Z790 Apex.
We managed to get the kit to run on a stable DDR5-8000 with a few adjustments on top of our previous settings, bumping up the memory VDD and VDDQ to 1.61V and 1.59V respectively, while the memory controller voltage goes around 1.46V, with both CPU VDDQ and VDDQ TX at 1.42V. As for DDR5-8266, it's the highest we're able to achieve this time and the system just refuses to post if we try to go any higher than this. The adjustments on the memory VDD and VDDQ are very minimal as most of the necessary adjustments are done on the sub-timings, and we're able to pass the stability test with TestMem5 and Karhu with this.
DIMM Flex is another feature to explore if you decide to repurpose the motherboard for non-overclocking use. With the memory manufacturers pushing out more kits that go above DDR5-8000, we can expect to see higher voltage requirements on these kits and this will directly affect the operating temperature. There are many ways you can play with this feature and the easiest way is to go with XMP I, then enable the DIMM Flex feature and configure the temperature and timings accordingly.
Thoughts on the Maximus Z790 Apex Encore
The Z790 Apex Encore is probably the biggest upgrade for the Apex motherboards so far and we can actually see better usability outside overclocking for once, as the previous Apex boards are mainly designed for overclocking and lacks a number of features that are actually useful for those who don't plan to overclock with the board. With the new Q-Antenna connectors to make installing the Wi-Fi antenna much easier, relocation of the PCIe X16 slot and the use of 2 x PCIe X4 slots that are actually useful for other expansion cards, as well as having more M.2 slots on the board aside from the DIMM.2, you can easily repurpose the Z790 Apex Encore for non-overclocking use.
Aside from the QOL features, we can also see better overclocking capabilities with the Z790 Apex Encore, especially with memory overclocking. Using the same memory kit that we have tested previously, we're able to achieve a slightly better result beyond DDR5-8000, something we couldn't achieve back then even with the Z790 Apex. The new DIMM Flex feature that allows the memory timings and frequency configured based on the temperature is another thing to look forward to, especially if you plan to repurpose the Z790 Apex Encore. After some further investigation on this feature, I can see how we can actually take advantage of this feature to keep the memory temperature under control while maintaining the performance to a certain degree.
With that being said, the Z790 Apex Encore is one of the Z790 refresh motherboards I would recommend if you're upgrading from the older Z690 Apex, especially the earlier 2021 batch. However, you will be paying a pretty hefty price tag for this motherboard, which is currently retailed at RM 3,699. Is it really worth paying the price for? Well, it's a definite yes if you're really after the overclocking features this board has to offer.