ASUS ROG recently wrapped up its keynote at Gamescom 2023, and we're here to provide a recap of their exciting announcements:
Motherboards
ASUS has unveiled a fresh lineup of Z790 motherboards, consisting of three new models. Two of them are part of the ROG family, while the third belongs to the TUF Gaming series. For more detailed information, click here.
Gaming Monitors
For gaming monitors,  three new Swift OLED gaming monitors are in for the game. The new models include the ROG Swift OLED PG34WCDM, ROG Swift OLED PG32UCDM, and ROG Swift OLED PG49WCD. These monitors promise impressive specifications and features, which you can find in the table below.
Model

ROG Swift OLED PG32UCDM

ROG Swift OLED PG34WCDM

ROG Swift OLED PG49WCD

Size

32-inch
34-inch

49-inch

Resolution

3840 x 2160
3440 x 1440

5120 x 1440

Panel

Flat
Curved 800R

Curved 1800R

Refresh Rate

240Hz
144Hz

144Hz

Response Time

0.03ms

Ports

DisplayPort 1.4, HDMI 2.1, USB-C (PD up to 90W)

Key Features

Custom heatsink + Graphene material, Smart KVM, PIP Mode,
1300 nits max brightness, DisplayHDR True Black 400, Smart KVM

Custom heatsink + Graphene material, 1000 nits max brightness, Smart KVM

Availability

Q1 2024

October 2023

RRP

TBA

USD1,499
PSU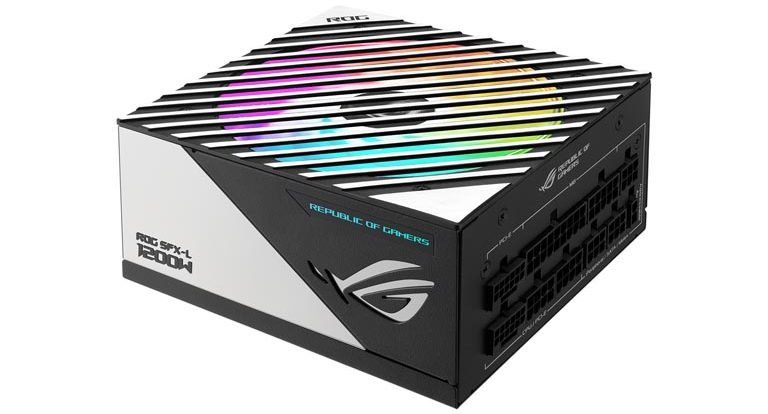 Meanwhile, for the power supply units, the addition of the ROG Loki 1200T offers a robust 1200W of power capacity while being highly efficient thanks to the 80 PLUS Titanium certification, solidifying its position as the best-in-class PSU in the lineup. Functionally, it offers similar top-tier performance and features as its predecessors.
AIO
Announced earlier in the month, the ASUS TUF Gaming LC II 360 ARGB is designed to provide essential cooling performance at a more affordable price point. It features 400mm sleeved tubing for durability and is equipped with an illuminated cold plate, a large radiator, and three 120mm ARGB fans to effectively cool the CPU. Additionally, its RGB lighting can be synchronized using Aura Sync for customization.
Router
Introducing the world's first WiFi 7 quad-band gaming router, the ROG Rapture GT-BE98 Pro. Leveraging 320MHz channel support in the 6GHz band, it offers blazing speeds of up to 30,000Mbps, a significant 160% improvement over WiFi 6. Key features such as 4K QAM modulation tech, Multi-Link Operation, and Multi-RU Puncturing contribute to these impressive wireless speeds while the tri-level game acceleration, gaming ports, and QoS minimize latency for the best gaming connection possible.
Glass Mousepad
For those seeking a competitive edge, the tempered glass gaming mouse pad ROG Moonstone Ace L is designed to provide a super smooth surface, facilitating swift glides with minimal friction. It features a special coating that reduces sound when moving and includes a simple ROG logo for added style in the top right corner.
Gaming Controller
The ROG Raikiri Pro is a highly customizable gamepad offering a tri-mode connection for PCs and Xbox (wired only), ensuring seamless gaming anywhere. Its centerpiece OLED display adds personality, allowing for custom animations, status indicators, and profile switching on the fly.
The back of the controller features programmable left and right buttons, which can be adjusted to function as other buttons or control joystick sensitivity while the triggers can also be configured for short or full trigger mode.
Mechanical Keyboard Switch
Catering to the custom keyboard community, ASUS ROG introduces the ROG NX Storm, a tactile switch with a PC housing and a POM stem designed with a box structure to reduce dust intrusion. These switches come factory-lubed, offering a pleasant experience out of the box, and can be used without additional modifications.