ASUS has announced a huge range of products during the Meta Buff live stream and includes lots of gaming peripherals, PC parts, and even a new router. With so much to swallow down in one go, let's not waste any time and get straight to the point for each of the products.
ROG GeForce RTX 3000 Series GPU
Announced nearly the same time as the official NVIDIA Ampere live stream, ASUS is also packing the very best of best into their ROG lineup of RTX 3000 series graphics cards. To cool down the beastly Ampere cards, a new shroud with metal accents encompasses a trio of Axial-tech fans that have been tuned to fulfill specialized purposes. The center fan leverages a full-height barrier ring and 13 fan blades to provide boosted static pressure that drives air through the heatsink fins and onto the GPU heat spreader while the two outer fans feature 11 blades each and half-height barrier rings to allow for more lateral dispersion and to provide better airflow through the cooling array.
A bigger heatsink helps to leverage better airflow and lift heat up off the die and into the heatsink array, MaxContact technology has been utilized to polish the surface of the heat spreader and improve smoothness at the microscopic level. The top-shelf capacitors, chokes, and power stages effortlessly deliver hundreds of watts without any sweat, and components are soldered to the PCB using Auto-Extreme technology to ensure each card meets rigorous ROG specifications for quality and reliability. To dynamically adjust fan speed to the temperatures, the FanConnect II headers allow you to connect the PWM fan to do just that.
Other notable features are a Dual BIOS switch that changes between "Performance" and "Quiet", PSU rail voltage monitoring that lights up the red LED in case a drop is detected and the usual RGB with AuraSync.
ROG Swift PG259QN, PG259GNR, PG329Q Gaming Monitor
The 360Hz dream is finally upon us. The PG259QN and PG259GNR are able to deliver 360Hz of refresh rate for the fastest and most responsive gaming experience ever. Both units are running a 24.5-inch FHD panel @ 1920 x 1080 resolution and can achieve a  1 ms gray-to-gray response time. Without sacrificing anything for the frame rates, it is HDR10 compatible with the greatest light and dark contrast. Being a top-of-the-line display, G-SYNC is definitely within the question for the Variable Refresh Rate and variable overdrive for tearless and stutter less gameplay. What's special about the PG259GNR is that it comes with a desk mount and Reflex Latency Analyzer.
The ROG Swift PG329Q is a 32-inch 1440p 175 Hz gaming monitor that features Fast IPS panel technology compatible with NVIDIA G-SYNC's variable overdrive. Achieving a similar 1ms GTG response time,  it is also certified with Quantum-dot technology with factory color pre-calibration, DisplayHDR 600 certification, DCI-P3 98% and sRGB 160% provide wide color space for stunning color fidelity. The ASUS Extreme Low Motion Blur Sync (ELMB) technology eliminates motion blur without sacrificing variable refresh rates, and customized variable overdrive on for smooth visuals to the next level by dynamically adjusting pixel response to accommodate an entire range of refresh rates for razor-sharp images.
ROG Strix XF 120 Cooling Fan
The ROG Strix XF 120 cooling fan is another new peripheral for your "All-ROG" gaming rig. Aside from being in the ROG Strix family, it is suitable for a variety of chassis and radiators. Its operating range goes as low as 250RPM to the maximum rating of 1800RPM which delivers an average of 62.5 cubic feet per minute (CFM) airflow and 3.07 mm H2O static pressure. It is also rated for 400,000 hours of operating time for longevity and efficient cooling solution.
ROG Rapture GT-AXE1000 Gaming Router
The world's 1st WiFi 6E router ROG GT-AXE11000 is giving out speeds of up to 11Gbps and features WAN aggregation for WAN speeds of up to 2Gbps thanks to the tri-band design. Utilizing 4×4 WiFi 6 and a 2.5 Gbps LAN port, both wired and wireless networks can achieve speeds of more than 1Gbps, bringing true multi-gigabit performance to life. To handle such a large amount of traffic, the router is powered by a quad-core 1.8 GHz 64-bit CPU with 1 gigabyte of RAM. All of this is achieved because of the newly available radio spectrum in the 6 GHz band, which has three-times more bandwidth than the 5 GHz band alongside 7 additional 160 MHz channels to the current WiFi 6 standard for lower latency.
ROG Strix Scope RX Gaming Keyboard
The next gaming keyboard on the line is the ROG Strix Scope RX mechanical gaming keyboard armed with the very first debut of the ROG RX Optical Mechanical Switch that is designed as a hollow-square stem with RGB LEDs embedded within it. It is reported to have 100 million keystrokes durability and is wobble-less due to the X-shape stabilizer clamping it down tightly. The top cover is made of alloy and the entire unit is IP56 water and dust resistance. It comes with a USB 2.0 passthrough for other peripherals and the Stealth key instantly hides all apps and mutes audio for instant privacy. The Armoury Crate software lets you save user profiles, macro keys, and track key usages as well.
ROG Keris Wireless Gaming Mouse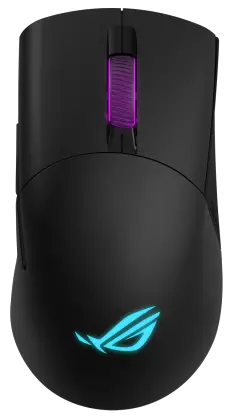 The ROG Keris, surprisingly named after the famous dagger, runs a low-latency 2.4GHz BlueTooth Low Energy (BLE) module for a wireless connection and provides sensitivity up to 16000 DPI, 400 IPS, and 40g of acceleration. The switch is powered by the exclusive ROG Micro Switch reported for 70 million clicks. The left and right-click faceplate is made of PBT materials while the side buttons are swappable for other colors. Coming in at 79 grams, it is slightly lighter than most of the mouses out there and provides smooth gliding with the TFPE mouse glide.
ROG Delta S Gaming Headset
The ROG Delta S is equipped with ESS 9281 CODEC with QUAD DAC hi-fi grade technology and Master Quality Authenticated (MQA) verification for studio-quality audio within a gaming headset with the mic containing AI-based noise cancellation feature and combining both through the ASUS Essence driver for immersive and comfortable gaming sessions thanks to the lightweight design at 300g only. The USB-C connector adapts compatibility across consoles and PC with the Aura-Sync RGB integrating seamlessly and triggered through the user's voice.
ROG Scabbard II Mouse Pad
The ROG Scabbard II is designed for gamers who wear and tear their pads heavily on a daily basis. Coming in extended size, place all the gaming gears like keyboard, mouse and earphone stands on the military-grade nano-coated fabric that repels water, oil, and dust while being anti-slip, anti-fray for the best mouse swiping experience possible.
Since all of the new products have just been announced, local pricing has not been revealed yet. Meanwhile, the campaign page has all the information about them alongside the archived live stream. In my opinion, it is a strong timing for ASUS to run the announcement not long after NVIDIA's Ampere Livestream to capitalize on the hype with the rest of its gaming peripherals.