NVIDIA has finally announced its RTX 4060 series for desktop PC, starting with the RTX 4060 Ti 8GB which will be available from today onwards while the RTX 4060 Ti 16GB and RTX 4060 8GB will be coming later in July. In this review, we'll be taking a look at the Dual GeForce RTX 4060 Ti 8GB GDDR6, one of the RTX 4060 Ti models available from ASUS this time around.  We have tested it against the RTX 3060 Ti, RTX 3070, and RTX 4060 Ti Founders Edition to get a better idea of how this card performs.
Specifications
| | | | |
| --- | --- | --- | --- |
| GPU | GeForce RTX 3060 Ti FE | GeForce RTX 4060 Ti 8G FE | ASUS Dual GeForce RTX 4060 Ti 8G GDDR6 |
| CUDA Cores | 4864 | 4352 | 4352 |
| Tensor Cores | 152 | 136 | 136 |
| RT Cores | 38 |  34 |  34 |
| ROPs | 80 | 48 | 48 |
| GPU Boost Clock | 1670 MHz | 2535 MHz | 2565 MHz |
| Memory Data Rate | 14 Gbps | 18 Gbps | 18 Gbps |
| Total Video Memory Size | 8G GDDR6 | 8G GDDR6 | 8G GDDR6 |
| Memory Interface | 256-bit | 128-bit | 128-bit |
| Memory Bandwidth | 448 GB/s | 504 GB/s | 504 GB/s |
| TDP | 200W | 160W | 160W |
| Recommended PSU | 600W | 550W | 650W |
| Power Connectors | 1 x 12-pin | 1 x 16-pin (12VHPWR) | 1 x 8-pin |
Unboxing
This slideshow requires JavaScript.
Since the Dual RTX 4060 Ti is technically a model targeted at mainstream users, you won't find any fancy elements on the box like what you'll find on ROG or TUF gaming models. Though you'll still find the important information such as the product features, some of the specifications, and the design of the card at the front and back of the box.
This slideshow requires JavaScript.
Design-wise, the Dual RTX 4060 Ti has a full coverage shroud design that looks really similar to the Dual RTX 4070 and it does give a little bit of the TUF vibes at first glance. Although it's a lot smaller than the higher-end models like ROG Strix and TUF, it's still a 2.5-slot card but the shorter length at 227.2mm allows it to fit better inside smaller PC cases.
Unlike the Founders Edition cards that are fixed to the 12VHPWR connector, the Dual RTX 4060 Ti comes with an 8-pin PCIe connector. With the rated TDP of 160W, you can use it with pretty much any existing power supply that has a minimum rated power of 550W as recommended by NVIDIA.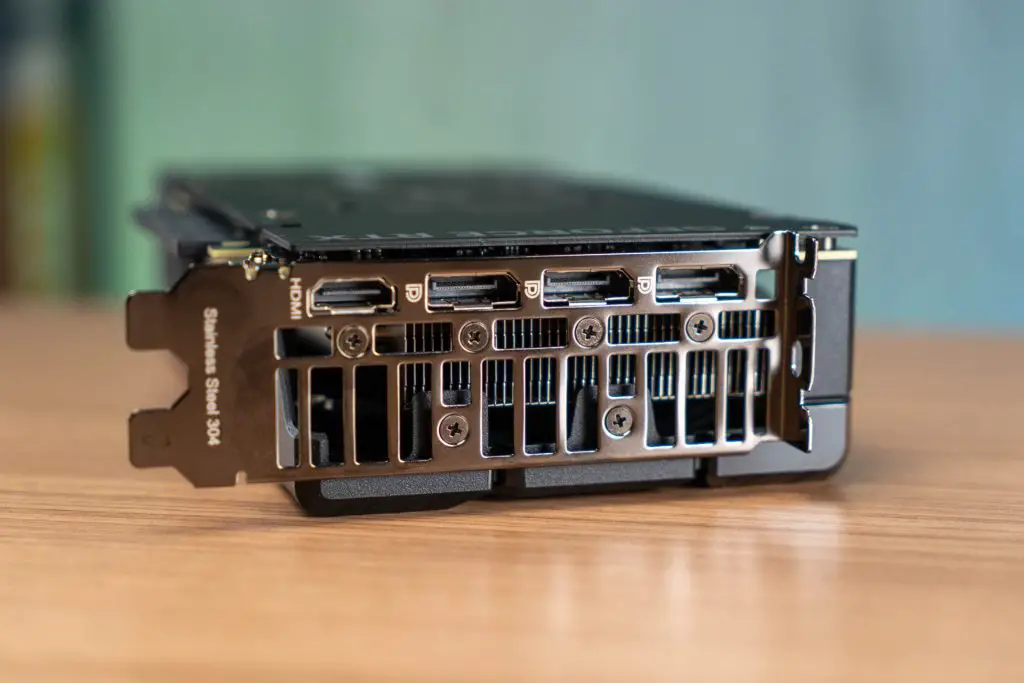 As for the display output, you'll find 3 x DisplayPort and 1 x HDMI at the back of the card, which are the typical options you'll get nowadays.
Test System Setup
Despite being marketed as a card targeted at 1080P, we still tested the Dual RTX 4060 Ti with 4K and 1440p resolutions just to see how far we can push the card and how well it fare against the RTX 3060 Ti, RTX 3070, and the RTX 4060 Ti Founders Edition. For our games benchmark test, we've selected a number of AAA titles to run at their highest possible settings using the following setup under an ambient temperature of 32°C:
| | |
| --- | --- |
| CPU | Intel Core i9-12900K |
| Motherboard | ASUS ROG Maximus Z690 APEX |
| Memory | ADATA XPG LANCER RGB DDR5@6000MHz CL30 (16GB x2) |
| Graphics Card | ASUS Dual GeForce RTX 4060 Ti 8GB GDDR6 |
| Power Supply | Cooler Master M2000 Platinum |
| Primary Storage | Kingston KC3000 2TB |
| CPU Cooler | Cooler MasterLiquid PL360 Flux |
| Chassis | Cooler Master MasterFrame 700 |
| Operating System | Windows 11 Pro 64-bit 21H2 (Build 22000.1696) |
Games benchmark – Raster Performance
At 4K resolution, while it didn't meet the 60fps average fps that is deemed playable by many, titles like Far Cry 6, Forza Horizon 5, Hitman 3, and Shadow of the Tomb Raider are actually playable at that frame rate. But do keep in mind that there will be titles that will exceed the 8GB VRAM usage at this resolution, which will affect the overall performance.
The performance gets better as we scale down to 1440P, where the RTX 4060 Ti is able to achieve an average of 60fps on all the titles with the highest graphics settings easily.  And for 1080p, the Dual RTX 4060 Ti didn't disappoint as it easily achieves almost 100fps+ across all the titles with the highest settings. As the base model, it shares the same specifications as the RTX 4060 Ti Founders Edition and the raster performance is almost on par with the RTX 3070.
Games benchmark – Ray Tracing
Moving on to the ray tracing performance, we ran the tests with the game settings set to very high or ultra and DLSS on Quality preset to see how well the RTX 4060 Ti performs. This is mainly for us to test the limit of the GPU and you can always lower the graphics settings and DLSS preset to achieve the performance and quality you desire.
While there are still titles that are able to maintain a playable frame rate at 4K resolution, we can see the RTX 4060 Ti struggles quite a bit on the newer titles with the graphics settings set to the highest and ray tracing on full blast. Titles like Cyberpunk 2077 are Watch Dogs Legion are some of the AAA titles that are known for their high VRAM utilization and extremely demanding ray tracing that can give GPU with low VRAM a hard time.
Similar behavior can be seen in 1440P resolution, where Cyberpunk 2077 and Watch Dogs Legion are the only titles that get lower than 60fps results while the rest of the titles easily achieve more than that, with some even reaching above 100fps. As we lowered the resolution to 1080P which was intended for the RTX 4060 Ti, we can see more than 60fps on average on all the titles tested with the graphics settings and ray tracing set to the highest.
Games benchmark – DLSS 3
Since NVIDIA launched its RTX 40 series GPU, we can see more titles being added to the list of games that supports DLSS 3 as we progress through the year. Since it's a feature that is exclusive to the RTX 40 series cards, the RTX 4060 series cards are the most affordable option for those who want to experience the new tech themselves.
Unlike the RTX 4070 and above, enabling DLSS 3 doesn't really help much with 4K resolution due to the limited 8GB VRAM. Scaling down the resolution to 1440P does helps a lot as we can see some reasonable performance gains on almost every title tested. The Witcher 3 is a good example to show how increasing texture quality will significantly increase VRAM usage, but NVIDIA did publish an article that addresses this issue and how they can help game developers to reduce VRAM usage. With that being said, I'm guessing that we'll probably still see GPU with 8GB VRAM from NVIDIA in the near future?
For 1080P gaming, there's not much to complain about as we can see a significant increase in the average fps and lower PC latency in all the titles tested after DLSS 3 is enabled. This translates directly to the overall performance and responsiveness of the game, which is a significant improvement from what we have experienced on DLSS 2.
Synthetic Benchmark
Shifting our attention to the synthetic benchmarks, the outcomes appear rather intriguing when compared to the benchmarks of the games.
Regarding benchmarks emphasizing game performance, although the RTX 3070 exhibits superiority over the RTX 4060 Ti in Unigine Superposition, the results of 3DMark Time Spy indicate that both cards perform nearly equally.
Regarding benchmarks emphasizing content creation tasks such as Blender, OctaneBench 2020 1.5, and V-Ray Benchmark 5, the RTX 4060 Ti emerges as the unequivocal victor.
Thermals & Power Draw
After seeing what the Dual RTX 4060 Ti is capable of, let's take a look at the thermals and power draw for this GPU. Other than the same specifications as the Founders Edition models, the Dual RTX 4060 Ti comes with its own cooler design which ideally, is able to deliver better cooling performance.
This slideshow requires JavaScript.
While both the RTX 4060 Ti shares the same power draw during load, it's worth taking note that it's actually drawing only about 163.7W during its peak load, which is about 60W and 110W lower than the RTX 3060 Ti and RTX 3070 respectively while still delivering a performance that gets really close to the latter at 1080P. This gives us a better view of how power efficient the RTX 4060 Ti really is.
As for the load temperature, the differences might not be that significant but the Dual RTX 4060 Ti does have a slight advantage of 1°C lower than the Founders Edition model based on the peak load temperature observed during the stress test. The actual load temperature during most of the gaming tests is about 55-66°C and the only time it hits 68°C is during our test with titles like Cyberpunk 2077, The Witcher 3, and Microsoft Flight Simulator.
Final thoughts
I'm sure that many of you are aware of the heated debate on how the 8GB VRAM and 128-bit will greatly affect the performance since NVIDIA launched the RTX 4060 series GPUs. I do have my suspicion about this after seeing the benchmark results, but until I can get my hands on the RTX 4060 Ti 16GB to verify this, I'll leave that aside for now. Though I'd still love to see NVIDIA giving us more VRAM, at least 12 GB instead of 8 GB because I can really see games that can really eat up a lot of VRAM when the texture quality goes up.
Performance-wise, I think the RTX 4060 Ti is a decent GPU and it's more than capable enough for 1080P gaming as it can also be seen to perform quite well on 1440P at the highest settings even though NVIDIA has clearly marketed it as a product for the 1080p gaming segment. Aside from performance, the power efficiency is another noteworthy advantage of the RTX 4060 Ti as it can be seen performing close to an RTX 3070 at 1080P on both the ray tracing and raster performance while drawing much less power during load. It might not be much but I think it's still a fair upgrade that is significant enough for users who are still rocking the RTX 2060 or lower.
Of course, you'll find users who disagree with the $399 starting price and would rather spend that money on a used RTX 3080 that has more VRAM and offers better performance which can be found for as low as RM 2000, or the RTX 3070 at around RM 1300 that offers similar performance if the exclusive features are out of the equation. For the ASUS Dual GeForce RTX 4060 Ti which is priced at RM 2050, I think it's still somewhat reasonable for those who really wanted to experience the new features that are currently only available on the RTX 40 series GPUs.