A few days ago, NVIDIA announced the RTX 4060 and the RTX 4060 Ti – but the latter is available in both 8GB and 16GB VRAM variants. That 16GB variant will come later, though.
And yes, that means the one we have here is the 8GB VRAM variant. Our knee-jerk reaction was to immediately ask – why are they two variants and who is it for? We asked NVIDIA and their response is as such: the 8GB variant offers gamers with outstanding gaming performance at 1080p at an affordable price point, and the 16GB variant offers extra performance for gamers who needs that extra performance with the extra VRAM.
We'll just take all that at face value for now and let's get started with the RTX 4060 Ti 8GB review. We have compared it against the RTX 3060 Ti and RTX 3070 just so we can have a better idea of what kind of performance to expect from this card. Then, we'll answer the question – is the USD $399 worth paying for? Let's find out.
Specifications
| | | |
| --- | --- | --- |
| GPU | GeForce RTX 3060 Ti FE | GeForce RTX 4060 Ti FE |
| CUDA Cores | 4864 | 4352 |
| Tensor Cores | 152 | 136 |
| RT Cores | 38 |  34 |
| ROPs | 80 | 48 |
| GPU Boost Clock | 1670 MHz | 2535 MHz |
| Memory Data Rate | 14 Gbps | 21 Gbps |
| Total Video Memory Size | 8G GDDR6 | 8G/16G GDDR6 |
| Memory Interface | 256-bit | 128-bit |
| Memory Bandwidth | 448 GB/s | 504 GB/s |
| TDP | 200W | 160W |
| Recommended PSU | 600W | 550W |
| Power Connectors | 1 x 12-pin | 1 x 16-pin (12VHPWR) |
Unboxing
This slideshow requires JavaScript.
In this review, we have the RTX 4060 Ti Founders Edition, which shares the design of the RTX 4070 Founders Edition, but with a lighter gray accent on the metal frame. This is exactly the same as what NVIDIA did with the RTX 3060 Ti Founders Edition and is probably meant to allow users to easily differentiate both the RTX 4070 and RTX 4060 Ti because of the almost identical design.
This slideshow requires JavaScript.
The TGP is rated at 160W and NVIDIA included a single PCIe 8-pin to  12VHPWR adapter inside the box – which I think is pretty much redundant at this point. We expect custom designs from AIB partners to just come with a single 8-pin PCIe connector instead of the 12VHPWR.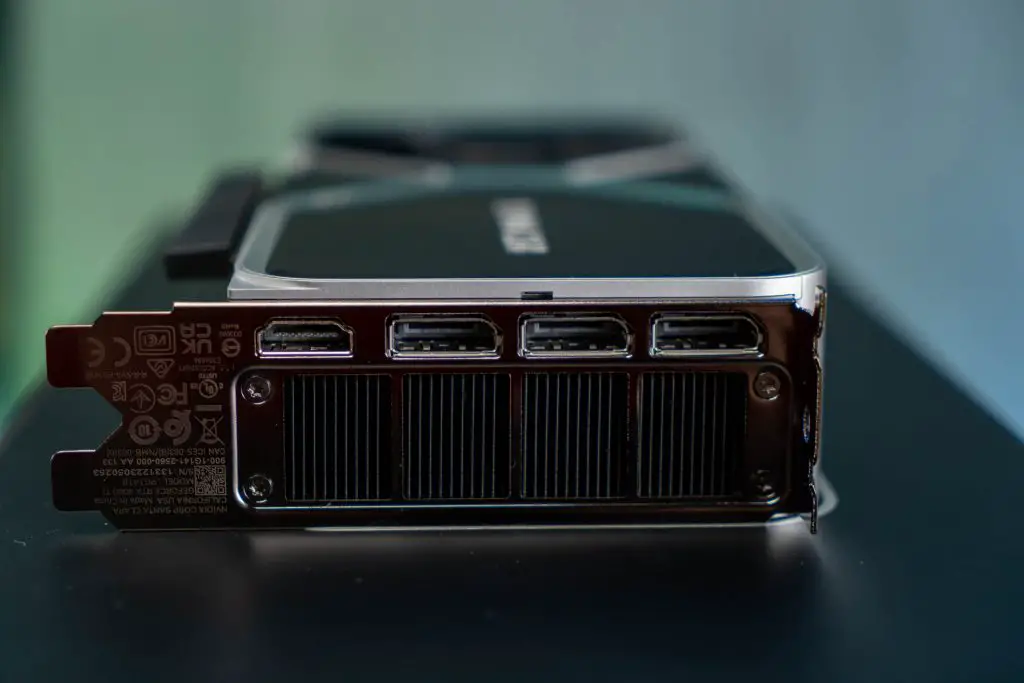 The display output options are the standard 3 x DP and 1 x HDMI, pretty much what you'll find on the majority of graphics cards nowadays.
Test System Setup
Now, our testbench specs are as shown on the screen here. Even though NVIDIA already specified that the RTX 4060 Ti is targeted for 1080p gaming, we still tested it with 4K and 1440p resolutions just to see how far we can push the card. For our games benchmark test, we've selected a number of AAA titles to run at their highest possible settings using the following setup under an ambient temperature of 32°C:
| | |
| --- | --- |
| CPU | Intel Core i9-12900K |
| Motherboard | ASUS ROG Maximus Z690 APEX |
| Memory | ADATA XPG LANCER RGB DDR5@6000MHz CL30 (16GB x2) |
| Graphics Card | NVIDIA GeForce RTX 4060 Ti Founders Edition |
| Power Supply | Cooler Master M2000 Platinum |
| Primary Storage | Kingston KC3000 2TB |
| CPU Cooler | Cooler MasterLiquid PL360 Flux |
| Chassis | Cooler Master MasterFrame 700 |
| Operating System | Windows 11 Pro 64-bit 21H2 (Build 22000.1696) |
Games benchmark – Raster Performance
Okay, time for the graphs and stuff –  starting with raster performance at 4k resolution, a majority of the titles we've tested didn't meet the average 60fps but some of the titles still appear to be playable. That is rather expected, but again – we're only pushing this to see its limits. But, surprisingly, the RTX 4060 Ti still manages to maintain above 60fps on average for 1440p resolution at the highest graphical settings.
Moving on to 1080p, obviously, we can see almost 100fps+ across the titles we've tested. I mean, we're already expected this since 1440p is the new standard nowadays.
Games benchmark – Ray Tracing
Moving on to the synthetic benchmarks, we'll use back the same settings as below – either very high or ultra preset on the graphics settings, and DLSS on the Quality preset.
This is where the RTX 4060 Ti starts to struggle a bit. Sometimes it will perform similarly against the RTX 3070, but sometimes – it'll be much lower in terms of performance. In the end, the RTX 4060 Ti is only able to maintain a 60fps average on both Forza Horizon 5 and Hitman 3.
When scaled down to 1440p though, the 4060 Ti is able to maintain above 60fps on average most of the time. Surprisingly, the 4060 Ti can also be seen performing slightly better than the 3070 in Cyberpunk 2077 and a lot better in Watch Dogs: Legion.
Once we dropped to 1080p resolution, all 3 cards can handle it with ease and the 4060 Ti can be seen performing similarly to the 3070 – probably due to games being more CPU-bound.
Games benchmark – DLSS 3
DLSS 3 is one of the key selling points of the RTX 40 series cards and being one of the latest addition to the lineup, the RTX 4060 Ti can definitely benefit from the new tech as well.
It might not be the card for 4K gaming with max graphics settings and ray tracing on full blast due to the limited 8GB memory, but once lowered to either 1440p or 1080p resolutions, the RTX 4060 Ti can fly at max graphics settings with ray-tracing on full blast. Regardless of the titles, existing or new, as long as the title supports it, enabling DLSS 3 will allow you to game at 1440P or 1080P with max graphics settings and ray tracing.
Game Analysis
With all of that info in mind, let's take a step back and analyze it. For raster performance, the RTX 3070 still performs better most of the time. Even though the RTX 4060 Ti is indeed capable of 1440p gaming, the 8GB VRAM is my main concern. More and more AAA games require more VRAM nowadays and soon, the 8GB VRAM will be a problem.
Personally, I think that NVIDIA could have just stuck with one single variant with either 12GB or – better yet – 16GB VRAM for the RTX 4060 Ti instead of having two variants like this. When we look at both raster and ray tracing performance, I'd say the RTX 4060 Ti is still a powerful GPU for 1080p gaming even without DLSS 3.
Synthetic Benchmark
Moving on to the synthetic benchmarks, the results do seem pretty interesting as compared to the games' benchmarks.
For benchmarks that focus on game performance, while the RTX 3070 is shown to be better than the RTX 4060 Ti in Unigine Superposition, the results for 3DMark Time Spy show that both cards are actually performing almost on par.
As for benchmarks that focus more on the content creation tasks i.e. Blender, OctaneBench 2020 1.5, and V-Ray Benchmark 5, the RTX 4060 Ti is shown to be the clear winner.
Thermals & Power Draw
This slideshow requires JavaScript.
Now, as we've tested on other RTX 40-series GPUs, their power efficiency is exceptional and that's something you can expect to see on the RTX 4060 Ti too. At peak, the RTX 3060 Ti and 3070 can draw up to 225W and 275W respectively, but the RTX 4060 Ti only draws 165W at peak while also maintaining a very similar performance as the 3070.
The highest temperature observed during our stress test is at 72°C peak under the ambient temperature of 32°C but you can expect to see lower load temperature on actual gaming usage between the range of 56-68°C.
Final thoughts
While NVIDIA mentioned the RTX 4060 Ti as a product targeted at the 1080P gaming segment in their press and marketing materials, our test results show that it can actually do more. At 1440P, the RTX 4060 Ti can still hold up really well and is able to deliver a performance that is very similar to an RTX 3070. What sets both GPUs apart is of course DLSS 3 which the RTX 4060 Ti can take advantage of and further improve the overall performance and your gaming experience. Though that is as far as you can get with the RTX 4060 Ti, as gaming on 4K resolution is proven too much for the card to handle.
Personally, I do have some concerns about the 8GB VRAM and I'd still love to see NVIDIA giving us more VRAM as I can definitely see titles that shout 8GB is clearly not enough in 2023. NVIDIA, on the other hand, does seem to have a reasonable response to this and I'm looking forward to seeing the actual implementation of the proposed solution in the near future.
So, is this card worthy of the $399 price tag? I'd say this all over again if I have to but it really depends on the users nowadays. Knowing the RTX 4060 Ti can deliver performance that is similar to an RTX 3070, users that mainly focuses on pure raster performance will probably consider getting a used RTX 3070 or 3080 despite the known risk of getting a heavily abused ex-mining card.  As for the users who are ready to embrace the new tech that is currently exclusive to the RTX 40 series GPUs aside from DLSS 3 i.e. AV1 encode/decode capabilities, RTX video super-resolution, and other AI-accelerated tasks in popular content creation software, the RTX 4060 lineup is the most affordable option for you to jump into it right now.
It's still not the features that everyone appreciates at the moment but if you're really up for it, the $399 price tag is still somewhat reasonable. Else, you can still wait for the RTX 4060 which will be available later in July for $299.