This post is sponsored by ASUS Malaysia
The education sector has slowly begun to move back to physical environments in order to conduct teachings face-to-face for maximum effectiveness but that doesn't mean that the impact of digital education and online learning gets undermined. Instead, it is something that needs to be done simultaneously as a source of knowledge enrichment towards conventional classes done within actual classrooms. With the rise of Chromebooks offering the best values for educational use, ASUS Malaysia has just the right laptop for you.
Introducing the ASUS Chromebook CR1 series laptop with Chrome OS.
Coming in a couple of flavors of the standard clamshell CR1100 model and the CR1100F which is the ASUS Chromebook Flip CR1 in a special 2-in-1 configuration, the pair is the brand's latest creation that adopts the productivity-focused Chrome OS to enable a more innovative and inspirational learning experience starting next year. An all-rounded choice for students and teachers alike, let's find out what's so special about them that enables them to be the go-to choice for the young one's next educational use electronic device.
Look. We all know that teaching in a physical environment can sometimes escalate to chaotic levels of interactions where fragile electronic devices are often the victims in the aftermath but not for the ASUS Chromebook CR1100 and CR1100F though as they are made to fulfill the MIL-STD-810H durability standards which are used by the US military where the laptop can survive drops of up to 120cm with the hinge and I/O ports especially enforced to keep components in check and its functionality available for the next crazy learning session.
While classrooms of teachers and students are slowly returning to the physical environment, for those who can, the ASUS Chromebook CR1 comes in with a definite feature that encourages local collaboration which is the 180-degree hinge that can be laid flat to allow a group of people to focus on the content without cramming into a single corner, speeding up and subsequently the entire discussion.

Plus, it also has a touchscreen so that your kids can literally use it as a tablet to interact with certain software.
The current wireless connectivity market has begun to slowly shift towards 802.11a which is WiFi 6 with many major OEMs packing the necessary module to run them but that doesn't mean a budget laptop like the ASUS Chromebook CR1100 and CR1100F should cheap out too as both of them can be configured to support the latest WiFi standards alongside an optional 4G LTE mobile connection for those who are deploying in places without a fixed access point or just constantly need to move around.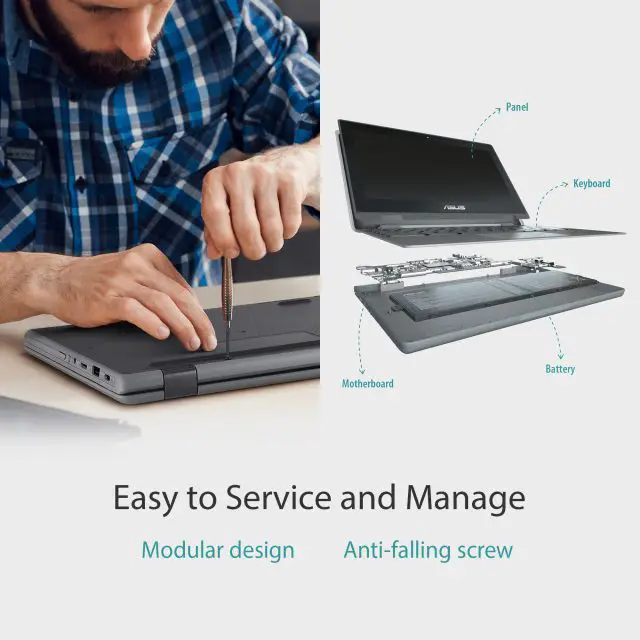 In case of things turn bad and it is time to flip it around and find out what's wrong with it, ASUS has designed the Chromebook CR1 to be easily serviceable through a modular design that is both easily identifiable and accessible to allow even beginners to swap out the faulty components and replacing them with a new one. On top of that, the anti-falling screws basically eliminate the need to keep your screws in check while the device is being disassembled. Fewer things to bother, more concentration on fixing it ASAP.
As the main goal of the device is to help kids to adopt online learning, that usually means long periods of sitting in front of the laptop which equates to an extensive period of close contact with the device. To keep things fresh and hygienic, the ASUS Antibacterial Guard that covers the surface of the Chromebook CR1 is verified by the ISO 22196 standard to inhibit bacteria growth by more than 99% within 24 hours and thanks to it, the device can withstand alcohol-based cleaning solutions and hypochlorous acid water to allow you safely sanitize without any worry.
Speaking of long periods of digital studies, staring at a screen powered by those pesky blue LEDs will hurt fellow youngster's eyesight so, in order to prevent you from getting glasses for them too early, the Low Blue Light mode cuts down the emission strength of blue light that can reduce the strain applied to the eyes, making the entire user experience more comfortable from the get-go.
In case you're someone that knows your IT hardware stuff, the following spec sheet is all you need to know that the ASUS Chromebook CR1100 and CR1100F are really education-driven.
Operating System

Chrome OS

CPU

Intel® Celeron® N4500

Intel® Celeron® N5100

Intel® Pentium® Silver N6000

GPU

Intel® UHD Graphics

RAM

Up to 8 GB LPDDR4X 4266 MHz

Onboard: 4 GB/8 GB LPDDR4X 4266 MHz

Storage

Up to 64 GB eMMC

Onboard: 32 GB/64 GB eMMC

Display

11.6″ HD (1366×768), LCD, 16:9, anti-glare, 220 nits, 45% NTSC [CR1100]

11.6″ HD (1366×768), LCD, 16:9, touch screen, wide view, glossy, 250 nits, stylus support, 50% NTSC [CR1100F]

Stylus

USI garaged stylus (Optional for CR1100F)

I/O Ports

2 x USB 3.2 Gen 1 Type-C (Full-function, support PD + Alt. mode)

2 x USB 3.2 Gen1 Type-A

1 x 3.5 mm combo audio jack

microSD card reader

nano sim card reader (optional)

Cameras

720P HD Webcam

8MP Outer Lens

Connectivity

Dual-band 2×2 WiFi 6 (802.11ax)

Bluetooth® 5.2

Audio

Built-in microphone

Built-in stereo

2W speakers

Google Assistant voice-recognition support

Weight

Starting at 1.42 kg

Dimension

29.46 x 20.49 x 2.065 cm

Battery

47 Wh, 2-cell Li-ion

Security

Titan C security chip, Kensington lock slot

Keyboard/Touchpad

Full-size keyboard with 1.5 mm key travel; spill-resistant to 330cc

Manageability

Google Admin Console (sold separately)

AC Adapter

Type-C®, 45 W; Output: 15 V DC, 3 A; Input: 100~240 V AC 50/60 Hz universal

Energy Efficiency Compliance

EPEAT

Energy Star
What are you waiting for?
Interested in getting one of the ASUS Chromebook CR1 for the little ones to start off their digital learning journey? Click the links below to start applying for interest registration by passing your contact information to the folks at ASUS so they can get to you more easily!
Additionally, if you think your school or education center can benefit from deploying them on a large scale, ASUS Malaysia is also kind enough to allow free trials to be undertaken by students before actually making a purchase so pass this proposal to the management of your institution or if you happened to be one of the leaders, click the following link to get in contact!