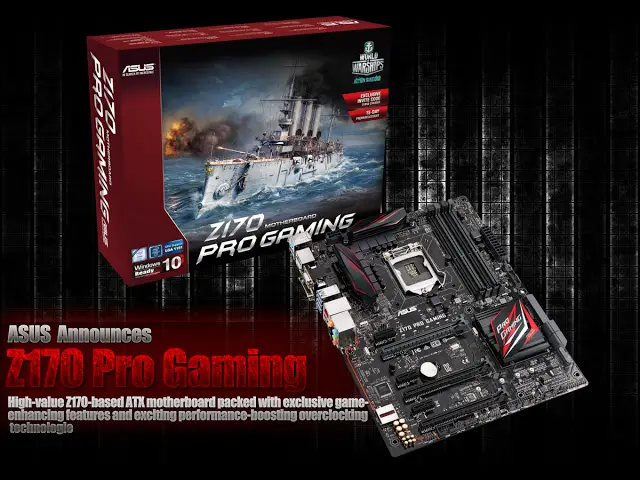 Malaysia, Kuala Lumpur (6th August, 2015) — ASUS today announced Z170 Pro Gaming, an ATX gaming motherboard packed with many exclusive features optimized for the best gaming experience and incorporating multiple performance-boosting overclocking technologies — and the first product in the new ASUS Pro Gaming series.
Pro Gaming motherboards are designed for today's modern value-conscious consumers, who demand affordability and the very best technology. Every Pro Gaming motherboard features multiple ASUS-exclusive innovations to unleash the full gaming-performance potential.
Z170 Pro Gaming delivers flawless gaming audio with SupremeFX and Sonic Radar II, plus superior gaming networking and speed with Intel Gigabit Ethernet, LANGuard, GameFirst and RAMCache technologies. The new motherboard even protects itself and the gamer with Gamer's Guardian components and multiple smart DIY features.
Based on the new Intel® Z170 chipset, Z170 Pro Gaming's ASUS-exclusive performance-enhancing features include 5-Way Optimization auto-tuning technology for instant speed boosts, second-generation T-Topology for next-level DDR4 memory overclocking, and Pro Clock technology for turbo-charged base-clock (BCLK) frequencies.
Built to game: SupremeFX, Sonic Radar II, Intel Ethernet, LANGuard, GameFirst and RAMCache
Z170 Pro Gaming has SupremeFX audio technology built in with a remarkable signal-to-noise ratio (SNR) of 115dB for near-lossless audio quality and premium Nichicon® audio capacitors for warmer, natural sounds.
SupremeFX is engineered with effective shielding to prevent electromagnetic interference, preserving the integrity of audio signals for the best quality. It also has a 300-ohm-headphone amplifier to drive some of the very best headphones available for exceptional, immersive gaming audio and music-listening. The illuminated red-line shielding is even customizable, enabling the user to create eye-catching lighting effects.
For a helping hand on the battlefield, Sonic Radar II displays a stealthy overlay that shows what opponents and teammates are up to, all managed via a simple control panel and customizable game list. This allows the player to see the direction and origin of key in-game sounds, and practice enemy-pinpointing skill. It also includes exclusive Audio Enhancement technology to clarify every blast.
Z170 Pro Gaming has the very latest Intel Gigabit Ethernet (I219-V) integrated to reduce CPU overhead and deliver exceptionally-high TCP and UDP throughput, freeing up more computing power for gaming and gameplay. It also has ASUS-exclusive LANGuard with signal-coupling technology and premium surface-mounted to ensure reliable connections and better throughput, plus electrostatically-guarded and surge-protected components (ESD Guards) for 1.9X-greater tolerance to static electricity and 2.5X-greater protection (up to 15KV) against surges.
Lag-banishing GameFirst technology prioritizes game-related data packets and allocates more bandwidth to games and favorite apps, eliminating laggy online gameplay, streaming stutters and file-sharing slowdown. GameFirst technology has multiple presets, including Optimization, Game, Media Streaming or File Sharing — so it takes just one click to get up to full speed.
Z170 Pro Gaming's uniquely-intelligent RAMCache technology effectively caches an entire storage device so that favorite games and apps launch at breakneck speeds, getting to work the moment it's activated. RAMCache turns milliseconds into microseconds to boost game-load times to stratospheric levels, and minimizes risk of data loss.
Built to perform: 5-Way Optimization, second-gen T-Topology and Pro Clock technology
Z170 Pro Gaming's 5-Way Optimization technology provides instant, highly-controllable performance boosts. This exclusive tool dynamically optimizes ASUS TPU (TurboV Processing Unit), EPU (Energy Processing Unit) and Digi+ voltage-regulator module (VRM), Fan Xpert 3 and Turbo App technologies for precision-enhanced performance and efficiency, and all with a single click. Performance is smoother, energy use is lowered, power is ultra-stable, operation is cooler and fans are quieter.
The new motherboard also has second-generation ASUS T-Topology built in, enabling users to take DDR4 memory overclocking to new heights: up to 3466MHz is possible with all memory slots populated. Featuring a customized trace layout for reduced crosstalk and coupling noise, second-generation T-Topology ensures time-aligned signal transfer for improved memory stability and compatibility.
Z170 Pro Gaming includes Pro Clock technology, a dedicated base-clock (BCLK) generator designed for 6th-generation Intel processors that allows overclocked base-clock frequencies up to 400MHz. This custom solution works in tandem with the ASUS TPU to enhance voltage and base-clock overclocking control. Boot times can be reduced, jitter is lowered and stability is increased under heavy overclocking — providing an exciting new way to boost performance to the extreme.
Built to protect: Gamer's Guardian components and smart DIY features
Z170 Pro Gaming has loads of self-defenses called Gamer's Guardian, including the Digi+ voltage-regulator module (VRM) for ultra-smooth and ultra-clean power delivery to the CPU, DRAM Overcurrent Protection with resettable fuses to prevent overcurrent and short-circuit damage, and superior chokes.
It also has durable capacitors engineered to resist extreme temperature variations of between -55°C and 105°C — 110% better than the industry standard — and a corrosion-resistant stainless-steel input/output (I/O) panel that lasts three times (3X) longer than ordinary panels.
Smart DIY features include the pin-protecting CPU Installation Tool, one-clip Q-Slot graphics card installation and Q-DIMM memory slots with one-sided clips for super-simple, super-secure handling of memory modules. Q-Shield prevents nicks and cuts during building, while four Q-LED lamps indicate problems with the CPU, memory, graphics card or boot device for quick diagnosis.
ASUS ESD Guards actively protect against sudden electrostatic discharge (ESD), ensuring USB ports, audio and LAN port protection that's up to twice as resilient as industry standards.
AVAILABILITY & PRICING
ASUS Z170 Pro Gaming will be available in Malaysia in mid of August 2015.
Z170 Pro Gaming – RM 799
**All prices are inclusive 6% of GST. Prices quoted are current and may change without prior notice.