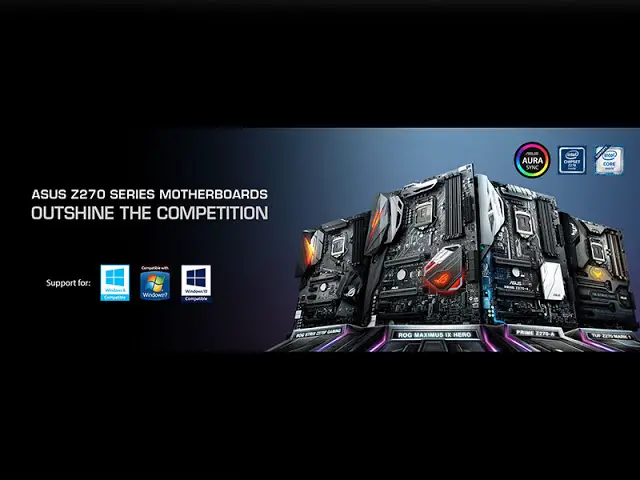 ASUS today announced Win7 and Win8.1 driver support on its latest Z270 series motherboards lineup. Designed to maximize the potential of 7th Generation Intel® Core™ processors, the new range includes the highly-anticipated next-generation Republic of Gamers (ROG) Maximus IX gaming motherboards — with Maximus IX Apex having already secured its place in history by claiming eight world records and13 global first places in some of the world's toughest benchmarks.
Also included in the lineup are the latest ROG Strix gaming motherboards for style-conscious enthusiast, the all-new ASUS Prime series for everyday customization and tuning, and the latestASUS TUF boards with 24/7 stability and newly-added overclocking abilities. The ASUS workstation motherboard series has also been updated for the Z270 revolution — and all boards are loaded with exclusive technologies to enable users to extract every ounce of performance from Intel's latest CPUs.
Commenting on the Z270 motherboard series,Joe Hsieh, ASUS Corporate Vice President and General Manager of Motherboard Business Unit & New Product Planning Division said, "Our previous generations have been validated and most awarded by many respected media outlets, proving that ASUS is the number-one motherboard brand. We strive to offer Best-selling, Easy-to-use, Stable and Trusted motherboards — that's why we call them BEST. For our Z270 generation, we've taken innovation and customization to the max, with personalization features such as Aura Sync RGB lighting and support for 3D-printed components. We've also co-operated with Shapeways to launch a dedicated ASUS shop where users are able to purchase, download and customize and 3D-printable accessories worldwide — so they'll never again have to stare into a drab, unexciting computer case. It's time to unlock the power of 7th Generation Intel Core processors — and an ASUS Z270-series motherboard is the perfect way to do just that!"
Built for performance: Multiple overclocking-friendly technologies
ASUS is the world's foremost motherboard manufacturer. Our world-class research-and-development teams are devoted to providing the best performance to users, with exhaustive testing that exceeds industry standards, giving users the ability and confidence to overclock to 5.0GHz or even beyond — and all with a single click from the ready-made UEFI profile. ASUS Z270 motherboards have multiple features to aid overclockers in their endeavors.
ASUS-exclusive 5-Way Optimization dynamically optimizes essential aspects of the system based on real-time use, including the all-new Stress Test Distribution feature that allows users to adjust the proportion of CPU and DRAM stress for the best overclocking performance. As well, the latest-generation Fan Xpert 4 allows users to monitor the GPU temperature to ensure cooler usage scenarios when the graphics card is under heavy loads, such as during 3D content creation or when gaming.
ASUS Pro Clock technology has a dedicated base-clock (BCLK) generator designed for 7th Generation Intel processors, enabling overclocked base-clock frequencies of up to 425MHz and beyond. It works in tandem with the ASUS TurboV Processing Unit (TPU) to enhance voltage and base-clock overclocking control, and boosts performance up to 5.4GHz and beyond.
Third-generation ASUS T-Topology takes DDR4 memory overclocking to new heights — up to 4133MHzor even beyond . Refined manufacturing ensures ultra-consistent quality and minimal crosstalk between custom trace paths, so users can enjoy the thrill of overclocking DDR4 with time-aligned signaling for superior stability. And ASUS motherboards are tested for compatibility with industry-leading 790+ DDR4 memory modules — for great flexibility and reassurance.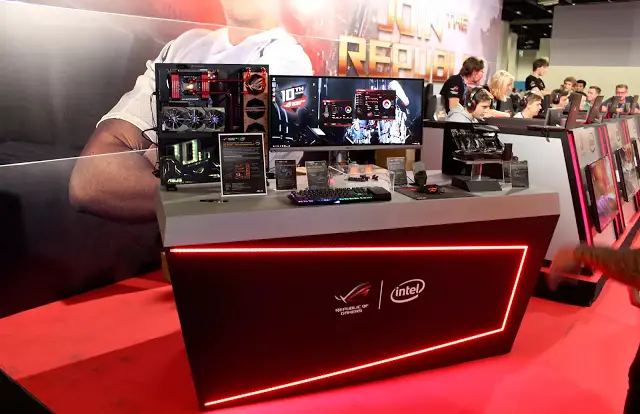 Built for customization: Aura Sync and 3D-printable components
ASUS Aura Sync is the world's first motherboard-RGB-synchronization technology, delivering distinctive light shows across Aura Sync-capable motherboards, graphics cards and peripherals for up to nine effects — all controlled via the simple and intuitive Aura app.The all-new Music mode is also able to pulse synchronized LEDs in time to the user's favorite tunes. Users are able enhance their illumination still further, either via the integrated 4-pin/12V Aura RGB header or the included extension cable. Aura offers a brilliant spectrum of colors, and can even change shades to reflect the CPU temperature, providing valuable information at a glance.
ASUS has always strived to make it easier for users to customize the cosmetic appearance of their PC components, and now it has become the world's first motherboard brand to support 3D-printed components — making it easy for users to print their own parts to customize the motherboard's appearance, improve system performance or manage cables. Dedicated onboard 3D mounts that use the same screws as M.2 and standard motherboard mounting holes make fitting 3D-printed parts easy, so users can quickly add custom nameplates, cable covers, or even an M.2 fan holder to lower M.2 temperature by up to 30°C— preventing throttling. ASUS has also designed a series of 3D-printable accessories,including 2-way SLI™ bridge cover, fan grille, ROG-font letters and all sizes of cable combs, adding style to any build.
ASUS has also cooperated with Shapeways, the world's largest 3D-printing service company, to launch the ASUS 3D Printing Store. This hosts the full selection of ASUS 3D-printable parts, enabling users to select the parts they want to print — replete with preferred materials and color — and order directly via Shapeways. For advanced customization, the original CAD files are available for download, allowing users to personalize them as much as they want before ordering parts via the Shapeways printing service or using their own 3D printers.
Record-breaking performance: Redefining limits for the 7th Gen era
The all-new ROG Maximus IX Apex motherboard is the latest ground breaking model in the ROG product family which brings players back to ROG's roots, a one-of-kind community for world-class cutting-edge enthusiasts looking to reach the apex of gaming performance. With a performance-oriented layout, the Apex enables overclocking enthusiasts to go beyond the limits by using extreme cooling methods, including liquid nitrogen (LN2) or liquid helium (LHe)— and it's already scored multiple world records (WRs) and global first places (GFPs), several being long-standing records. These include the best Intel Core processors CPU frequency processors, with a record of 7.383GHz on a single core and one thread and 7.328GHz on four cores and eight threads using the Intel Core i7-7700K. It also set a reference clock (BCLK) at 584MHz and a memory frequency surpassing 5GHz, with 5041MHz. In total, the Maximus IX Apex has secured eight world records and 13 global first places, as detailed in the following table:
Category
Benchmark
New score
WR/GFP*
2D benchmarks
PiFast
8sec 72ms
WR
SuperPi 1M
4sec 937ms
WR
SuperPi 32M
4mn 17sec 500ms
WR
Cinebench R11.5 – 4x
16.73
GFP
Cinebench R15 – 4x
1515
GFP
Geekbench3 multi – x4
29463
GFP
GPUPI for CPU – 1B x4
225643
GFP
HWBOT Prime – 4x
8471
GFP
wPrime 32M – 4x
2sec 891ms
GFP
wPrime 1024M – 4x
1mn 31sec 516ms
GFP
XTU – 4x
2301
GFP
Category
Benchmark
New score
WR / GFP
Legacy benchmarks
Aquamark
1x GPU
652098
GFP
3DMark2001 SE
1x GPU
212326
WR
3DMark03
1x GPU
351557
WR
2x GPU
342682
GFP
3DMark05
1x GPU
88398
WR
2x GPU
87604
GFP
3Dmark06
1x GPU
68888
WR
2x GPU
68766
GFP
Category
Benchmark
New score
WR / GFP
3D Benchmark
Unigine Heaven – Xtreme preset
1x GPU
11009.58
GFP
2x GPU
11187.77
WR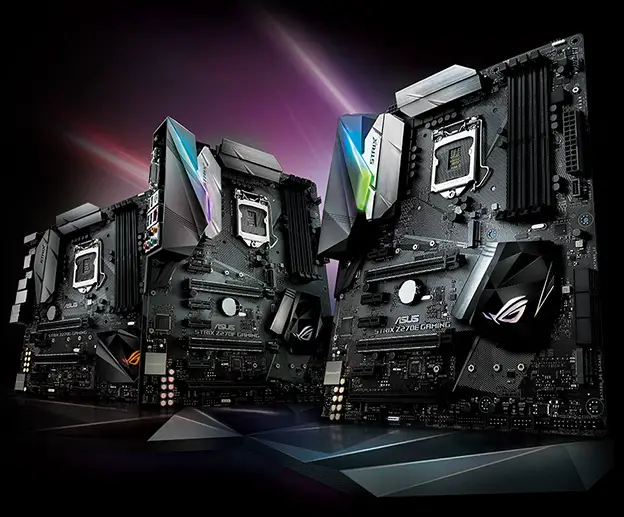 ROG and ROG Strix: Defeat all challengers together with a new creed
The ROG motherboard lineup includes Maximus IX Extreme, Maximus IX Formula, Maximus IX Hero and two new models, the Maximus IX Code and Maximus IXApex, plus a new series from ROG Strix — the latest recruit to the ROG fold. The new boards are all based on the latest Intel Z270 Chipset and engineered with leading innovations and ROG-exclusive technologies to deliver epic performance in every perspective.
The new ROG family provides the best gaming audio with the exclusive SupremeFXaudio codec, best air- and water-cooling innovations, best auto-overclocking performance, plus many refined design choices and class-leading features. Also, Aura Sync and 3D-printing-friendly designs provide stylish customization for awesome gaming rigs.
Maximus IX Apex is engineered to provide the best overclocking experiences, and features a revolutionary DIMM.2 design that allows two M.2 drives to be vertically-mounted on a DDR4 interface. DIMM or case fans can then be mounted to prevent throttling, and to ensure the system never breaks a sweat. Built to surpass from the inside out, the Apexnot only features a radical asymmetrical X-shaped circuit board, but more importantly, relies on thecutouts to allow the Aura Sync illumination to shine through, adding more appeal to style-conscious gaming enthusiasts. An aircraft-inspired heatsink design and illuminated custom nameplate completes Apex's winning aesthetic. ROG also offers two complete Z270-based water-cooling solutions — Maximus IX Extreme and Maximus IX Formula.
Maximus IX Extreme is the world's first motherboard with integrated monoblock — expertly manufactured by Bitspower. Maximus IX Extreme is packed with ROG innovations that refine traditional solutions: The monoblock detects the flow rate of the water coolant, and has dedicated circuitry to detect both the inlet and outlet temperatures and leakage. The monoblock also integrates the neighboring M.2 heatsink for unmatched heat-dissipation to eliminate throttling —therefore improving reliability and enabling greater performance.
Maximus IX Formula's renowned hybrid heatsink is redesigned by the cooling masters at EKWB. The new thinner fins offer a 4°Ccooling improvement over the previous design -delivering efficient, quiet cooling. All ROG motherboards offer a better water-cooling experience, withonboard headers that allow water flow and water temperature sensors to be easily monitored.
ROG Strix is the all-new gaming creed, with models crafted to appeal to every type of gamer: ROG Strix Z270E Gaming, ROG Strix Z270F Gaming, ROG Strix Z270H Gaming ATX, mATX ROG Strix Z270G Gaming and mini-ITXROG Strix Z270I Gaming. ROG Strix Z270 gaming motherboards combine bold aesthetics with premier performance and incredible SupremeFX audio to deliver unrivaled gaming experiences and style. Unique, angular patterns inspired by the slashes of a sword lend toROG Strix series' striking visual accents, and a reflective polychrome ROG logo emblazoned on a diamond-cut metal nameplate shines as a mark of gaming pride. Additionally, Aura Sync technology adds a burst of vibrancy as it syncs with Aura-enabled components for a system that glows in a nearly infinite spectrum of colors.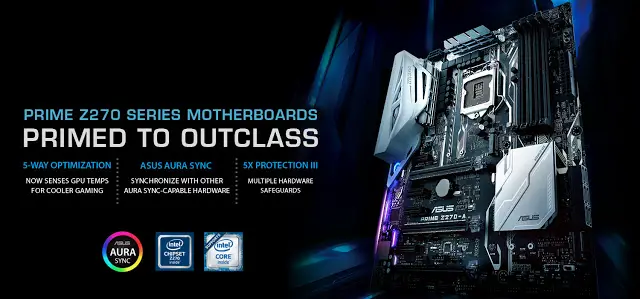 ASUS Prime:Primed to outclass
ASUS Prime is the next evolution of the ASUS motherboard, born of a pedigree that stretches all the way back to 1989. Our team of world-class engineers are passionate about empowering everyone to enjoy the benefits of customization and tuning, and the driving force behind the development of Prime is to make advanced enthusiast controls easily accessible — maximizing performance, stability and compatibility for the very best DIY PC experiences.
Prime features ASUS-exclusive 5-Way Optimization for one-click full-system tuning, with upgraded auto-tuning easily overclock up to 4.8GHz or beyond and an upgraded Fan Xpert 4 with the ability to monitor GPU temperatures for cooler gaming. Third-gen T-Topology pushes DDR4 to 3866MHz and beyond, with ultra-consistent quality and minimal cross talk, while 5X Protection III offers multiple hardware safeguards include all-new SafeSlot core, featuring a fortified design that is anchored to the motherboard by a special hook, which provides 1.6x stronger retention and 1.3x greater shearing resistance than standard expansion slots.
Prime series motherboards also include ASUS-exclusive Aura Sync with an integrated 4-pin RGB header to offer synchronized illumination with Aura Sync-capable hardware, plus a dedicated 3D mount for 3D-printing-friendly design. Prime series also refines audio experiences with the S1220A codec. Designed in close collaboration with Realtek®, the codec improves performance to provide 120dB signal-to-noise ratio for the stereo line-out and 113dB SNR for the line-in, to capture pristine audio; and has an impedance-sensing circuit that automatically adjusts the gain to ensure the optimal volume range for headphones. Integrated DTS Headphone:X®technology delivers immersive 3D surround sound for rich audio experiences.
Ultra-fast connectivity is also a key theme of the all-new Prime Z270 series, with up to dual M.2 slots to tap into 32Gbps of PCI Express® (PCIe®)bandwidth, and USB 3.1 Type-A and reversible Type-C™. Most Prime series motherboards also supports Intel Optane™ memory. Prime Z270-A and Z270-AR also includes ASUS SLI HB Bridge (2-Way-M), a quick-to-fit expansion card that doubles the available transfer bandwidth to provide silky-smooth surround gaming, which compatible with NVIDIA® Titan X, GeForce® GTX™ 1080 and GeForce GTX 1070 graphics cards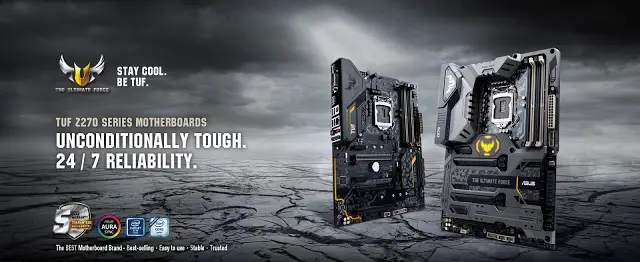 ASUS TUF: Unconditionally tough with 24/7 reliability
TUF is where ambition for reliably brilliant performance meets reality. Some of the world's most respected independent testing laboratories have certified TUF components as fit for military use.We are so confident of the reliability and durability of our products that each and every TUF motherboard is backed by a five-year warranty.
For the first time, TUF motherboards are made for overclocking. Implementing a new engineering-intensive DRAM layout, the third-generation ASUS T-Topology delivers new DDR4-overclocking dynamics to let users push memory frequencies further than ever — all the way up to 3866MHz if all memory slots are being utilized.
Pro Clock is the ASUS-exclusive base-clock generator that pushes base-clock frequencies up to 425MHz with 7th Generation Intel CPUs, taking TUF system performance to extreme heights. The boards also include Thermal Radar 2+ with TurboV Processing Unit (TPU) for efficient operation from precise voltage control and monitoring — all managed with a single click.
ASUS TUF engineers have forged TUF ICe, a dedicated processor that monitors onboard temperature sensors and fan speeds for ultra-accurate cooling, whether adjusting settings manually or using the automatic one-click optimization via Thermal Radar 2+ and TUF Detective 2.Thermal Radar 2+ lets users control fans on ASUS graphics cards as well as case fans. Multiple onboard sensors enable the monitoring of onboard temperatures as well as GPU temperatures while gaming and content-creating, for instant real-time cooling – with users able to make adjustments manually or optimize automatically, with a single click.
TUF Thermal Armor is a strong, futuristic shield with built-in Aura RGB illumination that adds eye-catching aesthetics to every TUF Z270 system. It looks great and offers another way to keep things cool. Users just need to connect an additional fan to boost airflow to the heat-sensitive voltage-regulator module — this reduces area temperatures by up to 18.9° C. Similar to the Prime Series, TUF Z270 provides immersive 3D surround sound with Realtek S1220A and Crystal Sound 3, and DTS Headphone:X Technology.
TUF Z270 series is carefully engineered to work seamlessly with a wide range of high-performance workstation graphics cards. The ASUS promise of great compatibility is backed by our comprehensive Qualified Vendor List (QVL) that includes leading brands and products — so users can be certain of compatibility before buying that perfect graphics card.
ASUS Workstations: Engineered for professional performance
ASUS workstation motherboards have also been upgraded for the Z270 era. Z270-WS features ASUS 5-Way Optimization to dynamically optimize performance with a click — ensuring the whole system is tuned to its optimal potential based on real-time use.
Z270-WS has four PCI Express x16 slots, protected by reinforced ASUS SafeSlot technology, and able to carry up to four dual-slot graphic cards. Supporting NVIDIA GeForce SLI, NVIDIA Quadro® SLI, and AMD®CrossFireX™, Z270-WS is an excellent choice for designers and other professionals that depend on powerful graphic — so it's perfect for design and modeling, processing-intensive simulation, and 3D-rendering applications.
Similar to the Prime Series, Z270-WS is fitted with Realtek S1220A and Crystal Sound 3. And with newly-added DTS Headphone:X Technology, the Z270-WS delivers flawless audio with immersive 3D surrounding sound.
Z270-WS also offers scalable high-speed storage and expandable connectivity, with dual M.2 and dual U.2 on demand — for up to 32Gbps of PCIe bandwidth. Z270-WS provides great backward compatibility with integrated USB 3.1 Type-A, plus future-proof connectivity in the shape of reversible USB 3.1 Type-C — all protected by the stainless-steel back I/O shield. In addition to up to 10Gbps transfer speeds, Z270-WS also supports ASUS ThunderboltEX 3, a quick-to-fit expansion card for blistering transfer speeds of up to 40Gbps. It also has built-in dual Intel Gigabit LAN, making connections to multiple networks both easy and convenient.
Intel Z200
Win7/Win8.1 driver
SCD
Web page
MAXIMUS IX FORMULA
v
v
MAXIMUS IX CODE
v
v
MAXIMUS IX HERO
v
v
TUF Z270 MARK 1
v
v
STRIX Z270E GAMING
v
v
STRIX Z270F GAMING
v
v
PRIME Z270-A
v
v
PRIME Z270-AR
v
v
STRIX Z270G GAMING
v
v
TUF Z270 MARK 2
v
v
STRIX Z270H GAMING
v
v
PRIME Z270-K
N/A
v
PRIME Z270-P
N/A
v
PRIME Z270M-PLUS
N/A
v
PRIME Z270M-PLUS/BR
N/A
v
Intel H200
Win7/Win8.1 driver
SCD
Web page
STRIX H270F GAMING
v
v
PRIME H270-PLUS
N/A
v
PRIME H270-PRO
N/A
v
PRIME H270M-PLUS
v
v
Intel B200
Win7/Win8.1 driver
SCD
Web page
STRIX B250F GAMING
v
v
PRIME B250-PRO
N/A
v
PRIME B250M-PLUS
N/A
v
PRIME B250M-C
N/A
v
PRIME B250M-A
N/A
v
PRIME B250M-K
N/A
v
EX-B250M-V3
N/A
v
EX-B250M-V5
N/A
v
EX-B250-V7
N/A
v
PIO-B250I
N/A
v
PRIME B250M-PLUS/BR
N/A
v
Intel Q200
Win7/Win8.1 driver
SCD
Web page
PRIME Q270M-C
N/A
v