AIB partners are seen to offer their own custom design of the GPU equipped with custom coolers, custom PCB design, metal backplate as soon as NVIDIA announced the availability of both its GTX 1060 6GB and 3GB variant to go up against the Radeon RX 480 from the red camp. As one of NVIDIA's AIB partner, MSI too is offering several different variants of the GPU such as the Gaming series, Sea Hawk series, Aero series and Armor series that comes in different designs, cooling solutions and clock speeds.
Many thanks to MSI Malaysia, we managed to secured a unit of the GeForce GTX 1060 Gaming X 6G for our review today. Unlike the GTX 1070 and GTX 1080 that comes available in 3 different model of Gaming, Gaming X and Gaming Z, MSI offers only 2 type of model for its GTX 1060, which is the Gaming and Gaming X.
(The MSI GeForce GTX 1060 Gaming X 6G is available at RM1499)
Graphics Processing

GeForce GTX 1060

Core Clock

1809 MHz / 1594 MHz (OC Mode)
1784 MHz / 1569 MHz (Gaming Mode)
1708 MHz / 1506 MHz (Silent Mode)

Memory Clock

8108 MHz (OC Mode)
8008 MHz (Gaming Mode)
8008 MHz (Silent Mode)

Process Technology

16 nm

Memory Size

6 GB

Memory Bus

192 bit

Card Bus

PCI-E 3.0 x 16

Memory Type

GDDR5

DirectX

12

OpenGL

4.5

PCB Form

ATX

Digital max resolution

7680×4320 (requires 2*DP1.3 connectors)

Analog max resolution

4096×2160

Multi-view

4

Output

Dual-link DVI-D *1
HDMI-2.0b*1 (Max Resolution: 4096×2160 @60 Hz)
Display Port-1.4 *3 (Max Resolution: 7680×4320 @60 Hz)

Recommended PSU

400W

Power Connectors

8 pin*1

Card size

H=39 L=277 W=140 mm
The MSI GeForce GTX 1060 Gaming X 6G ships in the usual cherry red packaging with the actual card depicted at the front of the box, along with some of its features i.e TwinFrozr VI cooling technology, RGB LED, Gaming App software, highlighted at the back of the box.
Accessories wise, the GeForce GTX 1060 Gaming X 8G is supplied with a drivers CD, Quick User's Guide and stickers only.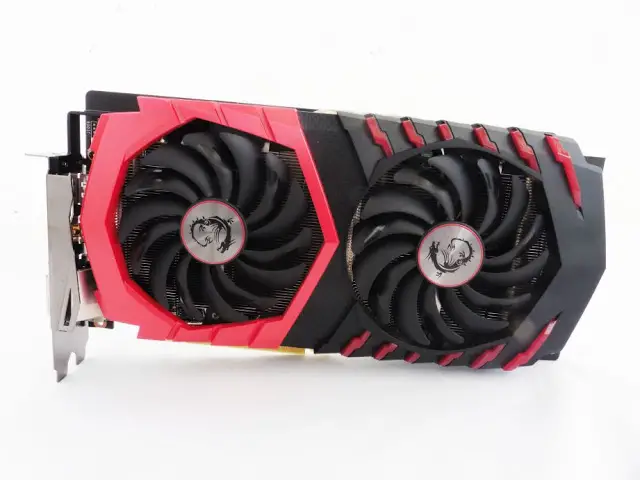 Similar to other of MSI' Gaming series graphics cards, the GeForce GTX 1060 Gaming X 6G too is equipped with MSI' latest Twin Frozr VI cooler; TORX 2.0 Fan design with double ball bearing that operates silently and capable of generating 22% more air pressure.
Underneath the shroud is the SuperSU heatsink that utilizes 6 copper heat pipes with 8mm thickness to maximize the cooling performance when paired with the TORX 2.0 fans. 
LED can be controlled individually by choosing any of the animation effects available in the MSI Gaming App, ranging from responding to your game sounds or music to steady light, breathing and flashing. The LEDs on the red linings of the shroud however, will only glow in red.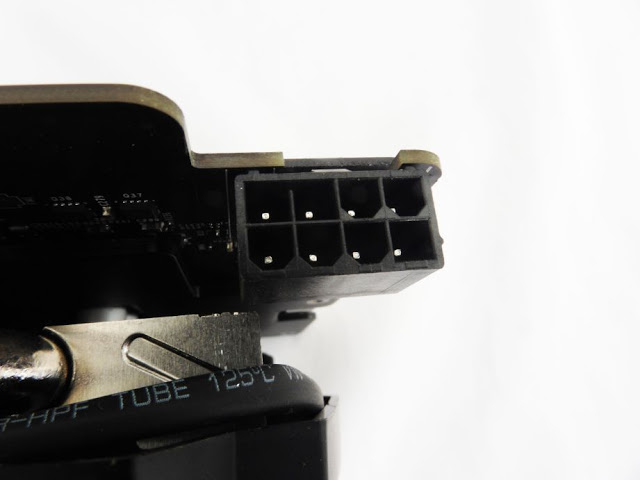 The GTX 1060 is probably one of the best power efficient consumer grade graphics card today, as according to NVIDIA, it is capable of delivering performance that can go on par with a GTX 980, features a low TDP of 120W and requires only a 400W to operate. 
At the back of the card, you'll find a metal backplate with a matte finish, glossy MSI Gaming Dragon printed on. The metal backplate here does pretty much the same as most metal backplate for graphics card, which is to enhance the overall rigidity of the card to prevent PCB sagging that usually occurs on graphic cards with a large heat sink. There's also an extra metal bracket that is attached to the mounting of the heat sink itself, which helps to add more rigidity to the card for extra protection.
The display output option is pretty common nowadays, 1 x DVI-I connector, 3 x DisplayPort and 1 x HDMI port.
Test Rig Configuration

CPU Cooler

Raijintek Triton 240

CPU

Intel Core i7 4790K @4.6GHz

Motherboard

ASUS Maximus Hero VII

Memory

G.Skill TridentX 2400MHz

Primary Hard Drive

Intel 520 series 240GB

Power Supply

Be Quiet! Straight Power 10 600W

Chassis

Vector Bench case
We mounted the GeForce GTX 1060 Gaming X 6G on our test bench as above and each and every benchmark is conducted in a room of about 30C° ambient temperature.
We ran a few graphically demanding games and synthetic benchmarks in our possession on a selected settings at 1080p, which is considered as high for much of our test as usual.The final result of each benchmark is presented in the form of the graph below: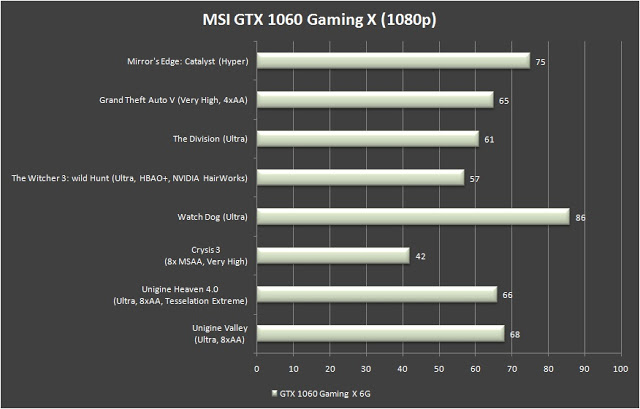 Performance Comparison With NVIDIA GeForce GTX 1060 6G Founders Edition
We've done a performance comparison with a Founders Edition of the GeForce GTX 1060 and the result of the clash between the two beasts of a card is as following:
We ran the same graphically demanding games and synthetic benchmark on 1080p with the highest achievable clock speed for both its memory and GPU that is stable enough to be able to complete each benchmark with the following values:
133MHz raise on the GPU core clock
536MHz raise on the memory clock
Extra 12% gain on the power
That isn't much due to the card has been factory overclocked by MSI, but we managed to hit a beefy 2103MHz GPU clock speed on boost during our benchmark session. 
Performance Comparison With NVIDIA GeForce GTX 1060 6G Founders Edition 
We've done a performance comparison with a Founders Edition of the GeForce GTX 1060, both overclocked and we're seeing a quite near results as following: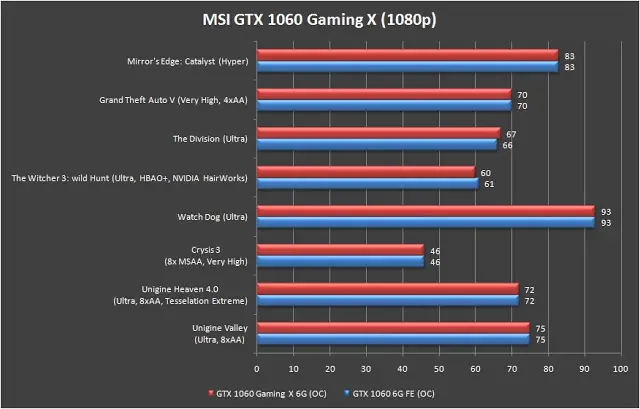 Temperature wise, the TwinFrozr VI cooler is doing its job very well as we've observed a very decent temperature record of 42°C during idle and 66°C on load while running on default clock speed when the card is stressed with the FurMark burn-in test for an hour. Bumping up the GPU core clock with an extra 133 MHz results in a slight increase in temperature, with 68°C as the peak temperature for the FurMark burn-in test.  
Just like the
GTX 1060 Founders Edition
, the MSI GeForce GTX 1060 Gaming X 6G is one impressive graphics card that is capable of delivering performance that goes nearly on par with the previous generation Maxwell GTX 980. 
Gaming on the GTX 1060 Gaming X 6G alone is enough to satisfy most users, and if you're looking for more performance out of the card, raising the  GPU clock by a mere 133MHz will give you a juicy 2103MHz boost clock that will give you an extra 10% boost on most of the AAA titles out there. Of course, the GTX 1060 alone has a lot more unexplored potential which can be unlocked via custom BIOS from the enthusiasts community, but we don't recommend flashing your card unless you are well aware of the risks of flashing your graphics card.
For its cooling performance, we'd say that MSI did a really good job with its TwinFrozr VI. The peak temperature achieved on the GTX 1060 Gaming X is up to 10°C cooler than a GTX 1060 Founders Edition and the fan is almost inaudible from 1m distance even when it's spinning at the highest rpm. This alone, is a worthy option to look into if you're looking for a decent GTX 1060 for your silent gaming rig.
When it comes to the price, MSI is one of NVIDIA's AIB partner to have the most expensive model alongside with ASUS, Gigabyte and EVGA. Then again, comparing its cooling performance alone against some of the lower cost alternatives, we'd say that the RM 1499 paid is actually reasonable if that's the quality you're looking for and given that you can stretch your budget a little further for a better option.
Solid build quality and good aesthetics
Good overclocking headroom
Excellent cooling performance
Low TDP of 120, can be operated with a 400W power supply
Near silent operation even when the fan spins at its maximum speed
Costly
Lack of SLI support