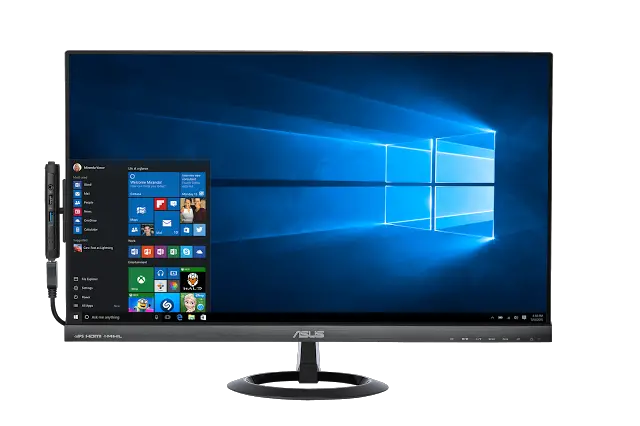 ASUS today announced VivoStick, a pocket-sized PC that turns any HDMI display or TV into a Windows PC or smart TV for work or play. VivoStick is powered by an Intel® Atom™ processor with 2GB RAM, and has 32GB of onboard storage space. It delivers fast and responsive performance and is plug-and-play-ready without the need for complicated setup. Despite its compact size, it has 802.11ac Wi-Fi, Bluetooth® 4.1, USB 3.0 and USB 2.0 ports, an HDMI port and an audio jack, plus an internal cooling fan to guard against overheating. VivoStick is an affordable and space-saving PC that is ideal for the home or office.
Elegant design with Zen-inspired elements
The fountain pen-inspired VivoStick features smooth, elegant lines and an understated high-sheen luster coat. Its power button and HDMI cap sports the classic Zen-inspired spun-metal-effect finish. Its slim and compact design measures just 135 x 36 x 16.5mm to save precious desktop space; and it can be mounted on the back of a display thanks to its extension cable and VivoStick Holder.
Wireless home entertainment
Users can cast content to larger screen with ASUS HyStream, this app lets them mirror or stream Full HD movies, videos, or photos stored on their Android™ or iOS smartphones, tablets, or PCs to a HDMI-enabled TV in any home theater setup. 
Users can control VivoStick via their mobile phones or tablets with the ASUS VivoRemote app. This app gives users a wireless keyboard and mouse feature, one-click shortcuts to Home or the Windows start menu, as well as media playback and volume control. In addition, VivoRemote Center provides a mobile-like experience by grouping frequently-used apps in a single folder; users can also create categorized folders and shortcuts to open files or execute commands.
VivoStick gives users the full PC experience anywhere in the home, allowing them to get work done, stream HD videos, or catch up with family and friends via social media apps on their TV. Xbox One™ support even allows users to access their console with VivoStick. VivoStick can also be plugged into a projector for presentations or movies. In addition, users can bring VivoStick instead of their laptops when going on vacation; they can hook it up to their hotel room TV to watch videos on YouTube™, Netflix® or Amazon Prime®. 
For business or commercial use
VivoStick is ideal for individuals who are always on the go, or as a low-maintenance and cost-effective solution for a fleet of computers for business, commercial, and educational use. VivoStick can be used as a thin-client platform for call centers, computer labs in schools, or small businesses. The firmware-based Trusted Platform Module (fTPM) safeguards internal data structures against real-world threats.
Touchscreen support makes VivoStick PC an attractive proposition as a cost-effect self-service guest computing kiosk in airports, hotels, malls, and tourist attractions. It works as a dedicated single-purpose point-of-sale (POS) machine at checkout counters, retail stores, fast food chains, and restaurants. It can serve as a digital signage solution for in-store displays, outdoor sign boards, or even outfield scoreboards.
To guard against theft when used in public places, an eyelet notch lets users secure VivoStick to a monitor or display, with a buzzer sounding if it is removed.
Availability & Pricing
The VivoStick is available in all major retail stores nationwide from today onwards at the price of RM699.