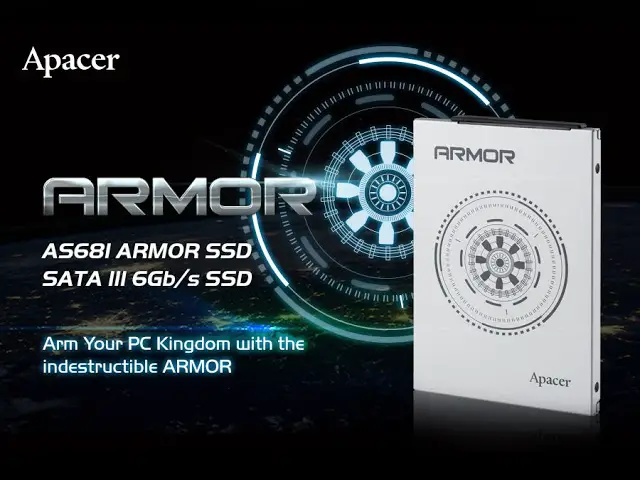 Apacer has always treated promoting high-speed storage devices as its own mission and the latest SSD which has just been launched recently, the AS681 ARMOR SSD which adopts the next-generation SATA III interface, provides ultra transmission speed of 6Gb/s, along with the most advanced 8-channel synchronous transmission design that makes read/write speed of up to 545/520 MB/s possible. 
As result, the AS681 ARMOR is capable to deliver high-speed data transfer, stunning performance that is aligned with the increasing sizes of files as technology advances, making a perfect storage upgrade for gaming desktop and laptop.
Apacer suggests that desktop users use ARMOR as system drive, and the original hard drive can serve as data drive. Therefore, high transmission speed and massive storage can be achieved. ARMOR is thoughtfully available in capacities of 120/240/480/960GB to meet the demand of different users. The bundled software, SSD Widget, allows users to examine the SSD status as well as instant firmware update whenever Apacer releases a new version of firmware to maintain the optimal performance of the SSD.
Upon upgrading their laptops with ARMOR, users can enjoy performance boost immediately. Boot time and speed of application start-up can be significantly improved. It also features 20G anti-vibration and 1500G anti-shock protections. There's no need to worry about hard drive failure and data corruption even on the go. It can be considered the necessary upgrade for laptop.
ARMOR boasts built-in advanced Wear Leveling and ECC (Error Correction Code) functions and supports Windows 7 TRIM command. These not only extend SSD life and improve operation stability, but also maintain long-term performance. AS681 ARMOR has 3-year global warranty and users can enjoy ultimate read/write speed to their hearts' content!