It's been a while since NVIDIA announced its new GeForce RTX 30 series graphics cards and we actually have our eyes set on a very particular model from Gigabyte which we've finally able to get our hands on –  introducing the AORUS GeForce RTX 3080 XTREME 10G. From the looks of it, it's pretty obvious that the AORUS GeForce RTX 3080 XTREME 10G is the flagship model that is equivalent to the MSI GeForce RTX 3080 Suprim X and ROG Strix Gaming GeForce RTX 3080.
In this review, We will take a look at the benefits and performance we can expect from the AORUS GeForce RTX 3080 XTREME 10G just to see whether if the flagship model is worth paying extra for.\
Specifications
| | | |
| --- | --- | --- |
| GPU | GeForce RTX 2080 Ti | AORUS GeForce RTX 3080 XTREME 10G |
| SMs | 68 | 68 |
| CUDA Cores | 4352 | 8704 |
| Tensor Cores | 544 | 272 |
| RT Cores | 68 | 68 |
| Texture Units | 272 | 272 |
| ROPs | 88 | 64 |
| GPU Boost Clock | 1545 MHz | 1905 MHz |
| Memory Data Rate | 14 Gbps | 19 Gbps |
| Total Video Memory Size | 11G GDDR6 | 10G GDDR6X |
| Memory Interface | 352-bit | 320-bit |
| Memory Bandwidth | 616 GB/sec | 760 GB/sec |
| TDP | 250W | 320W |
| Recommended PSU | 600W | 850W |
| Power Connectors | 2 x 8-pin | 3 x 8-pin |
| Dimensions | 267mm x 116mm x 35mm | 319mm x 140mm x 70mm |
Unboxing
Starting off with the packaging, we can see a new design for the AORUS cards this time, featuring a mechanical like AORUS logo and the XTREME label for the AORUS GeForce RTX 3080 XTREME 10G. The box is unusually thick as compared to pretty much all of the AORUS cards we've tested in the past, which adds a somewhat premium feel to the overall unboxing experience.
While it depends on how you look at it, I personally find that this is a rather interesting development for AORUS, which seems a little confusing at first but I'm kind of looking forward to seeing how things will develop and what direction Gigabyte has planned for AORUS branding in the near future.
Inside the box, you'll find the usual paper documents such as the user's manual, warranty guide, the AORUS GeForce RTX 3080 XTREME 10G, and the decorative accessories. The black AORUS eagle robot figurine is a limited edition item from what we heard and can only be obtained by special means.
The AORUS GeForce RTX 3080 XTREME 10G
At first glance, we can see that the AORUS GeForce RTX 3080 XTREME 10G is equipped with a triple-fan cooler that comes in a similar fashion as the previous AORUS card design – yes, that unusual looking shroud with exposed heatsink and fans. Gigabyte is using a different fan blade design this time with an overlapped arrangement and alternate spinning middle fan for better coverage to improve the cooling performance.
Personally, I think that the thickness is the main highlight for this card and it's probably one of the thickest I've seen to date. Equipped with a really thick heatsink measuring at 70mm height, the AORUS GeForce RTX 3080 XTREME 10G will easily take up 4-slots clearance on your expansion slots, even thicker than the triple-slot RTX 3090 Founders Edition. Though you can expect some beefy cooling performance from this card, judging at the size of the heatsink itself.
In case if you're wondering how big and thick the AORUS GeForce RTX 3080 XTREME 10G is, here's some side by side comparison shots for your reference.
Apart from the RGB bling, you'll also find a customizable display at the side of the card (aka the LCD Edge View). This is definitely a much better (and reasonable) inclusion as compared to the RGB LEDs on the fan blades which you can find on the previous generation AORUS RTX 20 series cards. The display can be configured to show custom Text or animated GIF or to display the GPU temperature, depending on how you want your system to look like.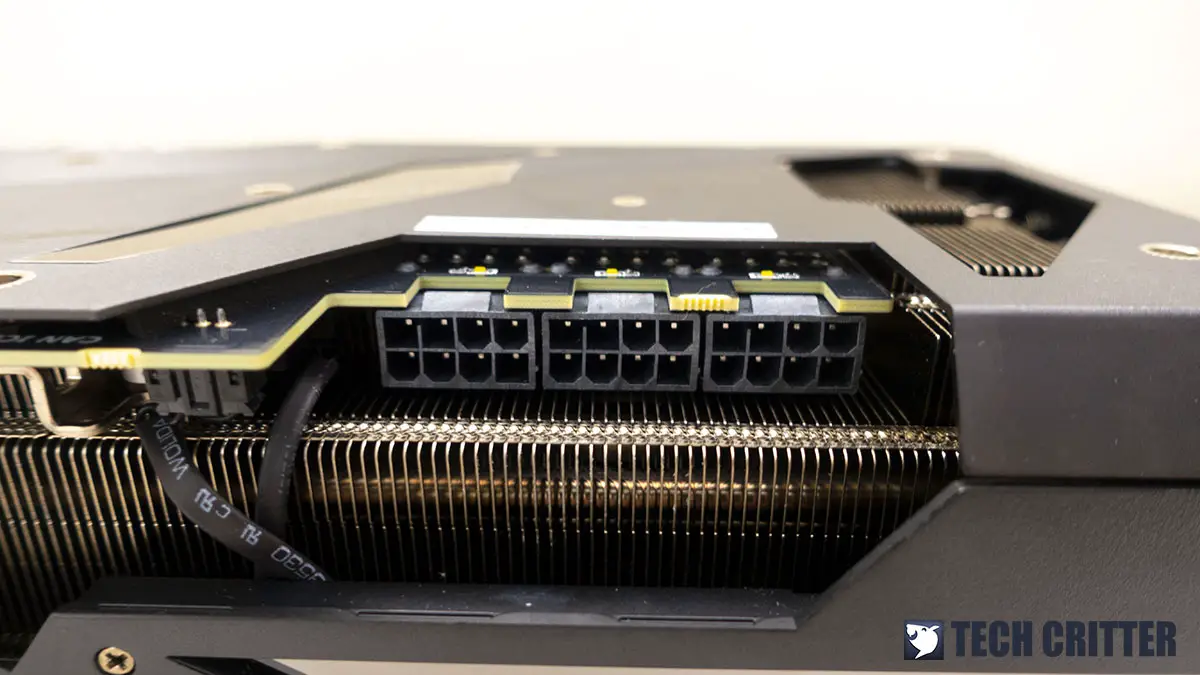 The power requirement is pretty similar to what NVIDIA has advertised for its RTX 3080 but the AORUS GeForce RTX 3080 XTREME 10G here will require a total of three PCIe 8-pin power connectors to run. Unless you're going to push the card to a much higher clock with a custom modification to bypass the power limit set by NVIDIA, it's very unlikely for the GPU to draw more power from the extra PCIe 8-pin.
At the back of the card, we can see that Gigabyte also revamped the design for the metal backplate, which looks and feel a lot more premium than all the previous generation designs.
Like many of the RTX 30 series graphics cards you'll find nowadays, the AORUS GeForce RTX 3080 XTREME 10G also features the cutout at the back of the card. The design is similar to what NVIDIA has done on their RTX 30 series Founders Edition cards, allowing the heat from the GPU to exit your system more efficiently by channeling the hot air to the top compartment of your system and allow the exhaust fans to do the rest.
As for the display output, the AORUS GeForce RTX 3080 XTREME 10G has plenty to offer, PLENTY OF 'EM. Unlike the reference RTX 3080, the AORUS GeForce RTX 3080 XTREME 10G has a total of six display outputs (3 x DisplayPort 1.4 and 3 x HDMI 2.1), more than what many of us asked for, but it's definitely something that enthusiasts with multi-display setup will find useful for their setup.
Test System Setup
For our games benchmark test, we've selected a number of AAA titles to run at the highest possible settings using the following setup under an ambient temperature of 30°C:
| | |
| --- | --- |
| CPU | Intel Core i9-10900K |
| Motherboard | ASUS ROG MAXIMUS XII APEX |
| Memory | TEAMGROUP T-FORCE XTREEM ARGB DDR4 @3600MHz |
| Graphics Card | GeForce RTX 2080 Ti / AORUS GeForce RTX 3080 XTREME 10G |
| Power Supply | Enermax MaxTytan 1250W |
| Primary Storage | Force Series Gen.4 PCIe MP600 2TB NVMe M.2 SSD |
| Secondary Storage | WD Black 6TB |
| CPU Cooler | Cooler MasterLiquid Master ML360R RGB |
| Chassis | Streacom Open Benchtable BC1 |
| Operating System | Windows 10 64bit |
For this test, we'll be comparing the AORUS GeForce RTX 3080 XTREME 10G against the RTX 3090 Founders Edition just to see how far can an overclocked RTX 3080 go against the RTX 3090. We've done two sets of tests under three different resolutions (1920×1080, 2560×1440, and 3840×2160), with and without ray tracing enabled, for a better comparison.
Games Benchmark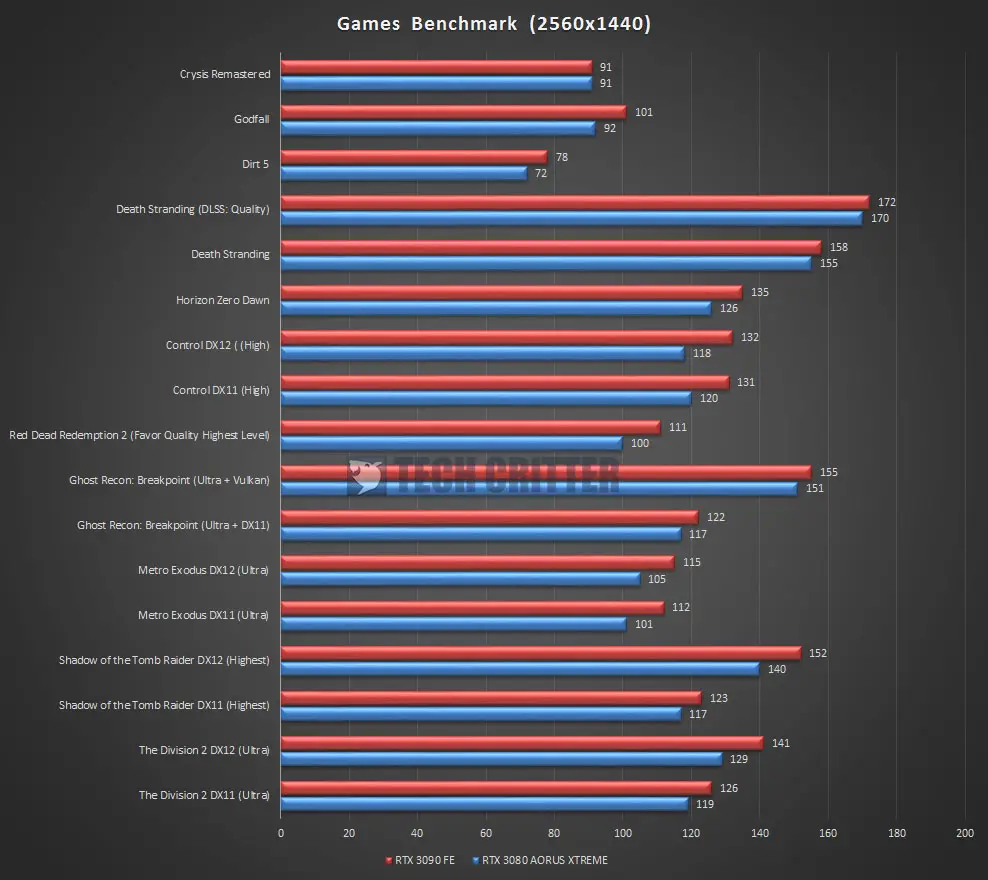 For the base performance, the AORUS RTX 3080 XTREME 10G seems to have the advantage with the higher than average boost clock but it's still not enough to overtake the RTX 3090 in most case, as the performance difference gets more significant as we scale the resolution all the way up to 4K. Though the RTX 3090 is more of a card for content creators who will benefit more from the extra beefy 24GB worth of VRAM, or those who just simply want the best (and bragging rights) for their system.
The RTX 3080 is still a powerful card for 4K gaming and a reasonable one to go for if you have enough budget to go for one, unlike the RTX 3090 that will cost you almost twice the cost of the non-flagship RTX 3080. Similar performance with the much more affordable RTX 3080 EAGLE OC, but it will require some tuning and there's no guarantee you can achieve the exact performance as the AORUS RTX 3080 XTREME 10G can deliver, right out of the box.
Games Benchmark (Ray-Tracing)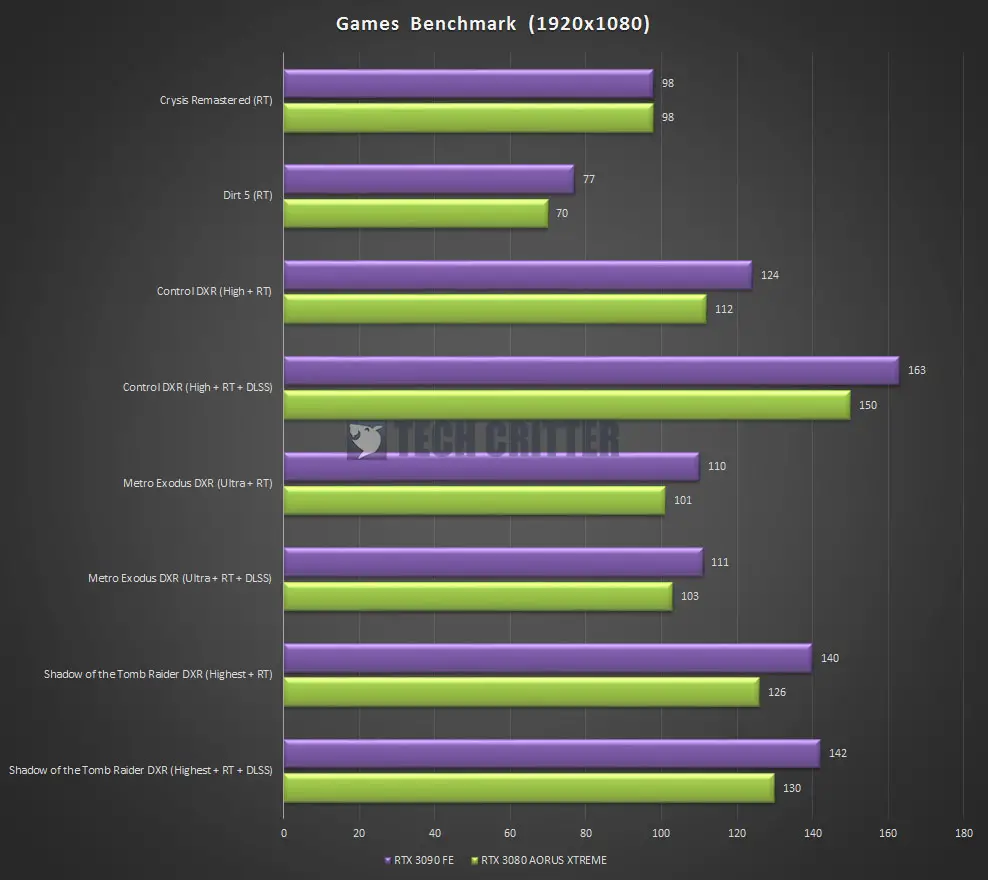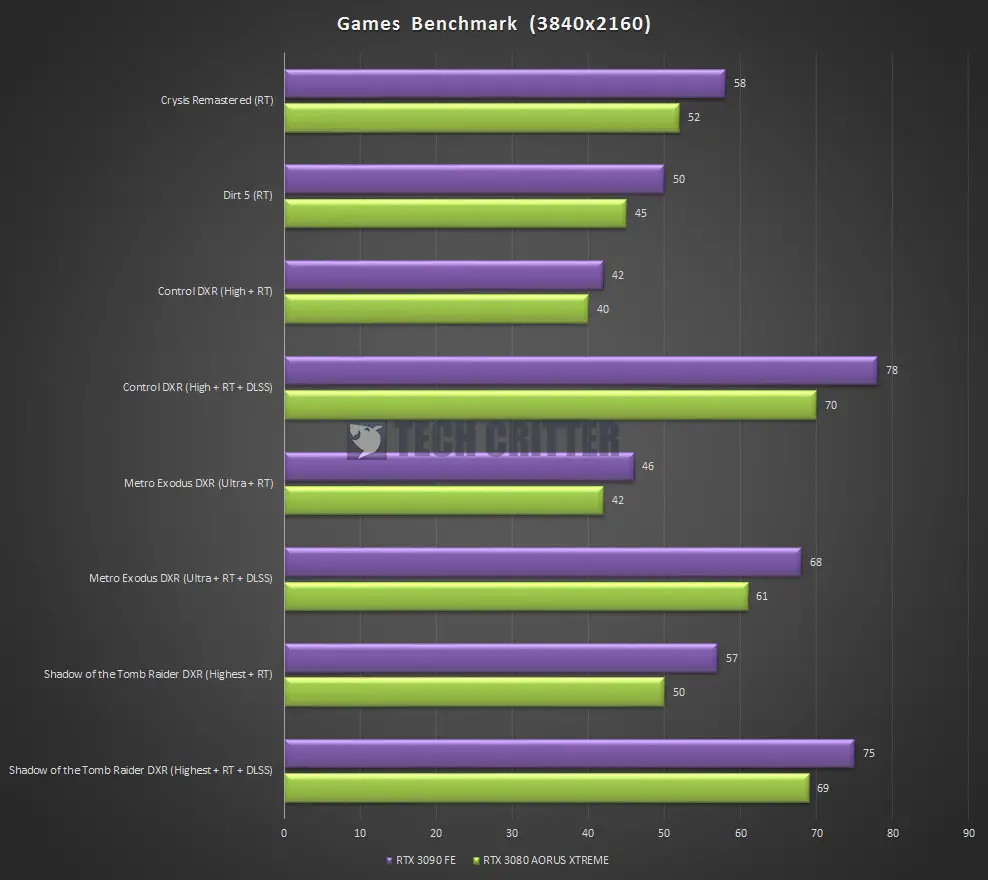 At 1440P and 4K resolution, the performance difference in ray-tracing is much more significant, with and without DLSS enabled. Even with the extra boost clock right out of the box, the AORUS RTX 3080 XTREME 10G is still not powerful enough to handle these RTX games at the highest preset and ray-tracing ultra if you want to game on 4K. Though it's pretty much the same situation for the RTX 3090 and going with high preset on the ray-tracing option is probably the best option for now, unless you can afford another RTX 3090 and run them in SLI.
Power and Thermals
| | | |
| --- | --- | --- |
| | AORUS RTX 3080 XTREME 10G | GIGABYTE RTX 3080 EAGLE OC 10G |
| Idle Temp. | 43ºC | 43ºC |
| Load Temp. | 68ºC | 68ºC |
| Max Power Draw | 324W | 334W |
Despite having a very beefy looking cooler, the idle temperature for the GPU remains similar to most of the RTX 3080 we've seen, which is at 42-43ºC. The load temperature for the AORUS RTX 3080 XTREME 10G is exactly the same as the RTX 3080 EAGLE OC at 68ºC but if we look at the difference in boost clock and power draw, the extra thick cooler is definitely doing its job even though it might not seem like it.
Final Thoughts
We've tested a number of RTX 3080 since NVIDIA launched its RTX 30 series graphics cards and honestly, there's nothing we can complain about when it comes to the performance because it's just simply a very powerful card that's totally worth the price of $699 (excluding flagship models with premium price). The only thing we can complain about at the current time is the limited stock availability and crazy high resell price from the scalpers around the world.
The AORUS RTX 3080 XTREME 10G is pretty much a buffed up RTX 3080 equipped with a gigantic cooler and 200MHz higher boost clock. It's probably one of the best performing RTX 3080 in the market if you manage to find one, but it's not exactly the kind of RTX 3080 I will look into because of the RM 5,199 price tag as a flagship model. It is equipped with plenty of nice features i.e the customizable LED display, beefy cooler, 3 x HDMI and 3 X DisplayPort, as well as the premium goodies which I can see how hardcore AORUS fans would want to get their hands on one if budget allows.
Pros
Excellent performance out of the box
Greatly improved 4K and ray tracing performance over the previous generation
Excellent build quality
Excellent cooling performance
Runs silently even during full load
Come with 3 x HDMI and 3 x DisplayPort
4-years limited warranty from Gigabyte
Cons
Very expensive
Big and heavy, GPU holder is recommended because the card will definitely sag without one