AMD has officially launched the brand new Ryzen 7000 series desktop processors today and to host it, the premium tier X670 and X670E series motherboards are hopping on the hype train as well.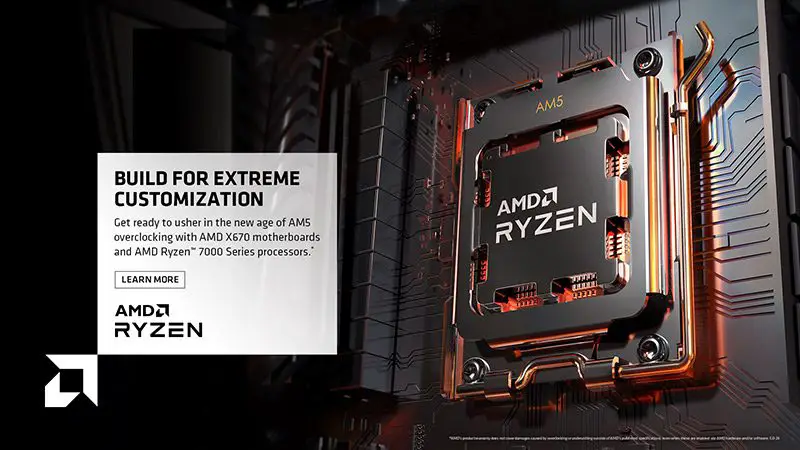 Transitioning from the good old PGA pins to the LGA format similar to Intel, the AM5 socket will be accompanied by a new series of chipsets, namely the X670E, X670, and B650 but the cornerstone for today will be the X670E and X670. Aside from the new grid array, the main upgrades that are considered next-generation will be the inclusion of PCIe 5.0 for the X670E boards like Intel so that things like NVMe SSDs and GPUs in the far future are still going to be compatible with this "soon-to-be" computing antiques.
The official maximum DRAM speed is rated at DDR5-5200 dual-channel and of course, supports overclocking of all sorts and you'll get integrated WiFi-6E so you can ditch the LAN cable if you choose to.
GIGABYTE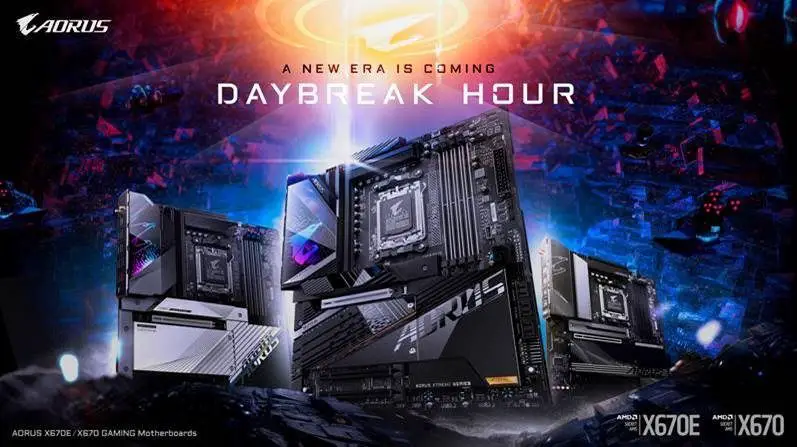 GIGABYTE will be launching 4 models in Malaysia for the time being which are 2 for the X670E inclusive of the AORUS EXTREME and AORUS MASTER while the X70 covers AORUS ELITE AX and GAMING X AX. Featuring an 18+2+2 direct power delivery system, 105A Smart Power Stage, and 8-layer PCB design, the VRM temperature is well-controlled thanks to adequate cooling thus resulting in proper performance in the PCIe and M.2 SSD slots. The enhanced shielding design of SMD slots strengthens the overall signal and slots structure as well. The EXPO/XMP dual mode DDR profiles and PCIe 5.0 M.2 SSD feature alongside the Active OC Tuner can all be accessed through the all-new GIGABYTE Control Center too.
Props to GIGABYTE Malaysia, the local price for all 4 models have been revealed and they are down below.
X670E AORUS XTREME @ RM3499
X670E AORUS MASTER @ RM2399
X670 AORUS ELITE AX @ RM1629
X670 GAMING X AX @ RM1449
We also did a couple of quick unbox videos of the X670E AORUS XTREME and AORUS MASTER so check them out!
ASUS

ASUS being ASUS, is basically introducing the X670 into almost all of the motherboard family so that no matter whether you're a hardcore gamer, enthusiast user, industry professional, or just a random casual consumer, there will be an accompanying X670 that may or may not match your budget and needs. And it seems that they are going balls deep into X670E as only 2 out of the 14 new boards are X670. Guess they really want us to go full bangsawan to enjoy the Ryzen 7000 CPUs eh?
As what users care about the most is their overall design at the moment, here's how they look and what their price tags are.
ROG CROSSHAIR X670E EXTREME @ RM5,129
ROG CROSSHAIR X670E HERO @ RM3,569
ROG CROSSHAIR X670E GENE @ RM3,129
ROG STRIX X670E-E GAMING WIFI @ RM2,729
ROG STRIX X670E-F GAMING WIFI @ RM2,279
ROG STRIX X670E-A GAMING WIFI – TBA
ROG STRIX X670E-I GAMING WIFI @ RM2,409
TUF GAMING X670E-PLUS WIFI @ RM1,789
TUF GAMING X670E-PLUS – TBA
PROART X670E-CREATOR WIFI @ RM2,718
PRIME X670E-PRO WIFI – TBA
PRIME X670-P WIFI @ RM1,559
PRIME X670-P – TBA
MSI
The dragon clan MSI is joining with a multitude of black-based X670E and X670 motherboards as well with reportedly a revamped design stemmed from a product ID and image rework.
The two members entering the MEG series are the MEG X670E GODLIKE and MEG X670E ACE that goes balls to the walls by adopting the E-ATX for factor to host up to 24+2 VRM phases with 105A Smart Power Stage that is cooled by a stacked fin array design heatsink as a well as a heat-pipe to dissipate heat effectively while the MOSFET baseplate aids on taking heat away from the VRM too. They are equipped with up to 4 onboard M.2 slots including 1 M.2 PCIe 5.0 x4 slot and an M.2 XPANDER-Z GEN5 DUAL add-on card inside the box for 2 additional PCIe 5.0 x4 M.2 slots.
The non-premium yet still high-tier MPG series now rocks a carbon black color scheme for a refreshed look with the MPG X670E CARBON WIFI toughed up and featuring 2 PCIe 5.0 x16 slots and 4 M.2 slots that are split into 2 M.2 PCIe 5.0 x4 and 2 PCIe 5.0 x4. Users can get some overclocking jobs done thanks to the 18+2 VRM power phases with 90A cooled by an extended heatsink design. The special finish of the heatsinks including the chipset and VRM looks extra nice this time too.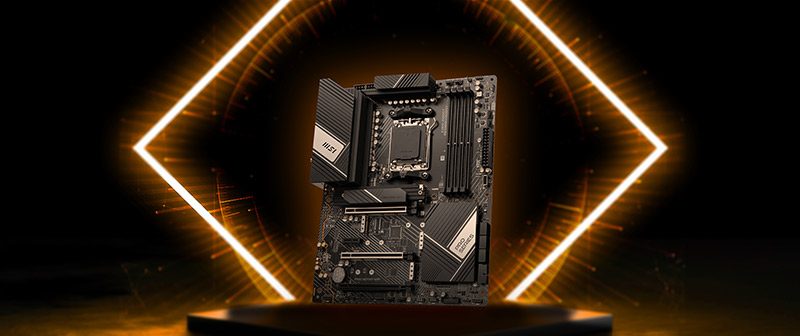 Meanwhile, the PRO series maintains the goodies while cutting down the flashy parts to a more stealthy approach. For example, the PRO X670-P WIFI can tackle any task with ease while keeping costs relatively "low". Motherboards within the lineup come equipped with 1 M.2 PCIe 5.0 x4 slot, 2.5G LAN, and Wi-Fi 6E solution which is more than enough for most users.