A year has passed since AMD launched the Fidelity FX Super Resolution(FSR), a cutting-edge spatial upscaling technology that enables performance increases in supported games across a wide range of hardware. Let's take a look at its progression throughout the year.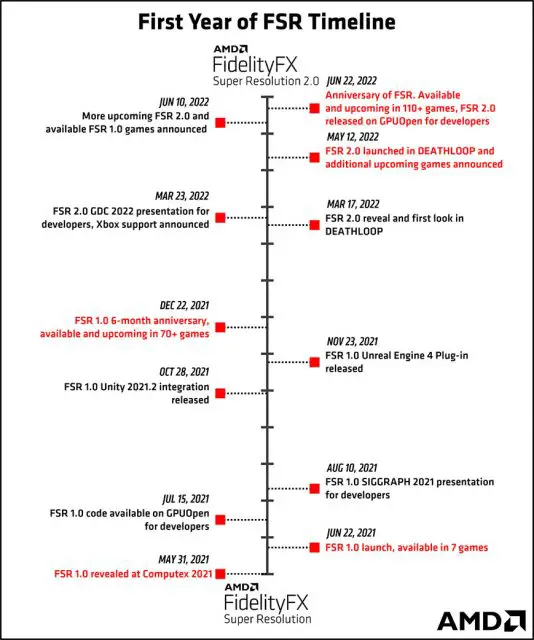 FSR 1.0 first debuted with only 7 games supporting the technology, for just 6 months, it became the fastest adopted gaming software in AMD's history — supporting over 70 available and soon-to-be-released titles by December 2021. And one year in currently, they have an incredible 110+ available and upcoming games supporting both FSR 1.0 and FSR 2.0.
For FSR 2.0, AMD has recently added several games to the upcoming list:
Abyss World
Hitman 3
Rescue Party: Live!
Super People
The Callisto Protocol
The Bridge Curse: Road to Salvation
Thymesia
Tiny Tina's Wonderlands
On the other hand, FSR 1.0 has a whopping 94 games available now that supported the tech. Gamers can still expect to see more games come out with FSR 1.0 even though FSR 2.0 is now available in select games.
To make integration easier, AMD has released FSR 2.0 on GPUOpen as an API under the MIT license with complete documentation and full C++ and HLSL source code provided through the library. It also supports DirectX 12 and Vulkan with samples provided for both.
Plug-ins for both Unreal Engine 4 and 5 will soon be available as well, making integration easier for developers. DOn top of that, FSR 2.0 is also supporting Xbox and will be available in the Xbox GDK for registered developers to use in their games.
For more information regarding the milestones of AMD FidelityFX Super Resolution over the past year, kindly click on this link.