At the next@acer 2021 live stream, Acer has revealed new Predator and Nitro gaming gears fitted with the latest hardware for fans around the world to enjoy in the coming days.
The newly announced products involve 4 main categories where we can break them down one by one.
Gaming Desktops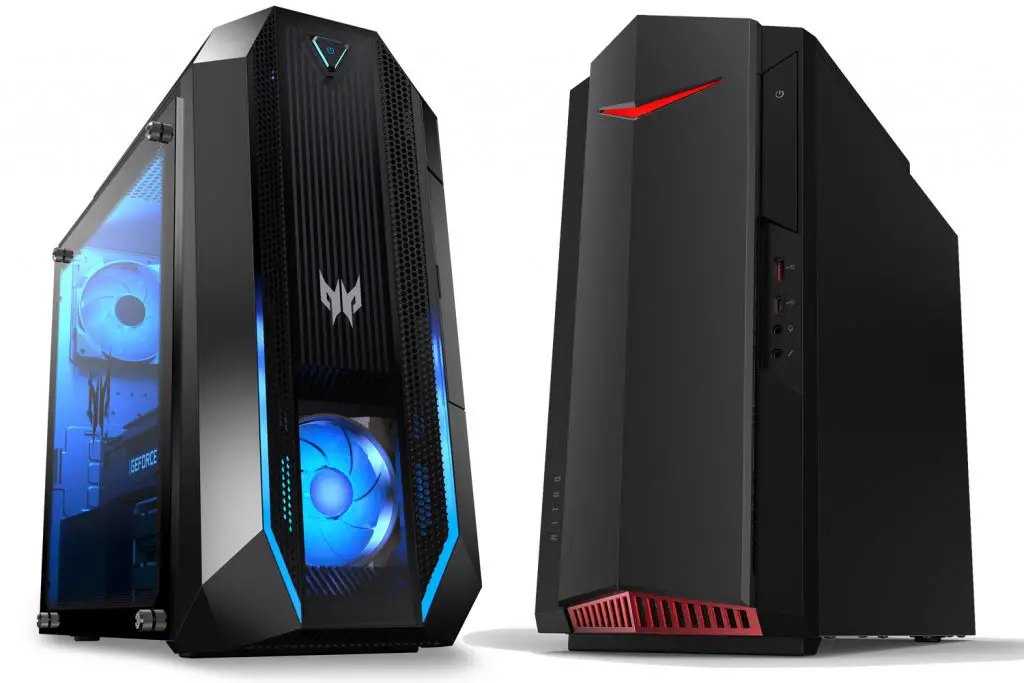 Let's start off with the simplest update: Hardware refresh for the Predator Orion 3000 and Nitro 50 desktop rig. The former is now fitted with an 11th Gen Intel Core i7 CPU + NVIDIA GeForce RTX 3070 GPU combo in addition to a whopping maximum of 64GB RAM, 2TB PCIe + 6TB SATA storage setup all cooled by the custom FrostBlade fans while the latter has a bit of wriggle room of either going for an 11th Gen Intel Core i7 or AMD Ryzen 9 5900 CPU combined with a slightly weaker RTX 3060 Ti but similar storage capabilities.
Predator Orion 3000: USD1,199 (~RM4,956.10)
Nitro 50 (Intel): USD949 (~RM3,923.01)
Nitro 50 (AMD): TBA
Gaming Laptops
Switching sides to the portable market, the Triton 500 now gains an extra SE tag to its name while the Helios 500 stays the same. Both devices are refreshed with up to 11th Gen Intel Core i9 CPU, NVIDIA GeForce RTX 3080 GPU, a maximum of 64GB RAM, and the support for PCIe 4.0 storage and Thunderbolt 4 are added thanks to the use of Intel's latest offering. With plenty of I/O ports to spare while touting top-class hardware, these machines stay true as the crowned powerhouse of the Predator lineup.
Predator Triton 500 SE: USD1749.99 (~RM7,234.15)
Predator Helios 500: USD2499.99 (~RM10,334.50)
Gaming Monitor
Moving onto the display section, 3 Predator series gaming monitors are revealed as the X28, X38 S, and CG437K S. Starting from the smallest, the X28 is a 28-inch 4K display running 155Hz of refresh rate, 1ms response time, VESADisplay HDR400, and a color accuracy rating of Delta E<1 while equipped with G-SYNC capabilities and support for NVIDIA Reflex Latency Analyzer whereas the X38 S is slightly better at almost all categories with 175Hz refresh rate, 0.3ms response time, VESADisplay HDR600 and a color accuracy rating of Delta E<2 at the size of 37.5-inch churning out UWQHD+ resolution in 2300R curved fashion. The last one is a bit special, however, the 42.5-inch CG437K S is tailored towards both console and PC gamers thanks to the HDMI 2.1 port enabling 120Hz on the PS5 and Xbox Series X or 4K 144Hz with a single cable while multiple USB ports are available for supported peripherals and the VESA DisplayHDR 1000 certification will maximize the potential of available HDR content in the market. Also included with the big bad display is a synchronizable RGB strip that reacts to audio output.
Predator X28: USD1299.99 (~RM5,374.31)
Predator X38 S: USD1999.99 (~RM8,268.18)
Predator CG437K S: USD1799.99 (~RM7,441.36)
Peripherals
Lastly, a new gaming mouse and some cool new wireless tech are revealed. The Predator Cestus 335 is equipped with a PixArt 3350 sensor polling at a rate of 2000Hz while capping out at 19,000DPI for fast and responsive movements meanwhile all 10 pressable buttons are fully programmable. In the middle is the Predator Connect D5 5G Dongle built with Intel Killer WiFi solution through USB 3.1 connection where it can also be utilized as a WiFi hotspot in 5G mode. The 'Xbox Series X' alike thing is the Predator Connect X5 5G CPE debuted as the world's 1st Intel Killer-compatible 5G CPE with connection speeds of up to 4.8Gbps and the internal prioritization engine is able to differentiate traffic types and assign priority levels to them, making all data transfer smoother than before.