Acer has announced the expansion of its lineup of enthusiasts and casual gaming monitors with a total of 4 joining the Predator family with another 2 for the Nitro series.
First up is the Predator XB273U NV that is designed to go easy on the eyes as it is part of the XV3 VisionCare series that has the Eyesafe certification which manages high-energy wavelengths in order to selectively filter out blue light while maintaining crisp and vivid color quality. Combining with LightSense, AdaptiveLight, ColorSense, and ProxiSense that measures the ambient light intensity and color temperature, you get a monitor that smartly adjusts itself to reduce eyestrain caused to the user as much as possible.
It does not lose out on the gaming factor too. The 27-inch QHD 2560×1440 Agile-Splendor IPS panel provides a maximum of 175Hz refresh rate with a 1ms response time with 95% DCI-P3 color spectrum coverage and a Delta E<1 rating allows for stunningly realistic images. It also has VESA DisplayHDR 400 certified and outputs a true 8-bit image quality for noticeably darker darks. The backside has a LightSense running in RGB that can wirelessly sync lighting colors and rhythm to additional networked monitors for an even more dramatic effect. An ergonomic stand helps users find just the right angle by letting them adjust the monitor's tilt, swivel, height, and pivot.
Meanwhile, the Predator XB253Q GW is for the highly reflective players that want an absolute response. The 24.5-inch NVIDIA G-SYNC compatible 1920×1080 IPS panel can reach up to 280Hz refresh rate with 0.5ms GtG response time to keep up with fast-paced action games that require an insurmountable amount of precision. The backside also runs the same RGB Lightsense as the XB273U NV and the ability to tilt, swivel, height, and pivot is also available.
Next is the Predator XB323U GX that can be treated as the big brother of XB253Q GW. Featuring a 32-inch QHD (2560×1440) panel with a speedy 270 Hz refresh rate (overclockable) and up to a 0.5ms GtG response time for guaranteed fluidity, the 99% ARGB coverage makes this monitor also a great choice for gamers that also edit videos on the same machine and the VESA DisplayHDR 600 certification means that it is capable of 8-bit image processing and local-dimming, making it suitable for consuming or create simple HDR content. The tilt, swivel, height, and pivot is also here to optimize user comfort for extensive sessions.
The new curved gaming display is the Predator X34 GS that comes with a 34-inch screen and 3440×1440 resolution powered by an Agile-Splendor IPS panel for clear images even at wide viewing angles. Compatible with NVIDIA G-SYNC, this isn't exactly the fastest one as the 180 Hz refresh rate (overclockable) and an ultra-fast 0.5ms GtG response time but it is in the sweet spot for ultra-wide displays. Certified with VESA DisplayHDR 400 and 98% DCI-P3 spectrum coverage, expect video contents to match as close as the original footage. Lastly, the 2 integrated 7-watt speakers eliminate the need for external hookups and it can be adjusted in terms of tilt, swivel, and height.
For the Nitro lineup, the Nitro XV272U KV is all about the Eyesafe eye protection feature while still being the value-centric models. Sporting a QHD 2560×1440 Agile-Splendor IPS panel with Delta E<1 rating and 95% coverage of the DCI-P3 color spectrum while churning out an overclocked 170Hz refresh rate and 1ms GtG response time, the monitor also has the LightSense, ColorSense, and ProxiSense technologies for automatic adjustment according to the environment.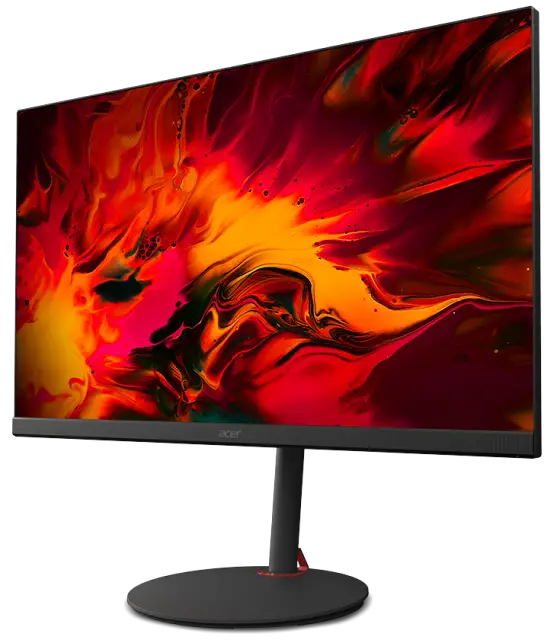 Lastly, the most budget out of all, the Nitro XV272 LV has an FHD (1920×1080) Agile-Splendor IPS panel and offers up to 165Hz (overclocked) for smooth visuals even in busy action scenes. With 90% DCI-P3 color coverage and a low Delta E<1 rating, users have all the technology necessary to dive into immersive virtual worlds without splurting all their cash.
Pricing and Availability
While we wait for the stocks and official Malaysia pricing for all these great monitors, overseas pricing is available for reference right now.
Predator XB273U NV: USD 549.99 (~RM2,284.93)
Predator XB253Q GW: USD 429.99 (~RM1,786.39)
Predator XB323U GX: USD 899.99 (~RM3,739.01)
Predator X34 GS: USD 999.99 (~RM4,154.46)
Nitro XV272U KV: USD 399.99 (~RM1,661.76)
Nitro XV272 LV: USD 279.99 (~RM1,163.22)