During the [email protected] global announcement, Acer has announced the designer and developer focused ConceptD lineup is getting a refresh to the ConceptD 7 laptops while introducing a new ConceptD300 desktop to support the shift to home-based working for industry professionals.
Acer ConceptD 300
The ConceptD 300 is carrying a slick and clean white design with a hint of a woody vintage feel which the refined mid-tower is elegant and compact enough to be placed on a desk without the bulky feel. Coupled with a triangular-patterned front air intake along with side ventilation for silent heat transfer, it packs a series of hardware of up to a 10th Gen Intel Core i7 processor, NVIDIA GeForce RTX 3070 graphics, and 64 GB of DDR4 2666 MHz memory, making it easy to power through video editing, CAD, and 3D modeling projects and workflows with high-speed 1TB NVMe SSD and a large 4TB HDD to store all these creative deliverables.
The front panel also features ergonomically designed I/O ports for easy access. A full range of ports offers next-level connectivity with multiple USB 3.2 ports, an integrated SD card reader, and a USB Type-C port for multi-display support and up to 10 Gbps of blazing-fast data transfer.
Acer ConceptD 7 & 7 Pro
The ConceptD 7 laptops are getting a refresh to match the performance and portability requirements of professional and enthusiast creators who need to move around frequently and work on the go. Now featuring 10th Gen Intel Core CPU, WiFi 6, Thunderbolt 3 with either GeForce or Quadro RTX GPU providing extreme performance for data crunching jobs while the 4K IPS, 100% ARGB PANTONE validated display with color accuracy of Delta E<2 makes artists and designer's task more accurate and smoother than ever.
Holding all of these beastly components is a pure white thin-and-light chassis that is resistant to dirt and yellowing which is quite the common issue for white colors thanks to a special solid ceramic protective layer on the metal surface. For cooling, Acer's new Vortex Flow aerodynamic airflow mechanism spun by 3 high-speed fans will ensure efficient heat transfer while staying under less than 40 dBA of noise level to spare your ears a little.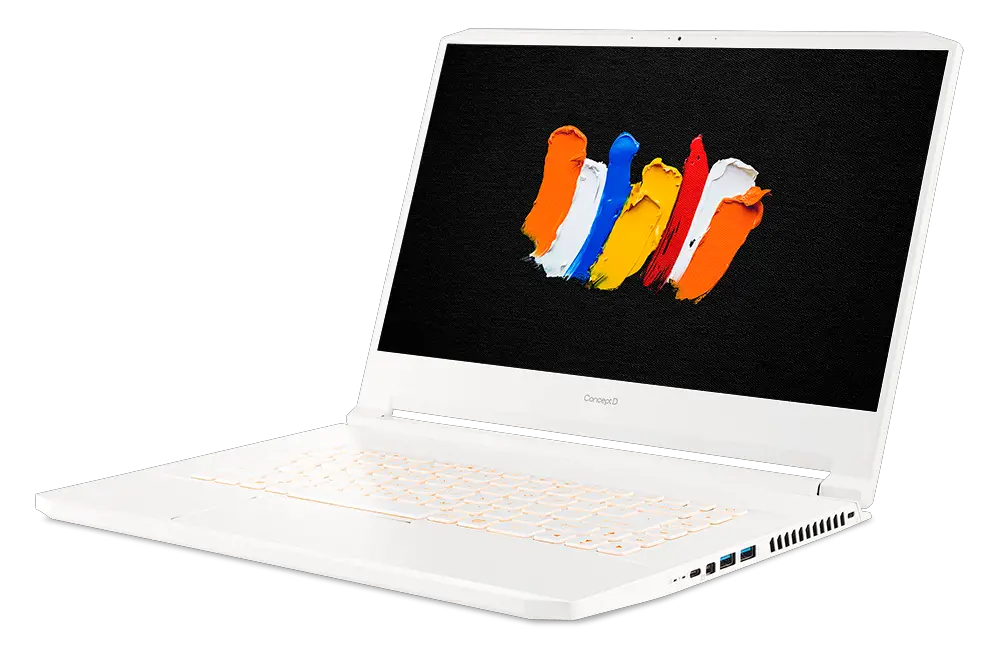 The USB Ports are also updated to 3.2 Gen 2 standards for 10Gbps transfers and the touchpad is upgraded with Corning Gorilla Glass for smooth, accurate yet durable input. The audio output is supported by DTS X: Ultra to provide superior audio quality and amplitude that is useful in almost anything.
Pricing and Availability
Unfortunately, pricing and availability for the initial launch do not include Malaysia for the time being, so here's a reference price for them in terms of their respective regions.
Acer ConceptD 300: Starts from 1,299 EUR (~RM6,355.43)
Acer ConceptD 7: Starts from 3,299 USD (~RM13,679.30)
Acer ConceptD 7 Pro: Starts from 3,499 USD (~RM14,508.60)