Renown NVIDIA graphics cards partners has been waiting for the right moment to show off their line up of the GTX 980 Ti during Computex 2015 and Zotac is among those who is well prepared for this moment.
We paid a quick visit to Zotac's booth at Nangang Exhibition Hall during Computex 2015 and it's not hard for us to spot something that shines brighter than New York Times Square. Enters the Zotac GTX 980 Ti AMP! Omega Edition and GTX 980 Ti AMP! Edition. The reference GTX 980 Ti has a base clock of 1000MHz and boost clock of 1075MHz, the GTX 980 Ti AMP! Edition is said to be factory overclocked to base clock of 1051MHz and boost clock of 1140MHz while the GTX 980 Ti AMP! Omega Edition is still yet to be confirmed – we have high hopes on this!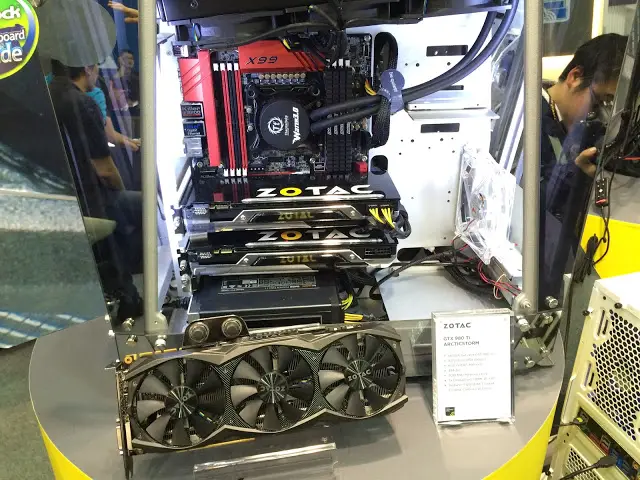 Up next is the Zotac GTX 980 Ti ArcticStorm which features similar cooling solution like the ASUS ROG Poseidon that comes with a pre-built waterblock for watercooling solutions.
Superstar of the day, the Zotac GTX 980 Ti AMP! Extreme Edition that has been factory overclocked to the highest among all – base clock of 1253MHz and capable to run with boost clock of 1335MHz!
And they have a lovely model to show us their trump card!
Other than just graphics cards, Zotac has its own mini PC lineup known as the ZBOX. In the picture above, we have the ZBOX E-series compact PC powered by Intel i5 4210U CPU and NVIDIA GTX 860M GPU that will suffice for a decent gaming experience.
The ultra portable ZBOX P-series that can be carry around easily, even in your pocket.
A glimpse of what's inside the ZBOX.