Alongside the newly announced 14th-gen desktop processors, Intel board partners have also announced their new Z790 refresh motherboards. The Z790 AORUS ELITE X WIFI7 is the first we'll be looking at this time and aside from the obvious WiFi 7 support, let's see what other new features we can expect from this motherboard.
Specifications
CPU

13th and 12th Gen Intel Core, Pentium Gold, Celeron

CPU Socket
Chipset
Memory Type
Memory DIMMs

4 x DIMMs, up to 192GB
Support for up to DDR5-8266 memory modules
Support for Extreme Memory Profile (XMP)

Expansion Slots

1 x PCI Express x16 slot (PCIEX16), integrated into the CPU, supports PCIe 5.0
2 x PCI Express x16 slot (PCIEX4_1, PCIEX4_2), integrated into the Chipset, supports PCIe 4.0

SATA / M.2

CPU:
– 1 x M.2 connector (Socket 3, M key, type 22110/2280 PCIe 4.0 x4/x2 SSD support) (M2A_CPU)
Chipset:
– 2 x M.2 connector (Socket 3, M key, type 22110/2280 PCIe 4.0 x4/x2 SSD support) (M2Q_SB, M2P_SB)
– 1 x M.2 connector (Socket 3, M key, type 2280/2260 SATA and PCIe 4.0 x4/x2 SSD support) (M2M_SB)
– 6 x SATA 6Gb/s connectors

SATA RAID
RAID 0, 1, 5, 10
LAN
Intel 2.5GbE LAN (2.5 Gbps/1 Gbps/100 Mbps)
Wireless

Intel Wi-Fi 7 BE200 (PCB rev 1.1) / MediaTek Wi-Fi 7 MT7927, RZ738 (PCB rev 1.0)
Bluetooth 5.3
Support for 11be 320MHz wireless standard

USB

 Chipset:
– 1 x USB Type-C ports, with USB 3.2 Gen 2×2 support
– 1 x USB Type-C port with USB 3.2 Gen 2 support (through internal USB header)
– 2 x USB 3.2 Gen 2 Type-A ports (red) on the back panel
– 5 x USB 3.2 Gen 1 ports ( 3 x on back panel, 2 x available through internal USB header)
Chipset+2 USB 3.2 Gen 1 Hubs:
– 8 x USB 2.0/1.1 ports (4 ports on the back panel, 4 ports available through the internal USB headers)

Audio

Realtek ALC1220-VB CODEC
* The back panel line out jack supports DSD audio.
High Definition Audio
2/4/5.1/7.1-channel
* You can change the functionality of an audio jack using the audio software. To configure 5.1-channel audio, access the audio software for audio settings.
Support for S/PDIF Out

Form Factor (mm)
ATX (305 x 244 mm)
* Full specifications can be found on the main product page.
Unboxing
From the box, we can see Gigabyte differentiates their new Z790 refresh motherboards from the existing Z790 motherboards with the X in the product name, just like the Z790 AORUS Master X and Z790 AORUS Xtreme X.
While WiFi 7 seems to be the main highlight of the Z790 refresh motherboards this time, there are actually improvements in the VRM design and the QOL features. Some of these can be seen at the back of the box i.e improved VRM design to better support the new 14th-gen desktop processors, fortified PCIe x16 slot for enhanced durability, as well as the M.2 EZ-Latch Plus and M.2 EZ-Latch Click for easy M.2 SSD installation.
The content of the box includes the Z790 AORUS Elite X WIFI7 motherboard, 2 x SATA III cables, extra thermal pad for M.2 SSD, WiFi 7 antenna,  G Connector for easy front panel connector installation, and the user's guide.
While the overall layout is very similar to the Z790 AORUS Elite AX, we can see that Gigabyte kept the design very minimal this time. Most of the motherboards we've seen so far will always have the brand logo on the chipset heatsink but the only AORUS logo that is visible is near to the VRM heatsink and you can't find it anywhere else on the motherboard. Honestly, I'm quite a fan of the design myself and the best part is you can disable the RGB lightings for an even stealthier look.
I'm not an RGB head myself but if you're still into the fancy lightings, there's still plenty of RGB and ARGB headers on the motherboard to satisfy your needs for RGB lightings. And if you plan to install some extra cooling fans to your system for that extra airflow, you'll also find a lot of fan headers at the top and bottom section of the motherboard to support more fans.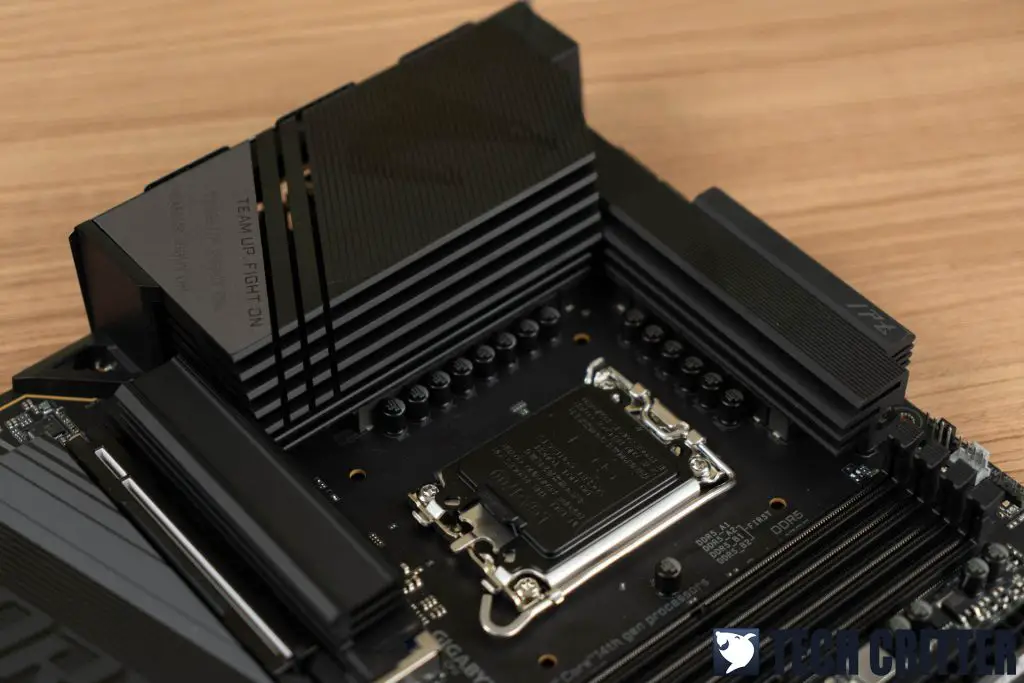 Moving on to the power design, despite having a similar 16+1+2 configuration as the Z790 AORUS Elite AX, the Z790 AORUS Elite X WIFI7 equipped with higher rated Intersil ISL99390 90A power stages as compared to the 70A power stages on the Z790 AORUS Elite AX. The PWM controller used here is the Renesas RAA229131 and the Vcore rail is in a 8+8 teamed design. The remain ones are the VCCGT for the CPU integrated graphics and VCCAUX for PCIe and memory controller.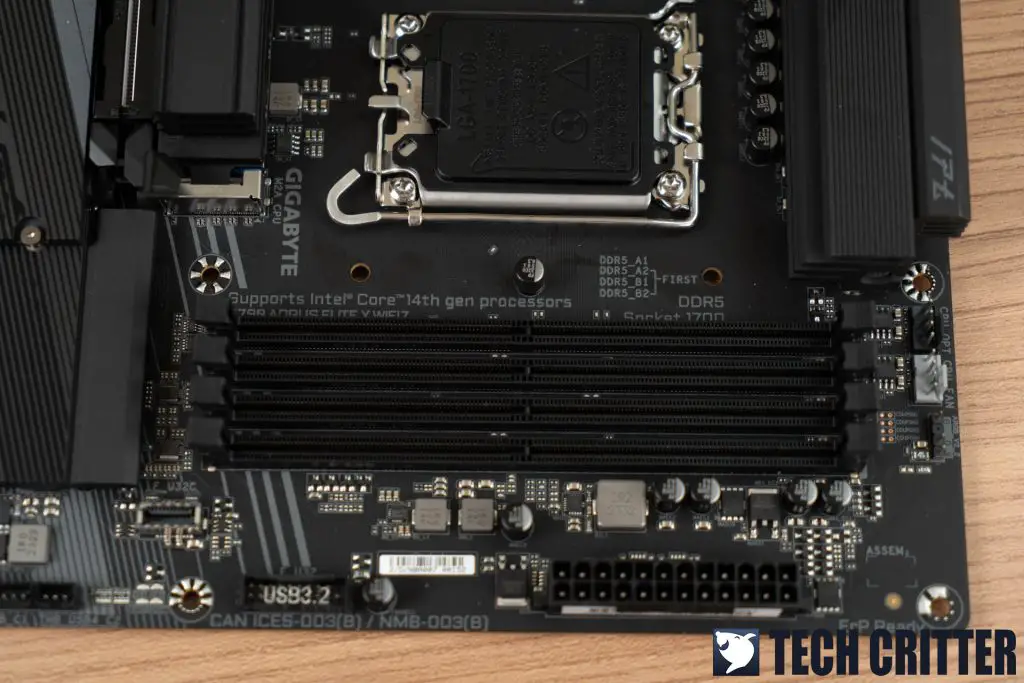 DDR5 memory support is obviously going to be better on the Z790 refresh motherboards and aside from being able to support DDR5-8000+ or 8000MT/s, it can now support up to 192GB with the new 48GB sticks. You can still use existing DDR5 memory kits (16GB x2, 32GB x2) on the new Z790 refresh motherboards and for those who are planning to upgrade to the latest 14th-gen desktop processors, Intel actually recommends using the fastest memory kit possible to get the best possible performance.
Other notable features includes the onboard buttons, latches for easy graphics card removal and M.2 SSD installation, as well as the strengthened PCIe x16 slot. Although the clear CMOS and Q-FLASH Plus buttons makes recovery from failure due to bad overclock settings easy, the lack of onboard power buttons is still somewhat inconvenient. It'll be great if Gigabyte can consider including the power button alongside the reset button to make things easier for the users.
The latches for the M.2 heatsink is definitely one of the best features you can get on the Z790 AORUS Elite X WIFI7 and I can swap in a new SSD whenever I need without needing to have the screwdriver around me all the time. As for the PCIe EZ-Latch, it might not be the fancy push button like the one you'll find on the AORUS Master or Xtreme models but hey, it still gets the job done perfectly.
As for the PCIe X16 slot that has been fortified with an additional backplate, it's not exactly a fancy feature like the rest but for those who travels with their PC, it's a great feature to minimize the chance of damaging the PCIe x16 slot during transport. We've seen plenty of accidents in the past where the PCIe X16 slot was ripped off the motherboard due to bad handling during transport, and the strengthened PCIe X16 slot is a good feature to have on a motherboard.
For the real I/O panel, you'll find the HDMI and DP ports for integrated graphics, SMA connector for the WiFi antenna, 4 x USB 2.0/1.1 ports, 2 x USB 3.2 Gen 2 ports, 1 x Type-C USB 3.2 Gen 2×2 port, 3 x USB 3.2 Gen 1 ports, 2.5GbE LAN ethernet port, and the audio jacks that can support up to 7.1 channel audio.
BIOS Interface
It appears that Gigabyte has revamped the BIOS UI in order to improve the overall user experience. Compared to the previous UI design, I'd say they've done a good job on the new UI as I find it much easier to navigate through. The only issue for now is the responsiveness of the BIOS, which still requires some work as I find it somewhat laggy and not quite responsive to my keyboard an mouse input.
That aside, you can find some very useful features that helps to make performance optimization easier i.e memory preset that can be use as reference for memory overclocking, and the CPU Biscuit feature that helps you to determine the quality of your CPU similar to the SP rating you'll find on ASUS ROG motherboards, and GIGABYTE PerfDrive which is like a list of settings you can select to improve your CPU performance.
Test system list
| | |
| --- | --- |
| CPU | Intel Core i9-14900K |
| Motherboard | Gigabyte Z790 AORUS Elite X WIFI7 |
| Memory | Kingston Fury Renegade DDR5-6000 CL30 (16GB x2) |
| Graphics Card | GeForce RTX 3080 10G |
| Power Supply | Cooler Master M2000 Platinum 2000W |
| Primary Storage | Kingston KC3000 2TB |
| Secondary Storage | PNY XLR8 CS3040 2TB |
| CPU Cooler | Cooler Master MasterLiquid PL360 Flux |
| Chassis | Streacom Open BenchTable |
| Operating System | Windows 11 Pro 21H2 (Build 22000.1696) |
CPU load test and thermals
As the new flagship CPU from Intel, the Core i9-14900K is one powerful CPU that requires a powerful CPU cooler to tame even when it's running on stock settings. So unless you get a very good cooling solution such as custom water cooling setup, or a crazy powerful AIO liquid cooler,  adjusting the PL1, PL2, and ICCMax according to your needs is the much more recommended route for those who are getting themselves a Core i9-14900K.
For the load test, we have everything for the CPU running on default just so we can see what kind of temperature we can observe on the VRM and chipset area of the Z790 AORUS ELITE X WIFI7 when the system is constantly on load for long hours. From the load tests we have conducted, we can see that the highest load temperature recorded for the motherboard VRM and chipset peaked at 62°C and 48°C respectively, which is still decent I'd say.
Under the thermal imaging camera, on the other hand, we're seeing a higher temperature reading on the area where these components are located at. From the captured images, we can see that the temperature reading is somewhat higher than the data captured in HWinfo64. The overall load temperature of the mentioned components still falls under the 'okay' category for now and we're able to run a handful of benchmark tests without any noticeable hiccups.
Overclocking features
Given that you have a reliable cooling solution to keep the CPU load temperature at bay, there are a handful of features and options to choose from the GIGABYTE PerfDrive section in Easy Mode, or you can also access more options in Advanced Mode if you're familiar with the options in the Tweaker tab. As our CPU cooler aren't exactly enough to handle the Core i9-14900K sample unit that comes with the motherboard, the best we can do is to lower both PL1 and PL2 accordingly to achieve a reasonable load temperature without losing too much peformance.
As for memory overclocking, we weren't able to achieve anything higher than DDR5-7200 on the memory kit we've used this time even though the same kit is capable of achieving DDR5-7800. Motherboard aside, the memory controller of the CPU is also another important factor that will affect your memory overclocking and I'm not surprised by the result after seeing the Biscuit point of the CPU we're using is only at 83.7. While I'm not 100% sure that the Biscuit points directly reflects what our CPU is capable of when it comes to memory overclocking, it still serves as a reference for us as we explore other CPUs in the future.
Thoughts on the Z790 AORUS ELITE X WIFI7
Despite some of the limitations on the resources we have during the test, I'd still say that the Z790 AORUS ELITE X WIFI7 is a feature rich motherboard that somewhat exceeded my initial expectations. While I still lament the lack of power buttons on the board, Gigabyte equipped the Z790 AORUS ELITE X WIFI7 which they claim to be an entry Z790 motherboard in the lineup with a plentiful of features that comes in really useful for the enthusiasts to optimize their system, similar to what you can get on the higher end models.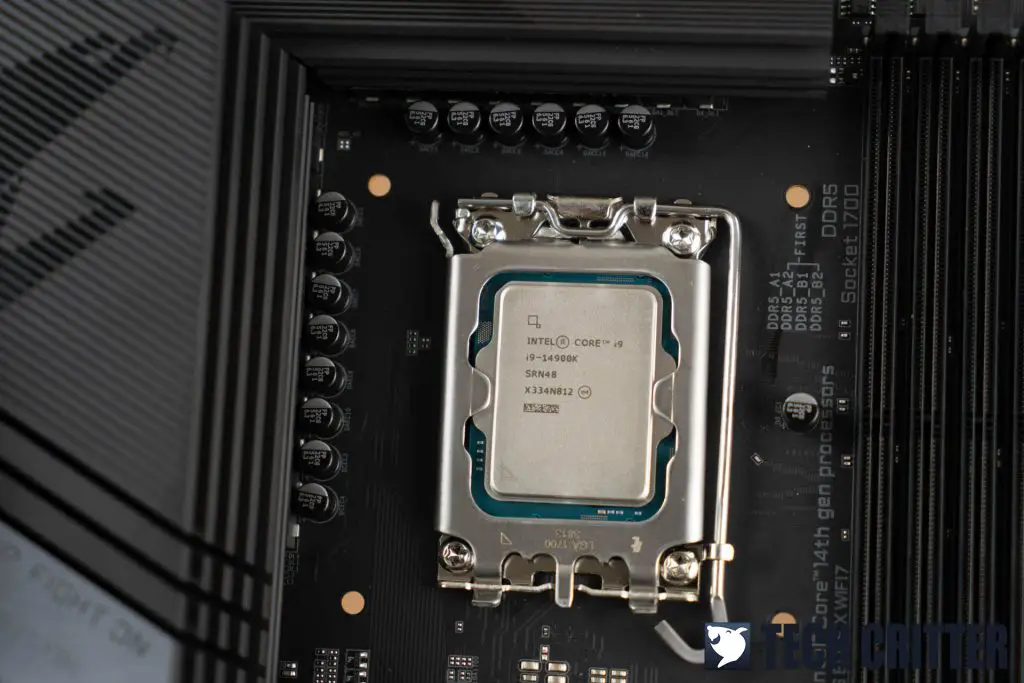 Presets for CPU performance optimization, memory preset for Hynix, Samsung, and Micron, as well as the Biscuit feature that shows the 'quality' of your CPU, these are the QOL features which I believe many are waiting to see made available on an AORUS motherboard and it's finally made available after the long wait. Though it'll be even better if Gigabyte can figure out what is actually affecting the responsiveness of the BIOS and get it fixed as soon as possible.
Other than the WiFi 7 connectivity that requires you to upgrade your network setup to be WiFi 7 capable – extra cost there, I'm more inclined to the QOL features such as the EZ-Latch design for PCIe X16 slot and M.2 heatsink, and strengthened PCIe X16 slot which you can directly benefit from after buying the motherboard.
Price-wise, the Z790 AORUS ELITE X WIFI7 is retailed at RM 1,479, which is still quite high given that fact that it's being marketed as an entry Z790 motherboard. But then again, if we look at the retail price of most of the Z790 chipset motherboards that is already available in the market right now, I think the price is still somewhat justifiable if we look at the features it has to offer.