Welcome back to one of the rare episodes of the Weekly Sun Cycle report, where they have announced new goods that are ready to bring in from Ducky and DeepCool. Let's find out what are those.
Starting off this week are the new Ducky One 3 TKL Yellow/White RGB and One 3 Classic RGB mechanical keyboards, which feature the brand new stain-resistant True PBT Double-Shot Keycaps with a frosted surface. The keyboards' stabilizers are also fined-tuned for a great typing experience and designed with optimal weight distribution and center of gravity to improve stability and precision.
Up next are the DeepCool CH510 Mesh Digital and C370 PC cases, both of which sport a sleek appearance. The CH510 MESH DIGITAL is a high airflow mid-tower ATX case with a wide range of component compatibility for any system build and has a customizable display screen for keeping track of internal system temperature.
On the other hand, the CH370 is a micro ATX case that can accommodate up to a 360mm radiator in the front or 240mm on top for liquid cooling solutions, as well as up to 8 x 120mm or 4 x 140mm cooling fans despite its smaller footprint.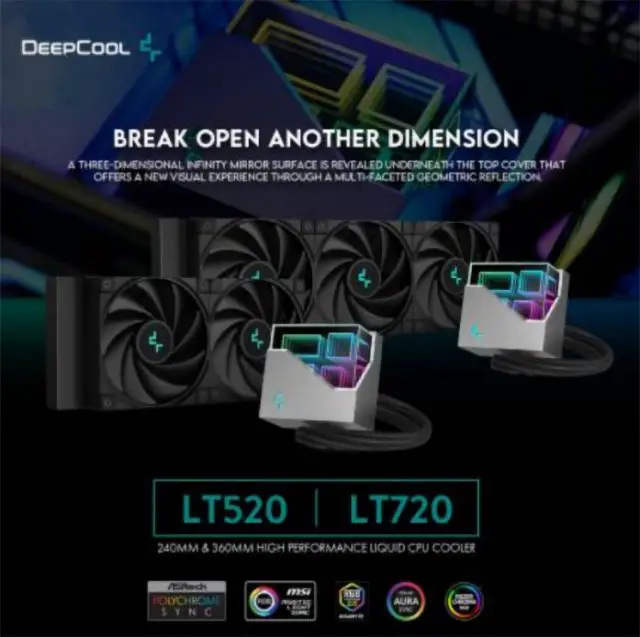 Moving on to the cooling section, we have the DeepCool LT720 and LT520 AIO liquid cooler which offers excellent heat dissipation power thanks to a 360mm or 240mm radiator, 3 x high-performance FK120 fans, along with a multidimensional infinity mirror top cap for some extra aesthetic points.
Both of them boast a robust water pump that has a powerful three-phase drive motor of up to 3100 RPM and an enhanced microchannel design that assures efficient airflow.

Also from DeepCool, the AG400, AK400, AK620, and AG300 are here to cover your back in case you prefer air coolers instead of liquid coolers like those above. All of these air coolers are capable of providing adequate cooling to your system while operating at minimal noise.
Pricing and Availability
Malaysians can now purchase the Ducky One 3 TKL and One 3 Classic at the following prices while the DeepCool ones are still in their finalizing stage.
Ducky One 3 TKL White RGB (Cherry MX Red/Silent Red/Clear) — RM635
Ducky One 3 TKL Yellow RGB (Cherry MX Brown) — RM635
Ducky One 3 Classic RGB (Cherry MX Speed Silver) — RM699
Ducky One 3 White RGB (Cherry MX Clear) — RM699