Western Digital announced its new WD Blue SN550 NVMe SSD earlier last month as the successor to the WD Blue SN500 and the latest addition to its WD Blue lineup. Compared to the SN500, the SN550 now offers up to 1TB capacity and features a higher sequential read and write performance up to 2400MB/s and 1750MB/s respectively, which is a nice improvement over the previous generation design.
We'll keep the introduction short for this one and let's get on with the review and see what kind of performance can we expect from the WD Blue SN550.
Specifications
Model
WD Blue SN550
Form Factor
M.2 2280
Interface
PCIe Gen3 8Gb/s, up to 4 lanes
NAND Flash
SanDisk BiCS4 96L 3D TLC NAND
Controller
SanDisk 4-Channel
Capacities
DRAM Cache
Sequential Read/Write Speed

1TB: 2400MB/s read and 1750MB/s write
500GB: 2400MB/s read and 1750MB/s write
250GB: 2400MB/s read and 950MB/s write

Random Read/Write Speed (QD32)
1TB: 410K IOPS / 405K IOPS

500GB: 300K IOPS / 240K IOPS

250GB: 170K IOPS / 135K IOPS

Software
–
Endurance (TBW)

1TB: 600 TBW
500GB: 300 TBW
250GB: 150 TBW

Device Sleep
5mW
Warranty
5 years
Packaging
The WD Blue SN550 ships in the usual WD Blue lineup style blue-white themed packaging, with information such as its sequential read speed, capacity, and its warranty length labeled at the front of the box. Not much information can be found at the back of the box except for the recommendation of building the 'ideal' system with Western Digital NVMe SSD and hard drive.
The Content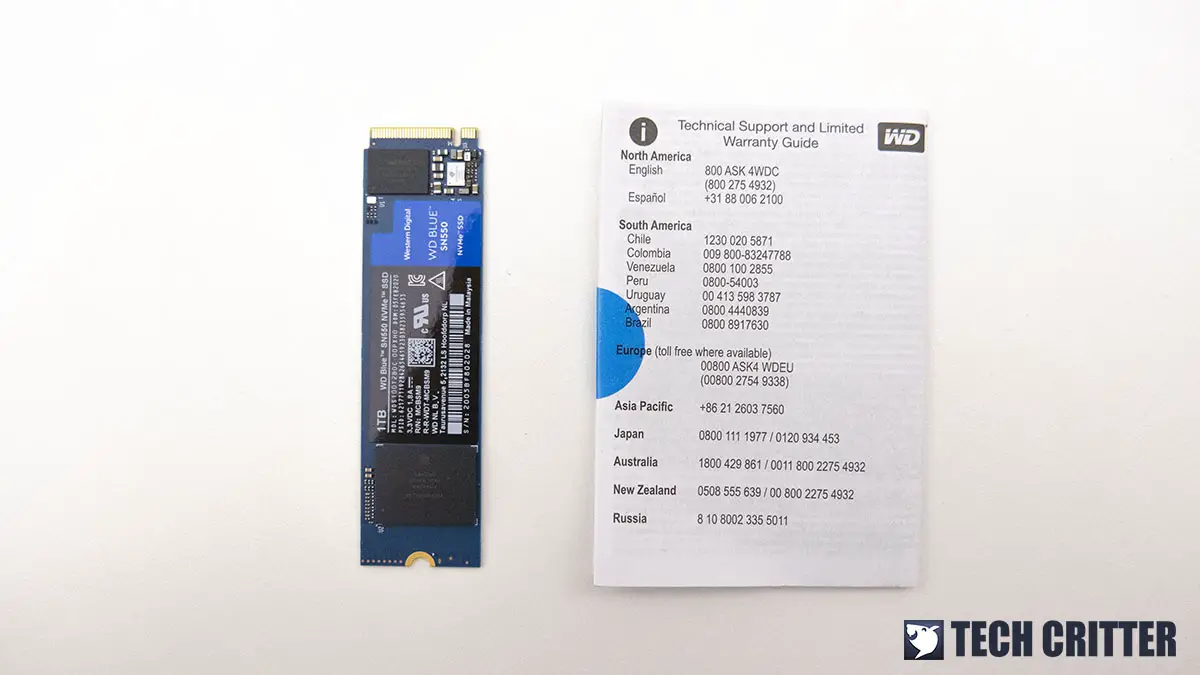 Inside the box, you'll find the WD Blue SN550 NVMe SSD and a product warranty guide.
The WD Blue SN550 NVMe SSD 1TB
The WD Blue SN550 has a single-sided design and a surprisingly simple layout consisting of a single BiCS4 96L 3D TLC NAND flash, WD in-house controller, and the power management IC. On close inspection, we can see that there no visible DRAM available on both sides of the PCB, mainly to keep the production cost down.
Here we take a closer look at the WD in-house controller, the SanDisk 20-82-01008-A1. The controller has a small amount of SRAM built into it and supports the latest NVMe 1.4 which utilizes the host memory buffer to overcome the limitations of DRAMless SSD as we've seen in the past.
Unlike the previous generation M.2 2280 form factor SSD we've seen from a few years back then, the single NAND flash on the WD Blue SN550 has a whopping 1TB capacity. The SanDisk branded 96-layer BiCS4 3D NAND flash with a rated write endurance of 600 TBW, which is an impressive number for a consumer-grade SSD.
Test System Setup
We've conducted our benchmark with the following setup and two different scenarios: freshly installed SSD and SSD filled up to 90% of its maximum capacity.
| | |
| --- | --- |
| CPU | Intel Core i7-8700K @5.0GHz |
| Motherboard | ASUS ROG Maximus X Apex |
| Memory | G.Skill Trident Z Royal 16GB @3600MHz |
| Graphics Card | Gigabyte GeForce GTX 1050 D5 2G |
| Power Supply | Cooler Master V1200 Platinum |
| Primary Storage | Kingston KC2000 1TB |
| Secondary Storage | WD Black 6TB |
| CPU Cooler | Thermaltake Floe Riing 360 |
| Chassis | Cooler Master Test Bench V1 |
| Operating System | Windows 10 64bit |
Synthetic Benchmarks
CrystalDiskMark
Developed by a Japanese coder that goes by the nickname Hiyohiyo, CrystalDiskMark is one of the most frequently used SSD Benchmark utility to measure SSD's read and write performance.
AS SSD Benchmark
Widely used SSD benchmarking utility that uses incompressible data to simulate the worst possible scenario for an SSD and thus giving a much lower sequential read and write speed result than what has been stated by the manufacturer as a result of the heavy workload.
ATTO Disk Benchmark
The most frequently used benchmarking utility by many manufacturers for performance specifications. As ATTO Disk Benchmark uses compressible data rather than incompressible data, it results in higher benchmark scores.
File Transfer Speed Test
For this test, we're using a collection of test data that consists of large and small files (both compressible and incompressible) ranged from 1GB to 64GB to see how well the SSD can handle these files when it's filled up to 90% of its maximum capacity, similar to what we've done on the synthetic test. We've also used a PCIe Gen3 X4 SSD rated at 3480MB/s read and 3080MB/s write in this test to ensure that the performance bottleneck during the test is kept as minimal as possible.
On a fresh installation, the SSD is capable of write performance reaching around 1800MB/s range with files under 16GB file size but shows a significant drop in performance as soon as the file size goes beyond 32GB range. Based on this behavior, we can see that the SSD can't really handle large files very well.
With the SSD filled to at least 90% of its maximum capacity,  we can see a significant drop in performance for files under 16GB but surprisingly, the performance drop for very large files i.e 32GB above is almost similar to what we've observed from the previous test.
Final Thoughts
Based on our benchmark results, we can say that the WD Blue SN550 is more of a consumer-grade SSD that is designed for normal usage i.e casual gaming and general use for basic workloads. If you're looking for a more storage-intensive option for your next SSD upgrade, the WD Black SN750 will be the more suitable choice to consider for.
Despite not having the performance of a premium-grade SSD which will easily cost 2-3 times of its cost, the WD Blue SN550 is still a significant upgrade for users who are looking for an upgrade from a SATA SSD, let alone from a normal HDD. At the price of RM 600, the WD Blue SN550 1TB is priced slightly higher than some of the reasonably performing SATA SSD but looking at the performance it can deliver, it's definitely a reasonable and budget-friendly upgrade from a SATA SSD or HDD drive for general use.
Pros
Reasonable performance for DRAMless SSD
Good price
Compatible with WD SSD Dashboard
5 years warranty
Cons
Don't handle large files really well