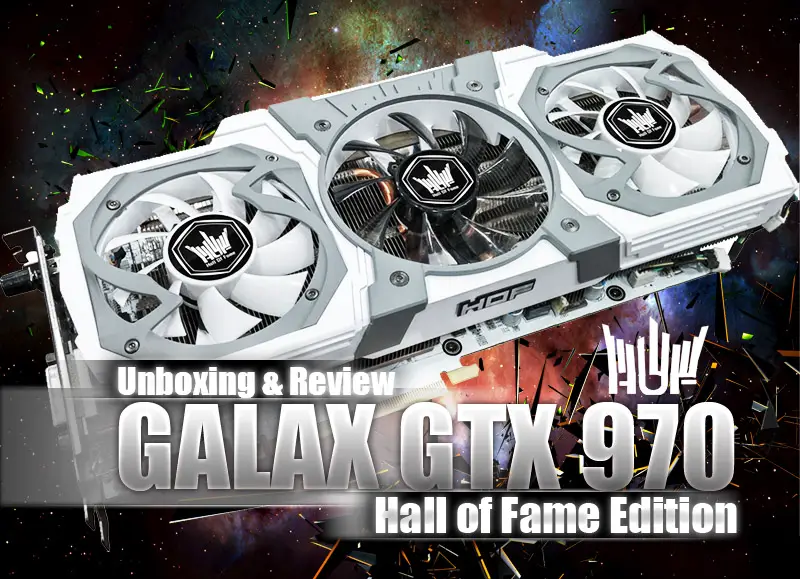 GALAX (previously known as Galaxy or Galaxytech) isn't something new to the local Malaysian enthusiasts. After years of absence, their return to the local market is indeed a welcomed surprise to the enthusiasts, especially to those who fancy the Hall Of Fame edition cards (HOF) which are renowned for it's luxurious design and high overclocking potential.
Special thanks to GALAX Malaysia in provision of the GALAX NVIDIA GeForce GTX 970 HOF for today's review. Priced at RM1649, this HOF GTX970 isn't going to be your ordinary wallet friendly card to start with. Still, let us put a side the price tag (for now) and move on with the review to see what kind of performance we can expect from the Hall of Fame.
Specifications
Model Name

GALAX NVIDIA GeForce GTX 970 HOF

Graphics Engine

 NVIDIA GeForce GTX 970

Bus
Standard           

PCI Express 3.0

Video Memory

4GB GDDR5 (3.5G + 0.5G)

Engine Clock

GPU Boost Clock: 1380 MHz

GPU Base Clock: 1228 MHz

CUDA Core

1664

Memory
Clock          

7010 MHz

Memory Interface

256-bit

Interface

DVI Output : Yes x 1 (DVI-I)

HDMI Output : Yes x 1 (HDMI 2.0)

Display Port : Yes x 3 (Regular DP)

HDCP Support : Yes

Accessories

HOF Door hanger, Driver CD, User Manual, 2 x 4-pin Molex to 8-pin PCIe Y adapter, DVI-VGA adapter

Software                   

–

Dimensions

 308mm x 129.1mm
x 49mm
Packaging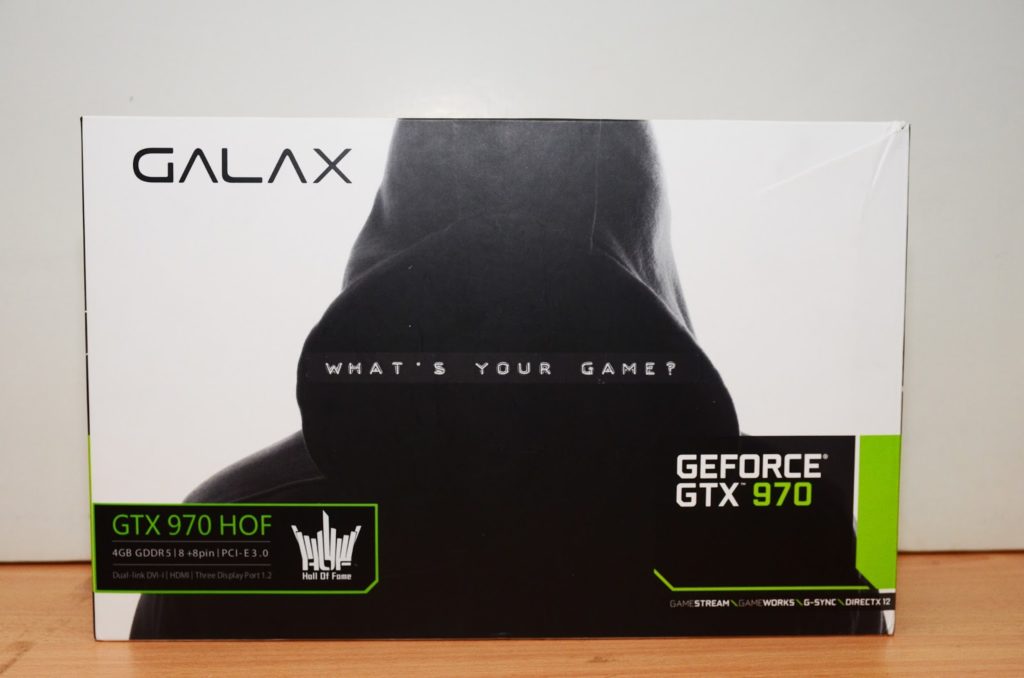 The packaging comes in a clean and simple design that doesn't look very fancy, but enthusiasts will definitely recognize the HOF emblem in an instant.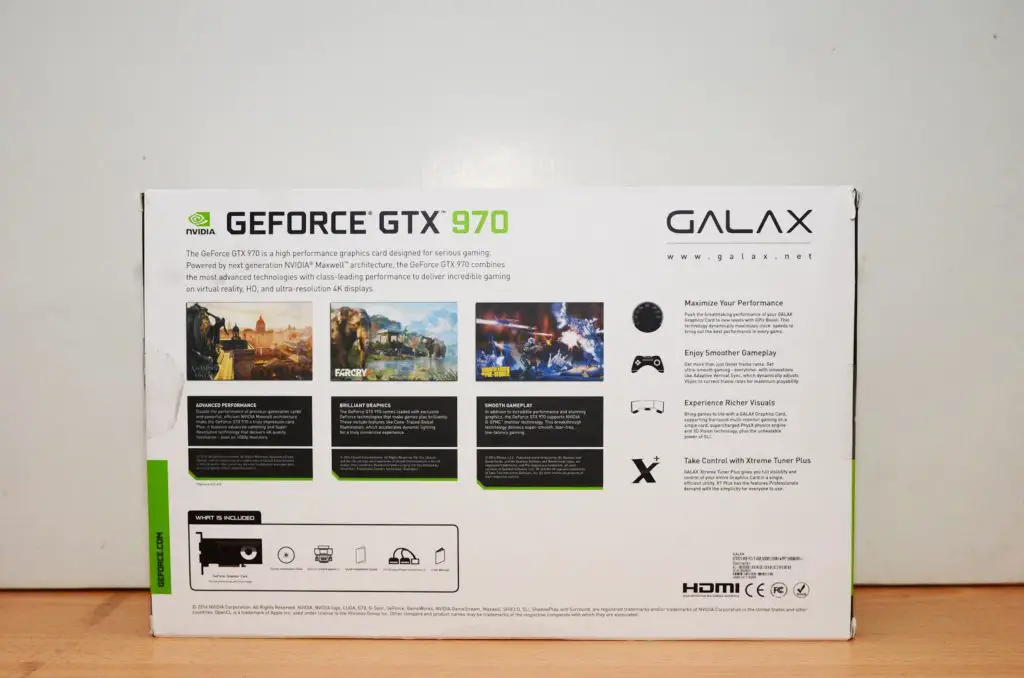 There isn't much to point out at the back of the packaging but we must say that's a really clean design!
Accessories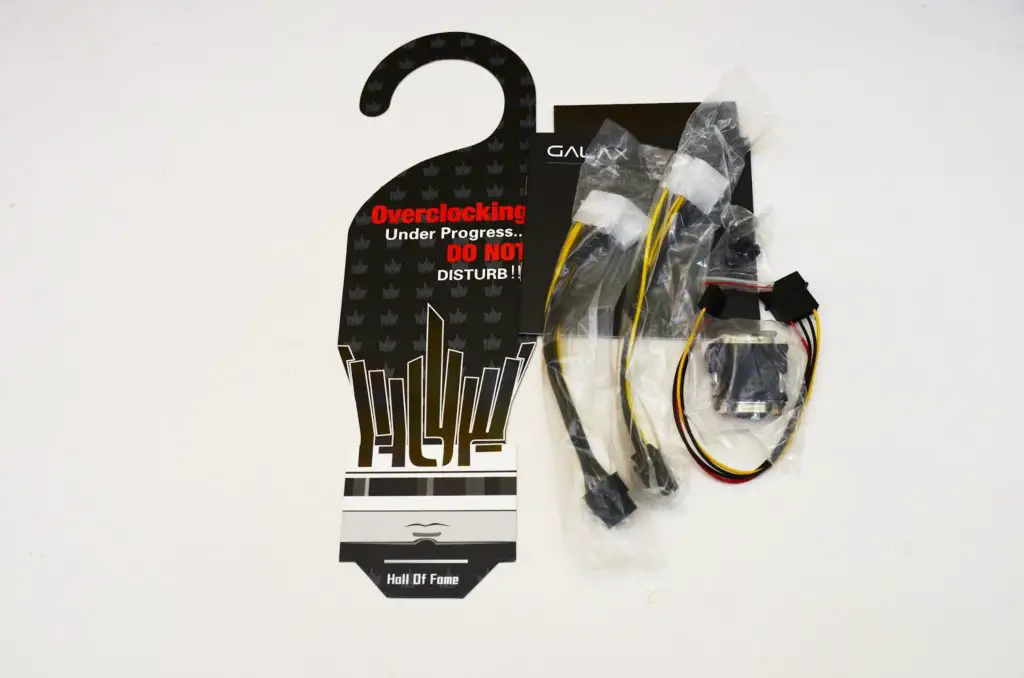 The included accessories are: a door hanger, 2 x 4-pin molex to 8-pin PCIe Y-adapter, DVI-VGA adapter, user manual and a driver CD.
Closer Look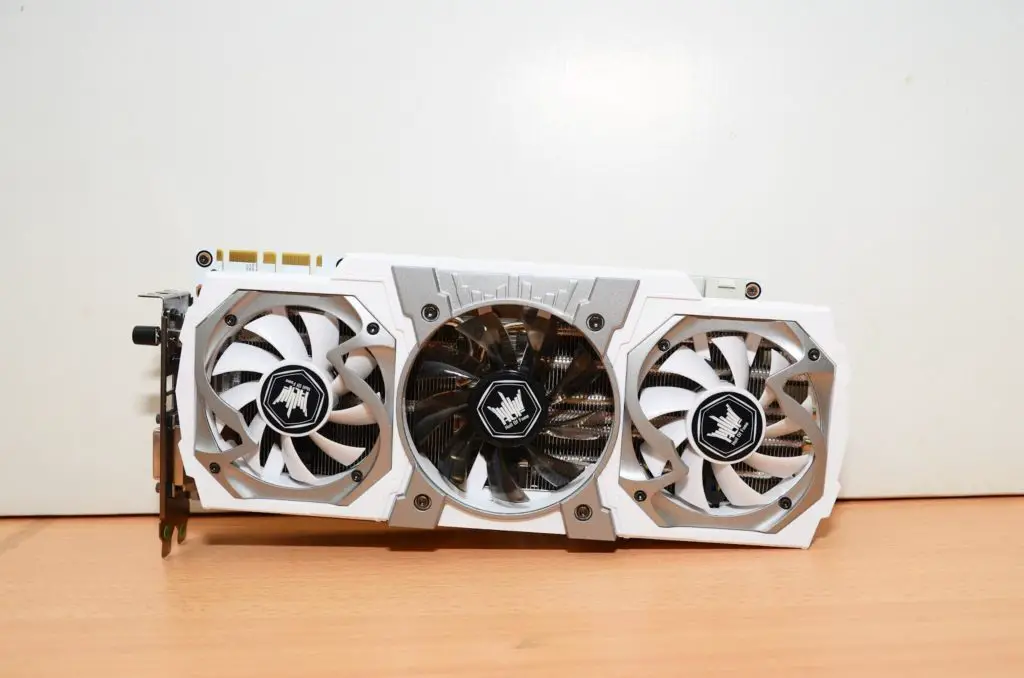 The lavish feel of the HOF edition card is too obvious for one to not notice it – triple fan design might be common but you don't get to see a white-silver triple fan cooler often, especially not like the ones on HOF edition cards.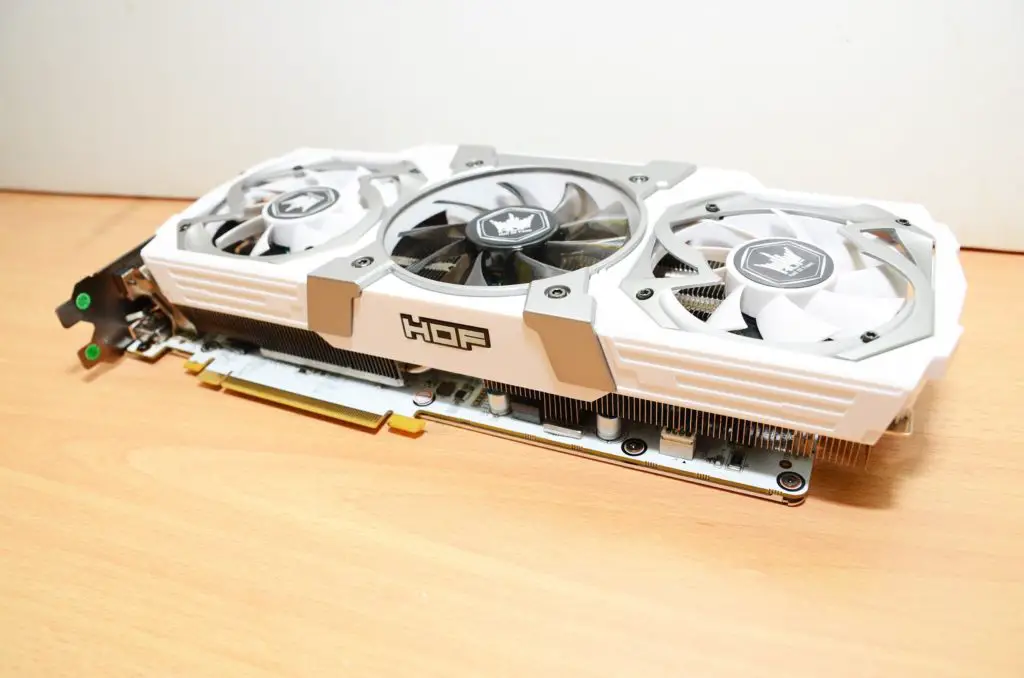 From the side we can see not only that the shroud in white, but also the PCB of the card itself which is a one-of-a-kind trait of the HOF edition card.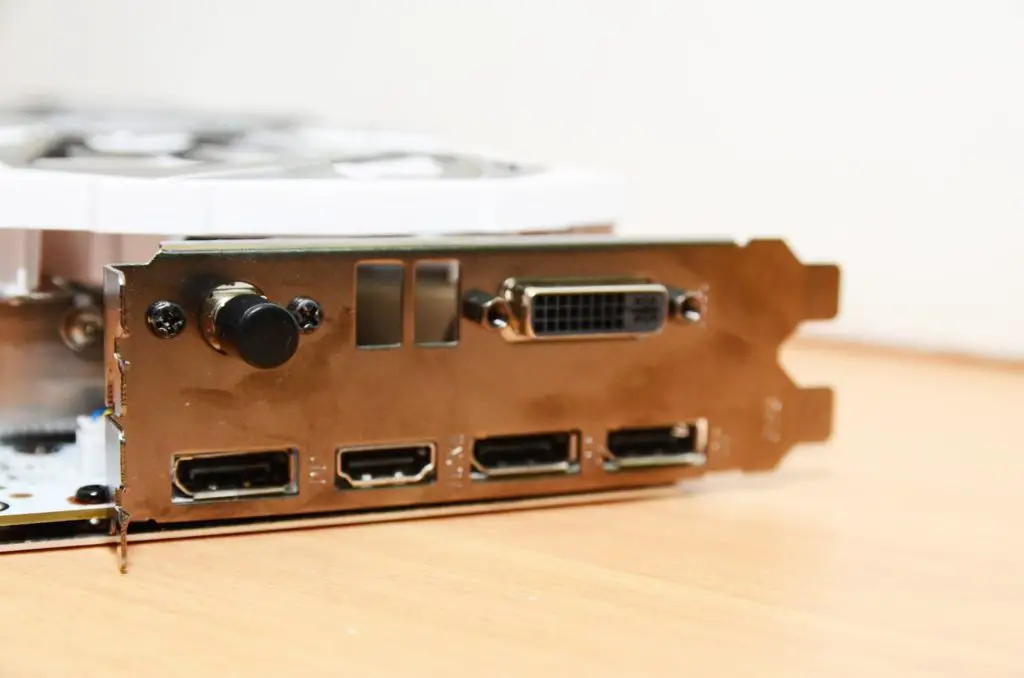 Output options are pretty common, DVI-I, 3 x DisplayPort and HDMI port but we find that GALAX has decided to sacrifice the rear exhaust vent for a better (or is it?) by installing a switch that will put the cooling fans to its maximum speed when activated.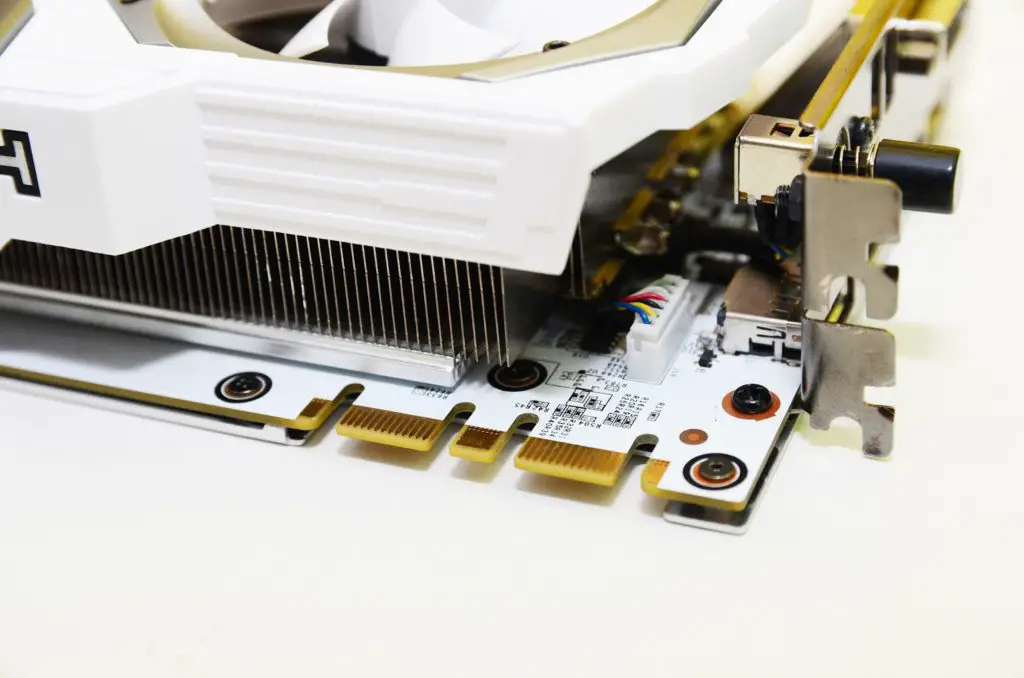 SLI fingers for up to 4 GPU under SLI configuration is pretty common for a GTX970.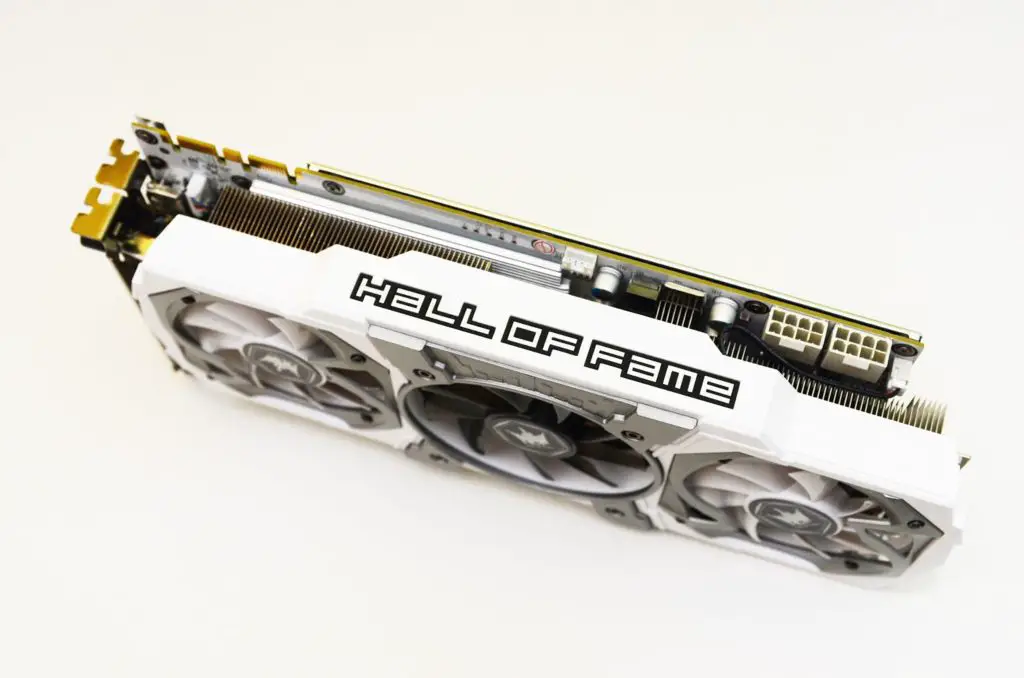 At the side of the shroud, you'll find the Hall Of Fame wording that glows white when the card is powered up, though it's only for aesthetics purposes.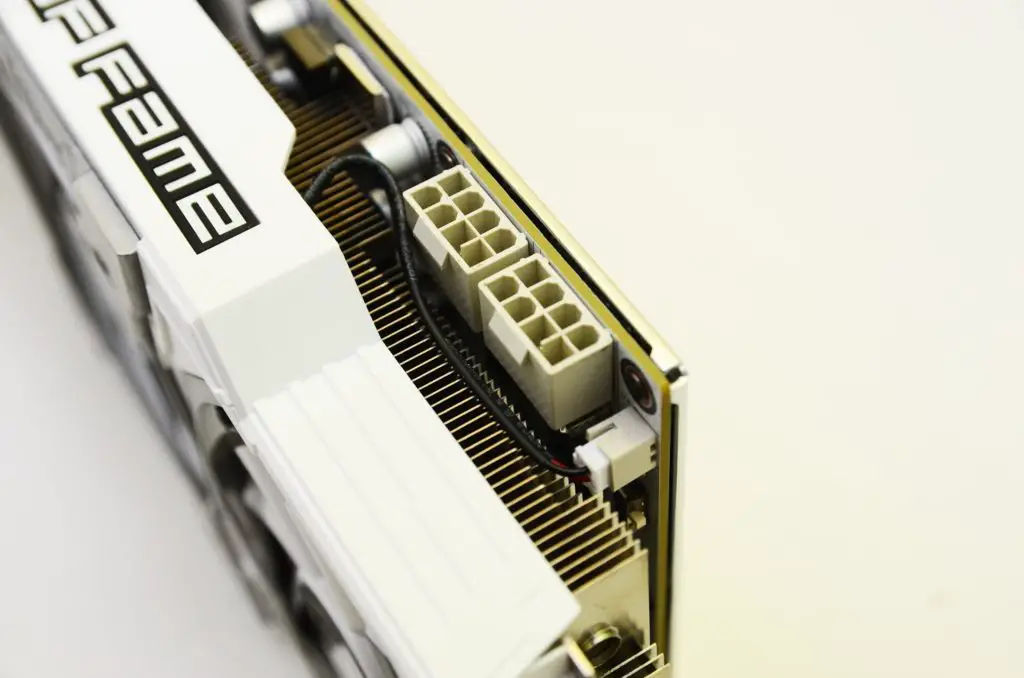 The only GTX970 that we've came upon so far that requires 2 x 8-pin PCIe power connector to power up, that extra power is needed for some extra performance when it comes to overclocking and that's what the Hall of Fame is all about.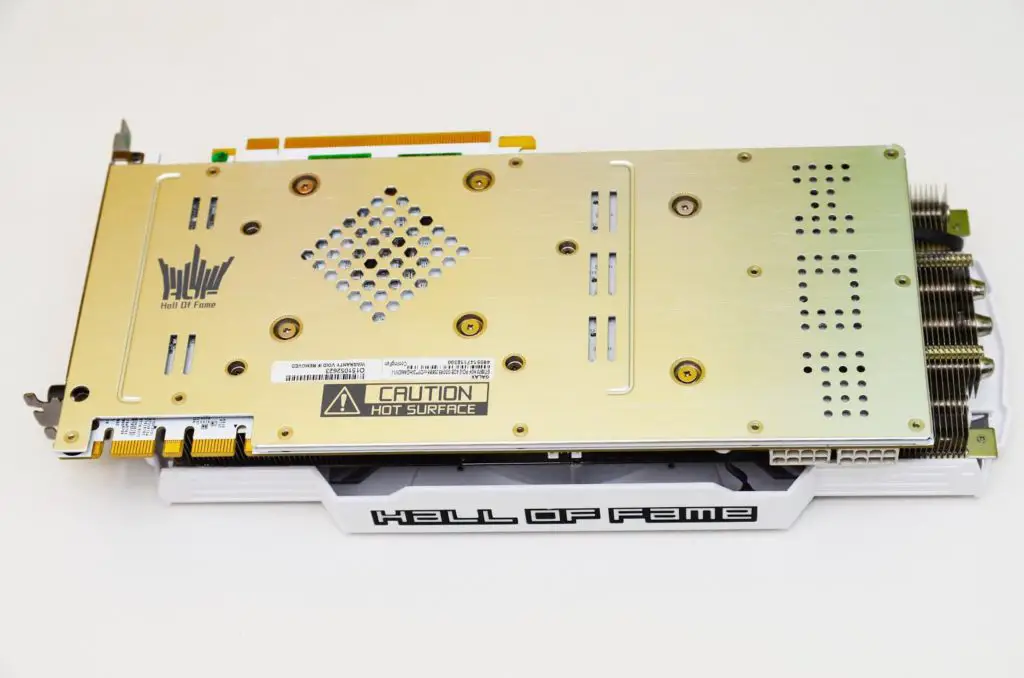 At the back of the card you'll find a metal backplate installed, a common approach taken by 3rd party vendors to reduce / prevent / overcome the PCB sagging issue. Instead of a black metal backplate like other renowned vendors i.e: ASUS, Gigabyte, MSI, etc, the GTX970 HOF ships with a brushed aluminum backplate that matches the HOF theme very well.
Performance Overview
Test
Rig Configuration

CPU
Cooler

Corsair H100i

CPU

Intel
Core i7 4790K

Motherboard

ASUS
Maximus Hero VII 

Memory

Kingston HyperX Savage 16GB

Primary
Hard Drive

Plextor M6e Black Edition

Power
Supply

BitFenix
Fury 550G

Chassis

Vector Bench Case
We conducted our test by installing the GALAX Nvidia GeForce GTX 970 HOF to our test bench as above and each benchmark is conducted in a room of about 30°C ambient temperature.
Performance, Overclocking and Temperature
We ran a few graphically demanding games and synthetic benchmark in our possession at the resolution of 1920 x 1080, 4x Anti-aliasing. Due limited voltage adjustment, we've only managed to push the GALAX GTX970 HOF to its highest stable clock that is able to complete each game benchmark with the following values:
Maximum boost clock of 1515 MHz
8205 MHz on the memory clock
1.2V on the voltage for GPU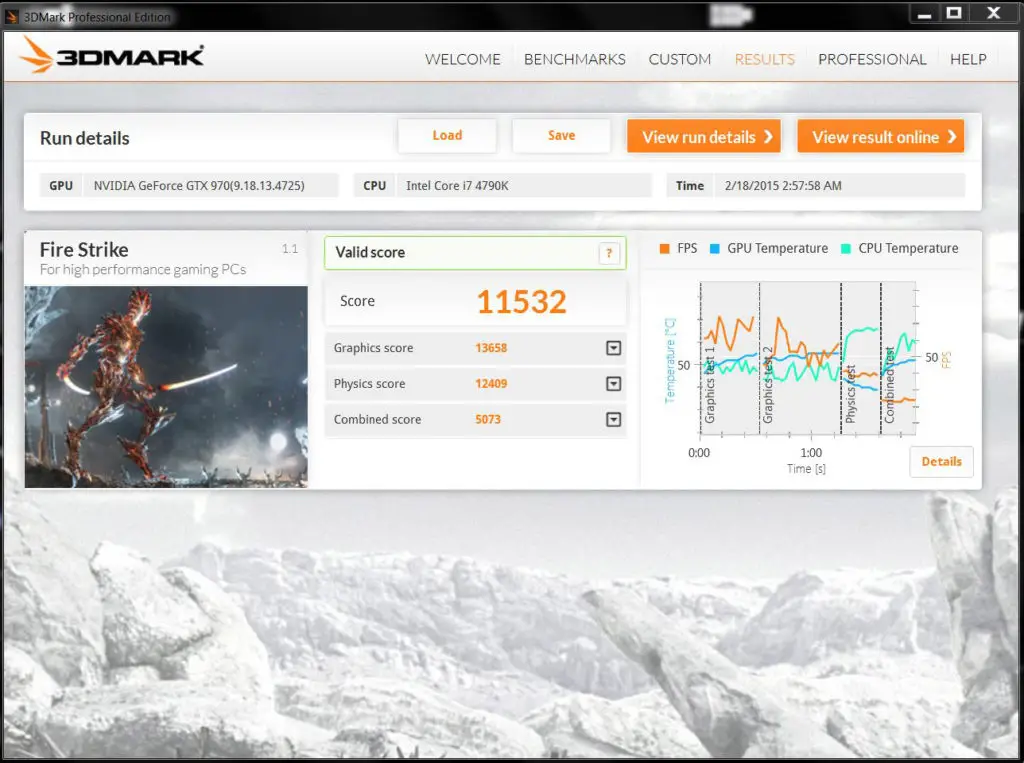 The Fire Strike score is pretty high among the GTX970 available, even without any overclocking involved.
After a minor boost to the clock, we're able to achieve a slightly higher score of 200.
The overclocking result is pretty impressive as we're able to get an extra 135MHz on the GPU clock and 1195 MHz on the memory clock, especially for the GPU clock which was initially factory overclocked to 1380 MHz (highest factory overclocked GTX 970 we've came across so far). The gain in each synthetic and games benchmark is listed as below:
Unigine Valley:  4%
Unigine Heaven: 5.8% 
Tomb Raider:  11.3%
Battlefield 3:  12.3%
Battlefield 4:  8.3%
Crysis 3:  14.9%
Far Cry 3:  13%
Verdict
The GALAX GTX 970 HOF Comes out of the box with 1380 MHz on the GPU clock, the highest GPU boost clock among all the GTX970 we've ever came across. Although hitting 1515 MHz is only a 9.8% gain, it's still among the highest clock speed we've achieved on a GTX970. A faint buzzing can be heard when the card is on full load but this has been a known issue on some GTX980 and GTX970. Still, it doesn't really affect much of the gaming performance.
The fan switch is very handy when you wanted to ramp up the fan speed; instead of relying on software to control it, the switch allows you to ramp up the fans with just a simple click. When operating at normal speed, idle temperature is around 40°C and peaked at 80°C on full load. When we ramped up the fan to full speed, idle temperature dropped to 37°C and load temperature dropped to 78°C. 
Compared to other GTX970 that we've came across, the GALAX GTX970 HOF is priced the highest so far at RM1649. While the GALAX GTX970 HOF probably isn't the first choice for those with limited budget, we would still recommend it to those who fancies it's high clockspeed and overclockability.  
Pros
Lavishly designed
Very high clockspeed
Decent overclocking capability
Comes with a metal backplate for that extra protection against PCB sagging
One click fan boost to ramp up your fan speed
Cons
Hefty price tag
Overclocking is limited by NVIDIA's Green Light Program
Faint buzzing noise can be heard when the card is on full load