It's been quite a while since TEAMGROUP introduced its T-FORCE Cardea II SSD but we have yet to get the chance to try it out for ourselves until this year thanks to a close friend of ours.
Performance-wise, the Cardea II is probably one of the fastest Gen3 SSD you can find on the market, capable of up to  3400MB/s read and 3000MB/s write according to the official product page but because we heard that there are some changes in the use of components on the newer revision, our performance numbers and behavior might be different than what you've previously seen.
Specifications
Capacity
256GB, 512GB, 1TB
Interface
PCIe Gen 3.0 x4 with NVMe 1.3
Controller
Silicon Motion SM2262ENG
Dimensions
80mm x 22mm x 15mm
Weight
34g
NAND
64L 3D TLC
Operating Temperature
0°C to 70°C
Storage Temperature
-40°C to 85°C
Total Bytes Written (TBW)

256GB – 160TBW
512GB – 320TBW
1TB – 640TBW

Sequential Read/Write

256GB – up to 3000MB/s read, 1000MB/s write
512GB – up to 3400MB/s read, 2000MB/s write
1TB – up to 3400MB/s read, 3000MB/s write

Max. 4K Read/Write

256GB – up to 200K read, 200K write
512GB – up to 350K read, 300K write
1TB – up to 450K read, 400K write

Power Consumption
Warranty
Limited 5-year warranty
Unboxing
The packaging is pretty standard if you're familiar with the T-Force lineup products and for the Cardea II here, we can see that TEAMGROUP is putting a lot of attention on the heatsink of this SSD with that 'cooldown 15%' feature highlight at the front of the box. You'll find some brief information as well as the specifications of the product at the back of the box, as well as a QR code that leads you to the product page in case if you want to learn more about the product.
The T-FORCE CARDEA II
Starting off with the design, the Cardea II looks very similar to a lot of the high-performance M.2 SSD you'll find in the market, mainly because of the heatsink design. As most of these high-performance SSDs will be running at the 3000MB/s sequential read and 2000MB/s sequential write mark, you can expect a much higher heat output and as compared to the slower budget M.2 SSDs. Hence, the thick chunky heatsink and fins to increase the surface area to dissipate heat faster.
For the components, we weren't able to identify the type of NAND flash used on the current Cardea II but we can see that TEAMGROUP did some changes to the type of components used on the newer Cardea II.
According to various resources from reviewers and PC communities, the previous Cardea II uses the Phison E12 controller and Hynix H5AN4G8NBJA-UHC DDR4-2400 memory as the buffer. The newer Cardea II we have here uses the Silicon Motion SM2262ENG controller and Samsung K4A8G165WB-BCRC DDR4-2400 memory, so you can expect to see some difference in the read/write performance and thermal performance.
Looking at the bare PCB, you can have a better idea of how the 1TB model is going to look like. The 512GB model here has two NAND flash chips and a single DDR4 DRAM chip as the buffer, so we know that the 1TB model will have its PCB fully populated, featuring up to 1GB worth of DDR4 DRAM buffer.
Test System Setup
The test is done using the following setup under an ambient temperature of 30°C:
| | |
| --- | --- |
| CPU | Ryzen 9 5800X |
| Motherboard | MSI MEG X570 GODLIKE |
| Memory | TEAMGROUP T-FORCE XTREEM ARGB DDR4-3200 CL14 |
| Graphics Card | NVIDIA GEFORCE RTX 2080 SUPER |
| Power Supply | Cooler Master V1200 Platinum |
| Primary Storage | Corsair Force Series Gen.4 PCIe MP600 2TB |
| Secondary Storage | TEAMGROUP T-FORCE CARDEA II 512GB |
| CPU Cooler | Cooler Master MasterLiquid ML360R RGB |
| Chassis | Streacom BC1 Open Benchtable |
| Operating System | Windows 10 64bit |
Synthetic Benchmark
For our synthetic benchmark, we're going with the usual two scenarios: freshly installed with 0% capacity used and fill up to at least 80% of the total capacity. This will help us to gauge of the SSD is suitable for the picky type of enthusiasts who care about both the read and write performance or the casual users who don't really do much heavy writing and only focuses on the read performance.
CrystalDiskMark
Developed by a Japanese coder that goes by the nickname Hiyohiyo, CrystalDiskMark is one of the most frequently used SSD Benchmark utility to measure SSD's read and write performance.
ATTO Disk Benchmark
The most frequently used benchmarking utility by many manufacturers for performance specifications. As ATTO Disk Benchmark uses compressible data rather than incompressible data, it results in higher benchmark scores.
AS SSD Benchmark
Widely used SSD benchmarking utility that uses incompressible data to simulate the worst possible scenario for an SSD. Therefore, giving a much lower sequential read and write speed result than what has been stated by the manufacturer as a result of the heavy workload.
File Transfer Test
For this test, we're using different sizes of test data from 8GB to 64GB to see how well the drive performs with large files. The test scenario is as usual, in which the file copy test is done with the drive freshly formatted, followed by filling it up to at least 80% of its maximum capacity.
While the read performance is pretty consistent across the test, we can see that larger files with a total file size of 10GB can quickly fill up the cache and result in reduced write speed. While filling up the SSD to 80% or more of its total capacity will not really affect the write performance like what we can observe on most of the DRAMless SSDs, the Cardea II seems to be having quite a hard time with very large files for writing operation.
Temperature?
According to our IR thermometer, the hottest spot on the SSD can go up to 72ºC easily under heavy write operation if no heatsink is attached. So… we don't recommend using the bare SSD without any heatsink. Depending on the design of the M.2 slot on your motherboard, the heatsink is definitely a must if you're using an entry-level or budget-oriented motherboard that doesn't come with any heatsink attached.
For those who plan to stick with the heatsink for their motherboard, the stock heatsink can be taken apart with ease but do expect a higher load temperature if your heatsink is just a simple chunk or piece of metal that doesn't have any cutout on it to increase the surface area for better heat dissipation.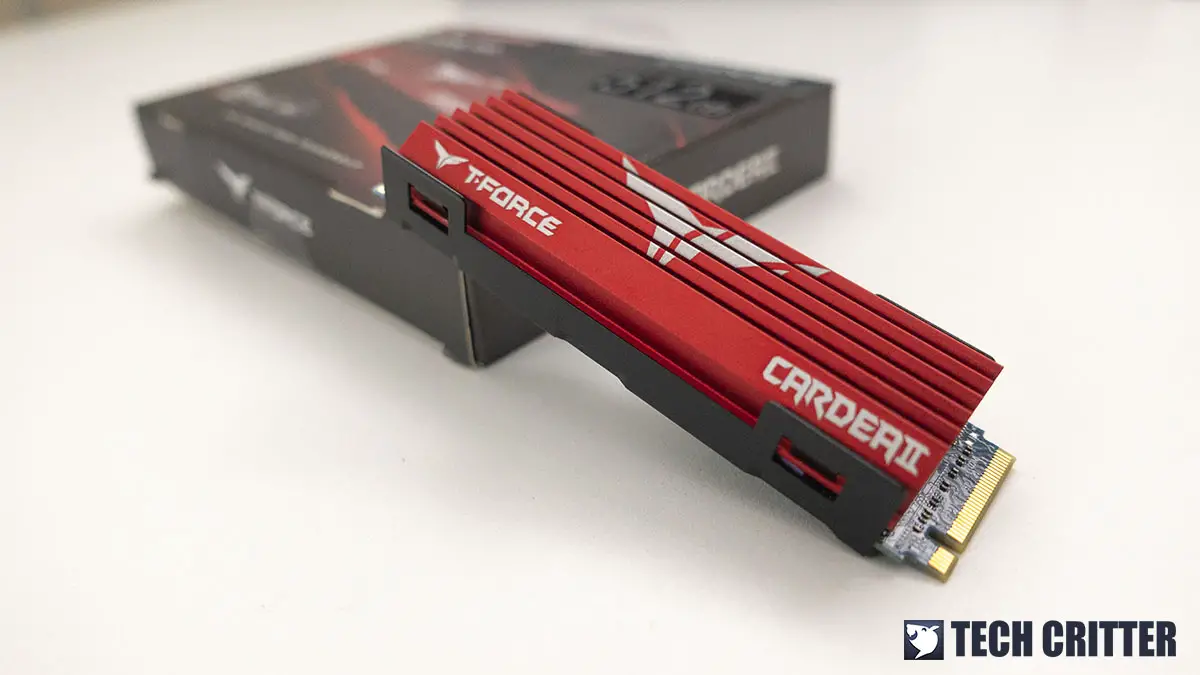 Out of the box, we're getting roughly 62ºC max load temperature on heavy write operation on an open-air testbench, and having a fan blowing directly at it will help to lower the temperature to around 60-61ºC. If it's installed in an actual system for daily use, maintaining a good airflow is definitely an added plus because there will be other components i.e graphics cards, CPU that gives the most heat.
We've also done the load tests on our MSI MEG X570 GODLIKE and ASUS ROG MAXIMUS XII APEX and the highest temperature we got from the MSI MEG X570 GODLIKE is around 64ºC, which is slightly lower than the ASUS ROG MAXIMUS XII APEX at about 66ºC. For motherboards with a single thin piece heatsink, well, it's best if you can stick with the original heatsink.
Final Thoughts
As these high-performance SSD gets more affordable, users nowadays get to have more choices as compared to what we have in the past few years. The Cardea II is definitely not the best around when it comes to the form factor but performance-wise, it's definitely one of the fastest around when it comes to the read performance. The write speed is probably the least favorable here as you will notice a significant drop in the write performance as soon as the cache runs out when dealing with very large files.
Similar to the previous Cardea, the preinstalled heatsink on the Cardea II really helps a lot in cooling down the SSD. It doesn't come with any super aggressive looking heatsink or fancy RGB lightings that serves no purpose other than for the sake of aesthetics, but a generic-looking heatsink that is doing what a proper heatsink suppose to do, unlike some of the options in the same range that offers similar performance but lacks proper cooling solutions.
We have yet to see any local sellers selling the Cardea II as of now but if you plan to get one yourself through other alternatives, it will cost you $90.99 for the 512GB model and $150.99 for the 1TB model. It's not exactly cheap as compared to other options you can find in a similar category, but it's not super expensive either. Is it a product that is worth recommending? Well, only if your daily task involves doesn't a lot of heavy write operation, else it's a no.
Pros
Decent sequential read and write performance
Good thermal performance with the preinstalled heatsink
Easily removable heatsink
Come with 512MB DRAM DDR4 cache
5-year warranty from TEAMGROUP
Cons
Controller gets hot under heavy load
Noticeable write performance drop after cache runs out