EdTech is one of the main topic at Smart City Summit & Expo 2023 Taipei and we managed to experience a handful of new innovations in EdTech during our visit to the Administration for Digital Industries Pavilion.
Apart from our visit to the Expo, we're also given a rare opportunity to participate in an interview session with Mr. Lin Jiunn-Shiow, the Deputy Director-General of the Administration for Digital Industries (ADI), Ministry of Digital Affairs (moda) to learn more about the current state of EdTech in Taiwan.
How does Taiwan's approach to education technology differ from that of other countries, and what are the prospects for future growth?
Taiwan has been actively integrating technology into education, leading to a robust and innovative Education Technology (EdTech) industry. We have made significant progress in implementing EdTech tools in schools, universities, and other educational institutions and continue to invest in developing new and emerging technologies to enhance the education system. In the previous year, the EdTech industry in Taiwan generated an output value of US$18.6 billion. This growth was primarily driven by the high demand for Chromebooks and the expansion of digital content during the pandemic.
EdTech tools are rapidly gaining popularity in both formal and informal learning settings. These tools comprise hardware like laptops and tablets, as well as learning management systems, online platforms, adaptive software, and even virtual reality application. With accessibility to educational resources from anywhere, these tools are fostering more inclusive education, catering to diverse learning styles. In Taiwan, a thriving EdTech industry offers many innovative solutions. For instance, international brands such as Aver, Viewsonic, and BENQ provide visual solutions and document cameras for teachers, making it effortless for them to share and present information to their students.
A focus on collaboration among educators, policymakers, and technology providers is needed to address pressing challenges. We recognize that the effective integration of technology into education requires a multifaceted approach involving all stakeholders in the education system. Taiwan plays a key role in the global ICT supply chain, and its commitment to innovation and investment in EdTech has resulted in a thriving industry that is well-positioned to lead in the development of new and emerging technologies for education.
What impact has the COVID-19 pandemic had on the EdTech business landscape in Taiwan and how will the incorporation of new tehnologies shape the future of education in Taiwan and beyond?
The COVID-19 pandemic has led to a surge in online learning platform usage in Taiwan. Both students and educators have adapted to digital tools and platforms, which have become a crucial part of the education ecosystem. To meet the growing demand, there has been an increase in online learning platforms, offering features such as online courses, interactive modules, and virtual classrooms.
Schools are now considering platform capacity and purchasing platforms with cloud-related services. Online learning platforms have promoted learning equality by providing access to quality education for students in remote areas and catering to diverse learning styles and needs. Their use has made learning more accessible, efficient, and inclusive. Expect more innovative solutions as schools invest in cloud-based platforms.
According to our latest Taiwan EdTech Report, nearly a quarter of Taiwanese EdTech companies have invested in developing digital products related to Metaverse or AI learning. Additionally, a considerable number of companies have invested in digital learning materials for enterprise training. More than half of the surveyed companies believe that digitalization and online learning are the future trends for development in the EdTech industry, while around a quarter of companies believe that physical and online teaching modes will be combined in the future.
Overall, these findings suggest that Taiwanese EdTech companies are actively adapting to the changing landscape and investing in innovative solutions to drive the industry forward.
What can other cities and countries learn from Taiwan's digital transformation approach, including community involvement in smart city development?
I believe other cities and countries can learn from Taiwan's digital transformation approach in several ways. First, Taiwan emphasizes the importance of community involvement in the development of smart cities. By engaging with citizens and soliciting their feedback, Taiwan has been able to create smart cities that meet the needs and preferences of their residents. This approach can be applied in different contexts by encouraging local governments and organizations to work closely with citizens to identify their needs and priorities and involve them in the planning and implementation of smart city projects.
The use of open data and transparency in decision-making is a key aspect of Taiwan's digital transformation approach. By making data publicly available, citizens are better informed and can hold government officials accountable. This approach can be applied in different contexts by encouraging governments and organizations to be more transparent and accountable and to make data more accessible and understandable to the public. Additionally, the government needs to support the development of the digital economy, as digital technology is a key tool that aids the digital transformation of industries.
In recent years we have implemented the goal of empowering industries with digital technology through the "Popularization of Smart Urban and Rural Life Applications Project." By connecting local demands with industry solutions, the project encourages information service providers to invest in new types of smart life applications, such as food, medical care, housing, transportation, education, entertainment, and governance. This project has mobilized more than 250 digital ecosystem companies to participate in 17 cross-county/city smart service solution projects, resulting in 23 successful solution exports to 11 countries, achieving outstanding results. In the process of promoting the smart city and rural services, we not only assist large enterprises and cities in transformation but also actively addresses the needs of rural areas. It encourages start-up teams to use technology to solve local problems and has facilitated the landing of 12 entrepreneurial teams.
Overall, we believe that Taiwan's approach to digital transformation can serve as a model for other cities and countries looking to leverage technology to drive growth and improve the lives of their citizens. By emphasizing community involvement, transparency, and collaboration, Taiwan has been able to create a digital ecosystem that is both innovative and inclusive.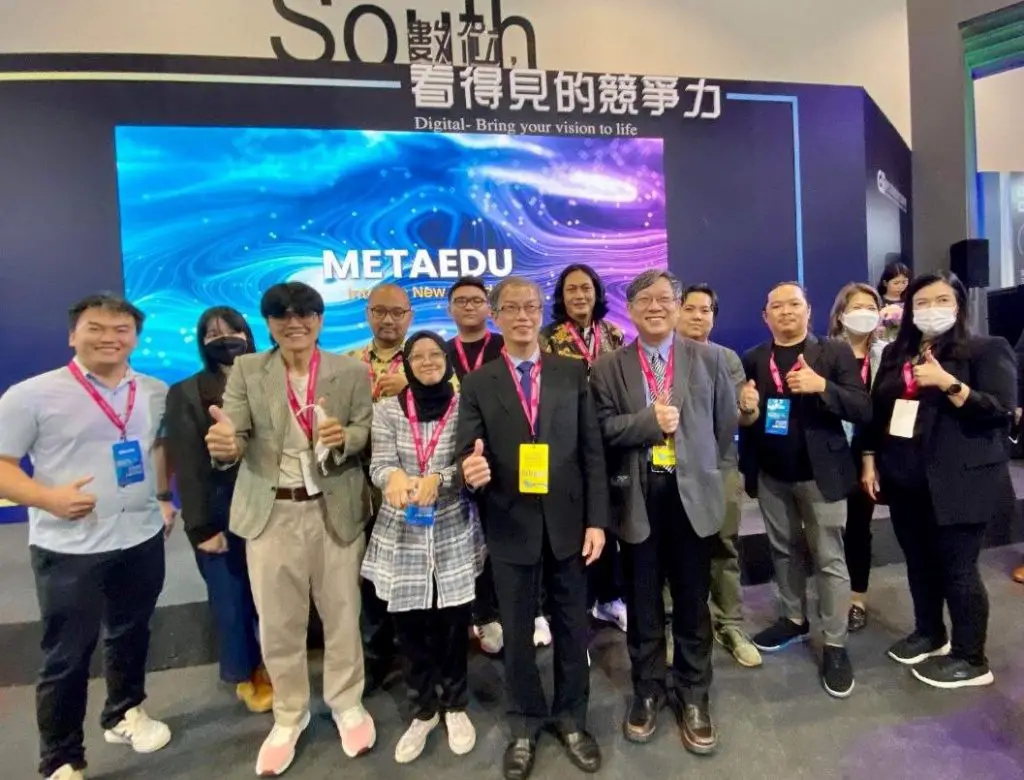 Conclusion
With that being said, we believe Taiwan is on the right track through its full commitment in EdTech and is capable of leading the development of EdTech with existing and potential partners in the industry. Taiwan has set a great example for other countries in EdTech with its innovations that continuously surprises the world throughout the years while staying alerted in solving existing and potential challenges to make education more accessible to every individuals.