Over the years, we've become very particular about the gaming or office chairs that we test or buy. With good reason too. Most of these chairs sport similar structural designs, padding, and materials which makes them look and feel similar. Functional yes, but boring.
Who looks for excitement in a chair? We do because we spend a ton of time on it. So, when we were given the chance to review Secretlab's latest Titan 2020 Series Gaming Chair, we jumped at the opportunity.
Specifications
There are three models in this series to cater to different heights and weights. We reviewed the Titan model, which is ideal for people whose height ranges 5' 9" to 6' 7" and weigh around 290 pounds. Noteworthy specs on this seat include:
Height Range (from floor to top of seat cushion): 18.7" to 22.4"
Seat Width: 20.5"
Seat Depth: 19.7"
Backrest Height: 33"
Backrest Width: 21.7"
Armrest to Armrest: 26" to 29.1"
If you're average-sized, you can opt for the Omega model which accommodates people who are 5' 11" tall and weigh up to 240 pounds. The Titan XL, on the other hand, targets heavier users with heights ranging from 5' 11" to 6′ 10" and weigh up to 390 pounds.
Upholstery and Materials
Both the Titan and Omega models are available in 35 colour variants (Titan XL offers only five) so you're bound to find a colour or several that will blend into your colour scheme or stand out. The one I tested is the Stealth variant with its red stitching and a gold T logo, and the company name embroidered on the backrest. We felt it gave the chair a majestic feel.
Straight out of the box, I was attracted to the Prime 2.0 PU leather cover that feels very soft, supple, realistic, and durable too. Rightly so, since Secretlab worked with Singapore's Agency for Science, Technology, and Research (A*STAR) to develop this leatherette material.
It can withstand high humidity, moisture and has passed ten times more abrasion tests than the standard.  Prime 2.0 P U leather is liquid-resistant so we don't have to worry about any spills leaking into the chair. Maintenance is quite easy as I can wipe down the chair using a damp microfiber cloth.
If you want a more luxurious feel then I would recommend choosing the NAPA leather cover. You'll be paying more money for the unsplit, super soft, genuine leather but then this is the kind of material you find in luxury automobiles. For users who prefer more breathable materials then the SoftWeave fabric will be an excellent option. It's fluffy, soft, and adds a sense of casual elegance to your environment.
The Titan chair features an aluminium wheelbase that's reinforced with ribs plus gussets to give it more stability. As I explored every inch of this chair, I found the stitching perfect, every piece fit perfectly, and the overall build quality top notch. It feels sturdy, soft to touch, durable, and offers incredible back support
Lumbar Support and Neck Pillow
Most gaming chairs provide a separate pillow for lumbar support, which works for the most part. I love what Secretlab has done with this chair because lumbar support has been built into the backrest.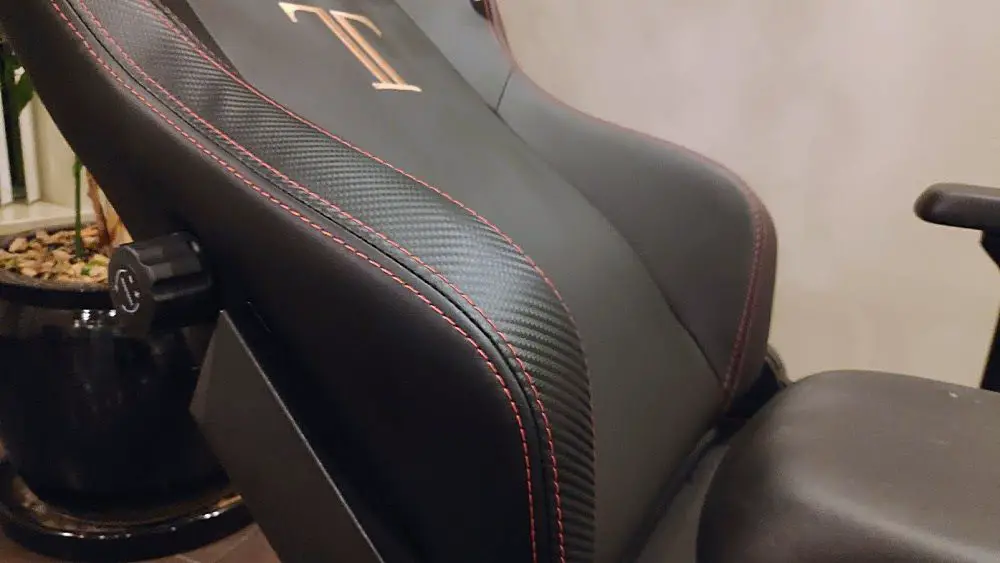 There's a knob on the right-hand side of the backrest that allows you to adjust lumbar support to suit your needs. I turned the knob a couple of times to find a comfortable position for my back. It works in the same way the lever in your car seat does, you pull it and the seat moves forward or back to give you the most comfortable sitting position.
I found that when I rested my head on the high backrest it didn't feel very comfortable, so I used the provided neck pillow and that changed everything. The pillow is made using dense memory foam and coated with cooling gel. It felt amazingly soft and cool against my skin when I sank my head and neck into it.
Backrest and Armrests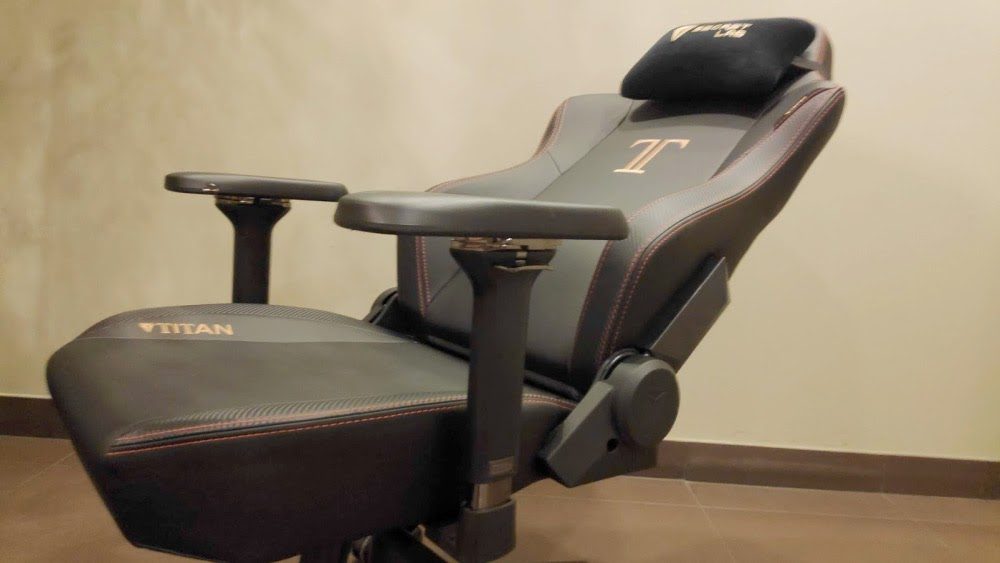 Once we finished assembling the chair, it was now time to test the chair. I loved that I could rest my full-frame (shoulders included) on the backrest without slouching. There is a second lever on the right side of the chair that you can use to recline the backrest, and boy, does it go back to an almost flat position.
I took a couple of naps in this position without experiencing any strains or aches in my back. I also adjusted the chair forward a bit, watched several videos, and still received no complaints from my back. I can confidently say that the Titan chair is perfect for both work and play.

The 4D armrests feature metal supports and PU padding for comfort. Although the armrests were already adjusted out of the box, I found that I could move them up and down, slide them backwards, forward, or to the right or left, rotate them, and lock the positions in place.
Chair Comfort and Ergonomics
I have been using the chair for close to two weeks now and can't get over how comfortable it is. I get that hugging sensation every time I sink into it, as though the chair is welcoming me home after being away for too long.
The controls are intuitive and levers work smoothly so I haven't had the need to press anything twice to get it working. The wide seat is perfect for my butt to fit in and if I'm working on a task that requires me to get up frequently, I quickly widen the armrests to get more space.
That said, I found the padding on the seat rather firm. It's soft to touch and even squishy but doesn't sink much when you sit on it. It does take some time to get used to it. The good news is, other reviews have mentioned that the firmer seat is actually better for your posture (think how bad a plush sofa is for your back).
How it Compares to Cheaper Gaming Chairs
In terms of pricing, the Titan 2020 series gaming chair costs more than your standard GTracing, Respawn, or Corsair gaming chairs. It retails at $459, and the price goes up depending on the logo you choose. By gaming chairs standards, this chair is expensive but a lot cheaper than the Ergo Human or Herman Miller options.
With the Titan, you're paying for comfort, durability, and customization. The Prime 2.0 PU leather material is not just plush and comfortable but resists scratches and general wear better than most gaming chairs. So it's going to be around for a long time.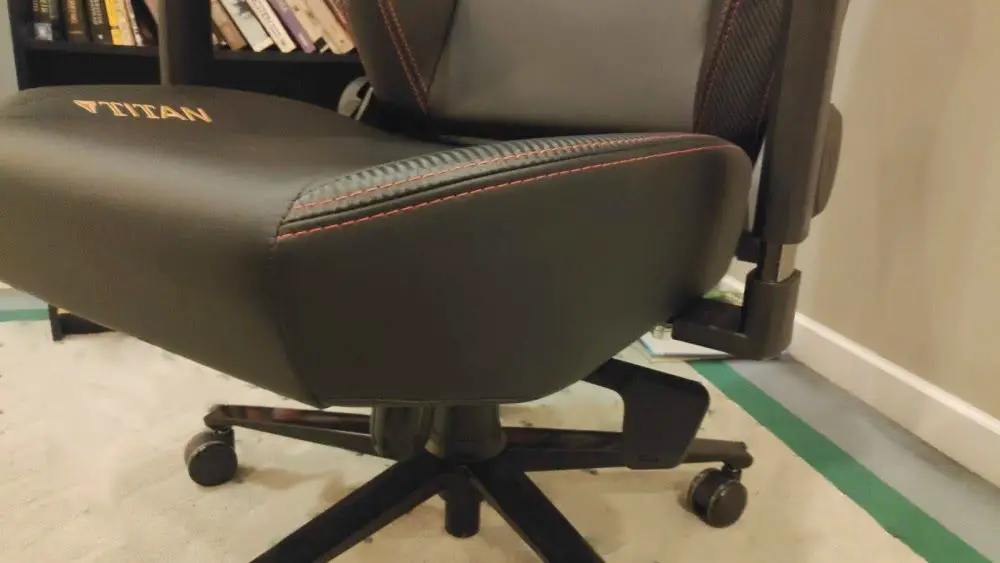 You get a wide range of colours to choose from and you also get to pick your favourite gaming logo to compliment your rig. Secretlab throws in a 5-year warranty which is more than double the 2-year warranty offered by competitor models. With that kind of backing, you know the chair is worth its asking price.
Final Words
Secretlab has earned a reputation for manufacturing sturdy and comfortable chairs that hold up and from the looks of things the 2020 Titan is just as good. It checks all the boxes on my list, offering the kind of quality, support, comfort, aesthetics, and features that allow me to work, play, and even sleep pain-free. If you're looking for a great gaming chair, this one is worth considering.
You can buy the Secretlab Titan on the company website.